Pogoplug v2 Review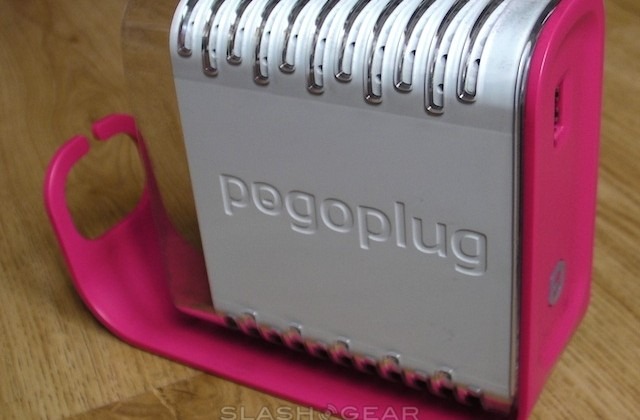 Network-attached storage is seldom eye-catching, rarely interesting and not normally cheap, and in that sort of market the Pogoplug is guaranteed to stand out. Currently in its second generation – with a fair few software upgrades along the way – the bright pink box promises to take regular USB hard drives and have them shared across a network for both local and remote access within minutes. Too good to be true? Check out the full SlashGear review after the cut.
Compared to the sober first-gen Pogoplug adapter, which looked little more than a wall-wart AC adapter with a couple of ports, this second-gen hardware is quite the departure. Around the size of a thick hardback book standing on its edge, it's a distinctive combination of white and clear plastic with a bight pink stand-cum-cable-tidy. Where the original had a single USB 2.0 port, this model has four: one on the front panel, above the status indicator LED, and three on the back above the gigabit ethernet port. The AC power brick has been subsumed into the main body of the Pogoplug, which is a neat touch, and with no fans it's a silent box that, even powered on 24/7, doesn't get more than warm.
Where regular NAS boxes integrate one or more drive bays into a single box, as well as the network connectivity, the Pogoplug keeps things more modular. Reasonably inexpensive USB external drives are used instead, or even USB memory sticks, and while there are four ports to choose from you can also throw in a USB hub and hook up even more storage. The benefit is that you can repurpose existing HDDs and make them network-visible, while adding capacity is the simple matter of plugging in another drive rather than having to open up a NAS chassis.
Pogoplug promises a 60-second installation, and while we weren't quite that fast it was nonetheless straightforward getting set up. The Pogoplug hooks up to your router via the included ethernet cable, to the mains with the power cable, and then you plug in at least one USB 2.0 drive. The company's setup site automatically recognises the drive and prompts you to create a username and password, before giving you access to the online control panel.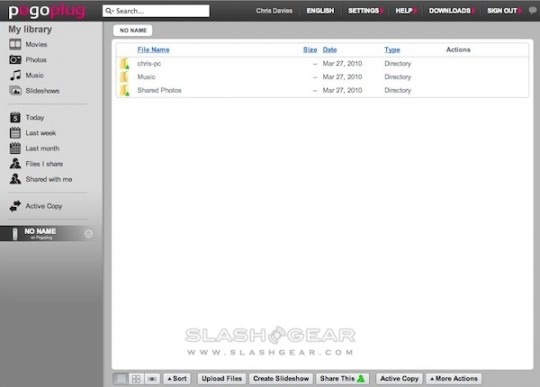 It's all reasonably intuitive, with the system automatically scanning for movie, photo and music content on any attached drives and lumping them together under straightforward headings. Alternatively you can browse by files added or modified today, from the past week or past month, or go into specific volumes (including separate partitions on individual drives) and browse in a more granular fashion. It's also possible to upload new files directly to one of the attached drives, though you can't drag & drop across from a local folder to the web UI.
More usable, then, is the local software app, available for Windows or Mac, and which mounts the Pogoplug volumes as simple drives which can be navigated, copied to and from, and generally handled as normal. Our only issue with the local app was when online with our test MacBook Pro while outside the home network; whenever we attempted to use a photo upload service (unconnected with Pogoplug) the browser would hang. We soon realised this was due to the upload tool trying to check the Pogoplug drives every time; shut down the local app and the problem went away.
Pogoplug also promises to make sharing more straightforward, and there's a prominent "Share This" button which, when clicked, allows you to invite people via email to look at the contents of the folder(s). There's an address book for dealing with frequent contacts (though it doesn't link into your computer's address book) and you can add a personal message before sending the invite. Alternatively you can set the folder to automatically publish to one or more social networks, including Twitter, Facebook and MySpace, as an RSS feed, or as a public folder which doesn't require a specific invite. Finally there's an option to resend an invite whenever the contents of the folder changes.
The most obvious use is sharing multimedia content with friends and family. Rather than emailing out a huge ZIP of holiday photos, add them to a shared Pogoplug folder and invite people to view them remotely; keep a single folder of baby photos and let Pogoplug automatically alert grandparents whenever there's a new batch to be coo'd over. Best of all, rather than a barebones FTP interface, contacts are presented with a dynamic gallery, streaming photos, audio and video straight into their browser. The online UI has a simple "Files I Share" pane to show what you're offering at any one time, and there's also a "Shared With Me" pane which, if you know someone with another Pogoplug, displays content from those remote drives. The latter could be useful if you have a Pogoplug at home and at work, for browsing media and documents from a single UI rather than logging in and out of two accounts.
There's also sharing functionality for home use, with one of the recent Pogoplug firmware updates adding PS3 and Xbox 360 media streaming. A console on the same local network or connected remotely can see the drives automatically. The same update also brought with it updates to Active Copy, which is a basic folder/drive duplication tool. Originally, Active Copy used the Windows/OS X app to monitor one or more folders on your computer and automatically duplicate any new files to folder(s) on a Pogoplug drive. Now, in addition to that, you can have folders be automatically duplicated between Pogoplug-attached drives, plus if you've more than one Pogoplug you can have an attached drive (or a folder on a drive) be automatically copied from one Pogoplug to the other, handy for remote backups.
It's useful, certainly, but it falls short of the kind of data security a proper RAID array would offer. RAID – where, in most configurations, drives are mirrored so that should one experience hardware failure the data is preserved on at least one other disk – is quicker at duplication, thanks to not having the USB 2.0 bottleneck to contend with, and it's automatic across the whole volume, rather than being on a selective folder-by-folder basis. Of course, the benefit to Pogoplug's system is that you can choose to duplicate only certain, particularly important folders, and the drives don't – unlike RAID – need to be the same size. You could feasibly set up the Pogoplug to automatically copy any files on a USB memory stick plugged into the front panel port to a bigger HDD, for instance, offloading day to day documentation. There's also nothing stopping you from plugging in a USB RAID array, which are rarer than NAS RAID storage but not impossible to find.
We touched on the USB 2.0 bottleneck, and that's a point worth returning to. While it's theoretically capable of 480 Mbits/s, in day to day use USB 2.0 is unlikely to ever get that high. That means transferring large files (or large numbers of smaller files) will take longer than on a regular NAS, and it's worth pointing out that, when we tried to move around a few particularly large videos, the system froze and required a power-cycle. You'll also probably want to make sure your router has gigabit ethernet ports, too, if the drives are likely to be accessed by several people simultaneously. It's disappointing that the Pogoplug only has USB 2.0 and not FireWire, eSATA or even USB 3.0 connections, but perhaps that's asking too much for the $129 sticker price (and, arguably, unlikely to be required by the mainstream consumer who is a big part of Pogoplug's target audience). The takeaway message is that if you're looking for the fastest way to backup or access files across a network, or to stream high-definition content, then you should probably choose a more normal NAS.
Most "normal" NAS don't come with a range of mobile clients, however, and that's another big plus in the Pogoplug's favour. Currently there are iPhone and Android apps (the former being compatible with the iPod touch and the iPad) which allow you to log into your Pogoplug from the handset, browse folders, view video, audio and photo slideshows, and even – handset depending – upload files like photos directly to the remote storage. The apps work well, though we did have a couple of crashes on the Android version, but it's worth noting that there's currently no iPad-formatted version. Instead you can either use the regular iPhone app, doubled in size, or log directly into the online control panel which Pogoplug have – as an interim measure of sorts – made fully HTML5 compliant so you can still stream video and audio despite the lack of Flash support. We're guessing there's a native iPad version on the way, though there's no public timescale for its availability. Still, if your media gallery exceeds the storage capacity of your mobile device then it's a handy way of having access to masses of content with very little headache.
"Very little headache" is actually a good way to describe the Pogoplug. If you're looking for a set-and-forget backup system then it's not quite ideal – RAID duplicates everything on the drive, after all, whereas you'll need to make sure your Active Copy folders are set up correctly on the Pogoplug – and the freedom to use regular USB drives comes with a sacrifice in speed. However, for most home users (and perhaps some small business ones too), network backup is only part of what they're expecting from a NAS-style solution, with media sharing, painless online access and an affordable entry price all carrying equal import. On those fronts the Pogoplug does much better, with a straightforward UI and a sharing feature that should be usable by all but the most tech-phobic grandparents.
Our guess is that a USB 3.0 version is on the cards somewhere down Pogoplug's roadmap, but that's likely far off in the distance and, for the moment, USB 2.0 is probably fast enough for home users. It's the ease of use that makes the Pogoplug such a success, though; if you're a netbook user, have picked up an iPad or iPhone with limited onboard storage but still want a big catalog of video to choose from, or simply prefer to keep your files locked up at home rather than on a notebook or memory stick that could be lost or stolen, Pogoplug represents a straightforward workaround. And hey, if you really do find the color that offensive, you can always hide it under the desk.