PlayStation 4 developer console appears: confirms original vision

It's not the most in-depth bit of photography you'll see today, but for those of you looking to see the PlayStation 4 as it sits in the hands of developers across the planet this summer, this may well be the best you're going to get. What we're looking at below (below the first image, that is) is a "leaked" image of the PlayStation 4's front – or back – not that it matters – as photographed by an intrepid attendee of either Jimmy Fallon's showing of said device or E3 2013.
Now we just need to bust open a cabinet at SDCC and we'll see if they all match! These developer units use the most basic of basics for their outer casing, showing LED lights for on-states and big ol' bumpers here and there so no drops can harm it. Not that you'll be wanting to explain to Sony how you dropped your early edition of the PlayStation 4, mind you, but it does seem more hardcore than your average built-it-yourself PC.
Below you're seeing the image "leaked" today via Gizmodo with a couple different units complete with high-tech tape telling their contents. Above you're seeing the developer unit shown back in February which was originally only given attention due to its inclusion of the new dual-shock controller. Always remember to look at the whole image!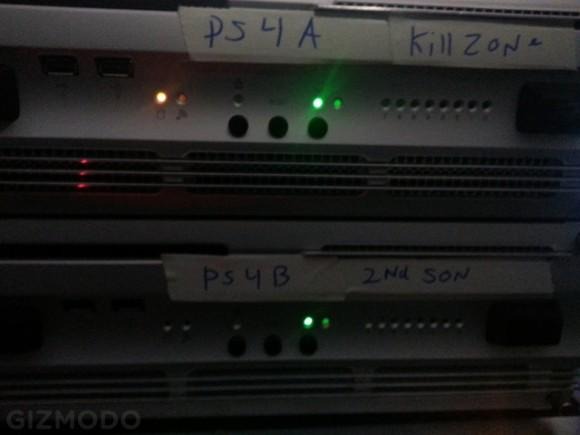 And for those of you that want to see the final PlayStation 4 hardware – at least as far as Sony's shared thus far – there's this sharp piece of work right here. We've had our own close-up look at the PlayStation 4 more than once, complete with toggle-less lights and edges so sharp they'll cut your face open. Make sure you stay tuned as we see how this device fares a the biggest comic convention of the year!