Panono Review : Throwable Panoramic Ball Camera in the house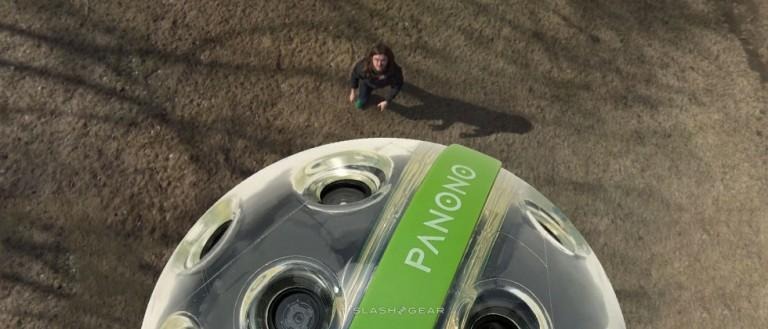 This is the Panono, a camera which exists in a spherical configuration, one that you're able to toss into the air to capture unique images. Back in 2011 when we first discovered this piece of technology, it was just a student project. Fast forward to now, the year 2016, and we're getting to experience the magic in final form – ready for consumers – for the first time. Is this the way of the future? Or was this an awesome idea formed before its time, executed too late to make a giant impact in its natural home market – virtual reality?Here's what you can do with this device: first, you can toss it in to the air and it'll take a photo using its array of cameras. That's pretty awesome in and of itself.
The photos captured are quickly digitally stitched together to form a single piece of media, one that you're able to share and view on multiple platforms.
Above you'll see the ball camera itself. Below you'll see one example of what it's capable of capturing when you throw it into the air.
When you toss the camera into the air, sensors inside tell it when its JUST about to start falling down again. At the peak of its travels up, then down again, it snaps photos with all of its cameras.
That's pretty radical.
It might also be fairly unnecessary.
Above you'll see an OUTDOOR tossed-ball shot with great lighting. Optimal conditions.
Below you'll see just about the opposite. INDOORS with relatively low lighting, also tossed.
Back when Panono was first developed, we didn't have such a thing as a Selfie Stick. People didn't go putting their cameras at the ends of very long poles to capture photos. It was done, sure, but there really wasn't any big call for it.
• DIAMETER 11 cm
• WEIGHT approximately 480 g
• CAMERAS 36 fixed-focus cameras
• RESOLUTION 108 megapixels
• PANONO APP iOS 7+ and Android 4.2+
• CHARGING via USB cable
• STORAGE CAPACITY 16 GB, approximately 600 Panono shots
• CONNECTION WiFi
The good thing about Panono's toss-and-capture feature is that it's just one way to activate its abilities. You don't HAVE to toss it in the air.
Panono also has a remote trigger, a physical shutter button, and a USB-based button. You can shoot however you like.
Above you'll see an INDOOR image shot on the Panono Stick (a pole with a remote trigger functioning via USB).
Below you'll see an OUTDOOR photo captured using the device's physical shutter button. Unfortunately it's nearly impossible to use this button without several of this device's cameras capturing images of your palm.
One unfortunate side-effect of this being a slightly more complicated device than some of the sort of point-and-shoot spherical cameras we're seeing appearing courtesy of Samsung and LG is that the photos you capture on the device do not process on the device.
You first need to download the photos to your mobile device, smartphone or tablet, then upload to the Panono Cloud for processing. And processing does not create an instant result. You need to wait a while.
While we're hoping the future of VR is inherently social, the idea that we need to rely in Panono's cloud servers to do the processing of these spherical photos remotely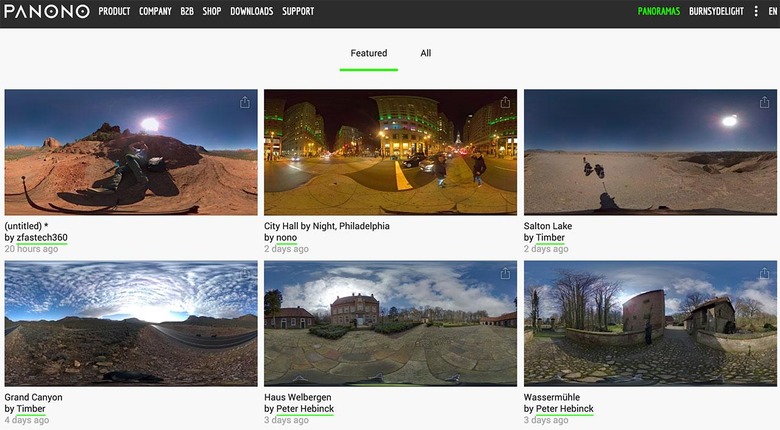 We'd like to see a smaller version of this device in the future.
We'd also like to see the quality of the end-product shots improve – especially in low lighting situations, and particularly when the device is being held at the end of the Panono Stick.
Despite these wishes, the device itself is pretty awe-inspiring. Seeing a student project like this seen through to completion, start to finish, is certainly inspiring.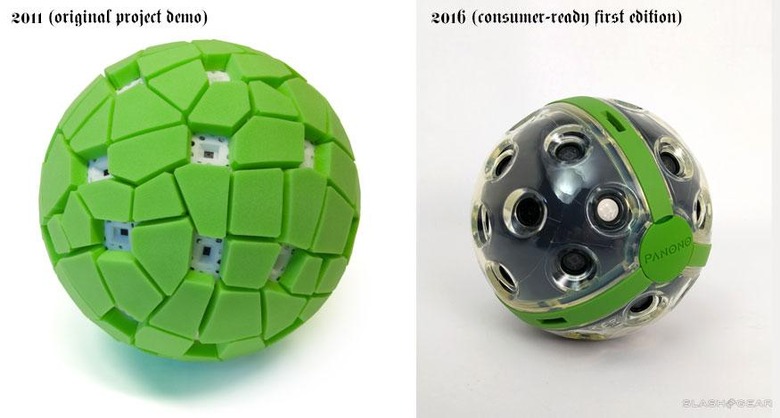 While this device is pretty great to experience, I'm having a hard time suggesting that the average consumer pick one up for its initial asking price of €1499 EUR.
That's a lot of cash to spend on a device that's caught in-between the super-simple, super-portable abilities of the Ricoh Theta S and the highest-end capture abilities of Google Jump and Nokia OZO.
Once there's a need for this sort of recording ability, the cost might be worth the product – but until we get more than just photos and a device that's too big to fit in our pocket, more than a few hundred bucks is going to be too prohibitive to hobby users. If, however, you're a first-wave early adopter of all things with VR potential, this might not be a bad time to jump in on this rather unique piece of equipment. You can find our more via Panono dot com.