LG G5 hands-on: LG goes metal and modular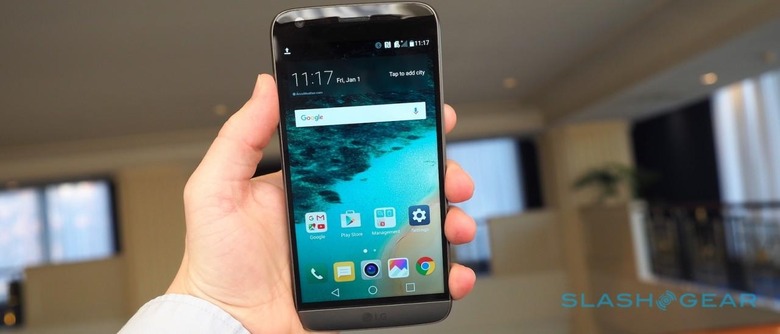 LG promised something out of the ordinary for Mobile World Congress this year, and the LG G5 certainly delivers. The company's flagship Android smartphone for 2016 not only ditches the little-loved plastic of its predecessor, but introduces a new range of "Friends of G5" accessories that can expand its functionality, in some cases physically modifying it depending on whether you want more polished photography, better audio, or even more accurate control of your drone.
It's an undeniably sleeker phone than the G4, not to mention a better-feeling one in the hand. Rather than plastic, LG has opted for metal for the 149.4 x 73.9 x 7.7 mm, 159 gram body, cooking up its own "Microdizing" process which effectively paints the shell to cover the necessary plastic antenna patches on the rear.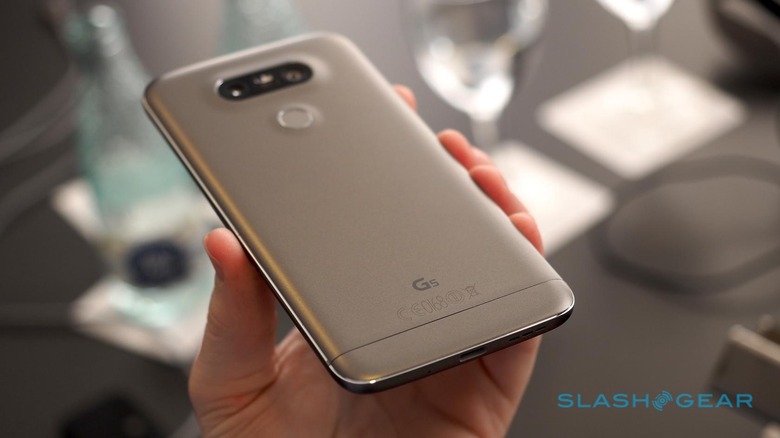 On the front, a sheet of slightly curved toughened glass covers a 5.3-inch Quad HD Quantum IPS LCD touchscreen. LG has taken the secondary status display from the V10 and integrated that functionality into the G5's main screen, with an always-on portion showing time and notifications.
That's fairly easy to do on an AMOLED panel, where you can selectively power up a section of the screen, but traditionally far too wasteful of power to do on an LCD. LG, though, borrowed from the process of local dimming on its TVs, and now can partially light up a chunk of the G5's panel.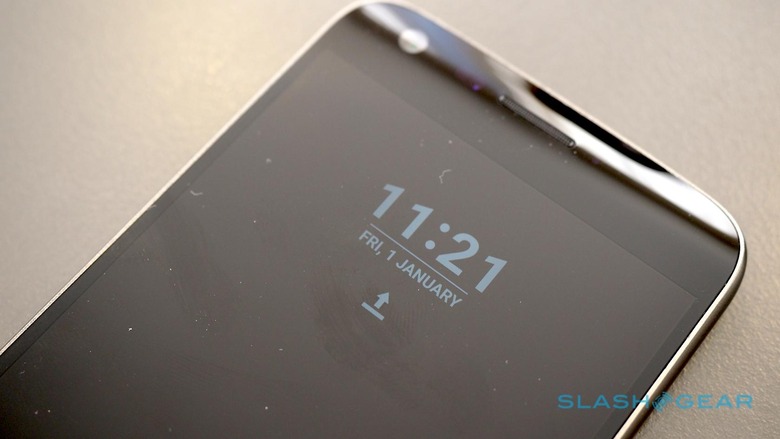 It automatically adjusts brightness, but only consumes what LG says is around 0.8-percent of the total battery capacity per hour: less, so the argument goes, than you'd waste turning the display on and off multiple times through the day just to check the time and for missed notifications.
Inside, there's Qualcomm's Snapdragon 820 processor, paired with 4GB of LPDDR memory and 32GB of storage. LG refuses to give up on removable storage or user-swappable batteries – increasingly a rarity in the smartphone space – and the G5 offers both, with the ability to slot in up to a 200GB microSD card.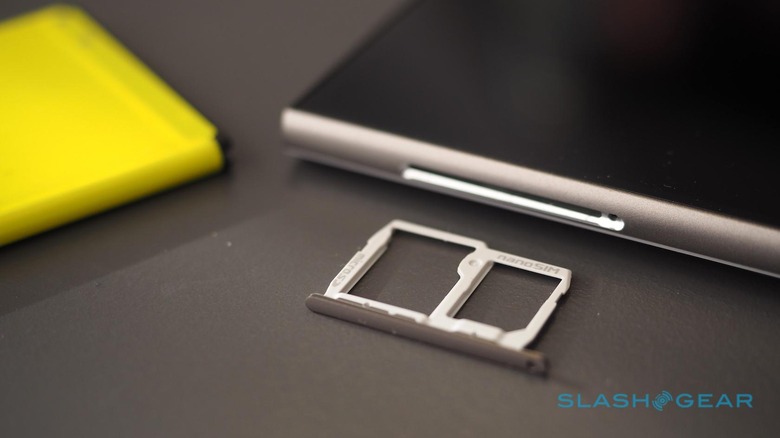 On the bottom edge there's a USB-C port, while on the back there's a circular power/lock button with an integrated fingerprint sensor. Rather than flank it with the volume keys, LG has moved those to the edge of the phone.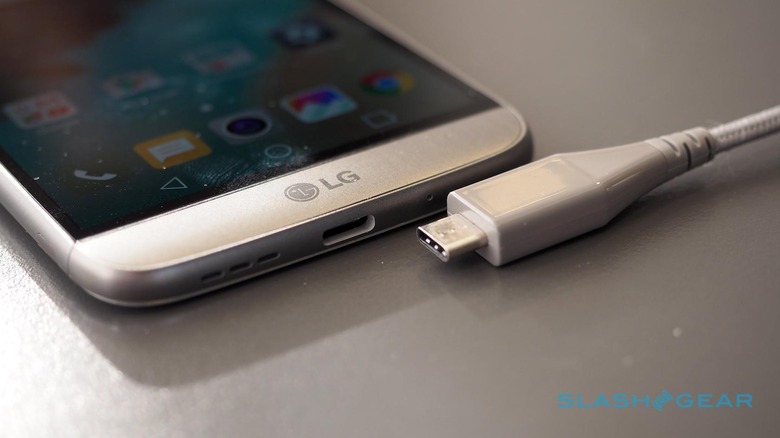 Twin cameras are on the rear, a 16-megapixel sensor with a 70-degree lens, and an 8-megapixel camera with a wide-angle 135-degree lens. The revamped camera app automatically switches between them as you zoom in and out, or you can do more creative shots by combining the images from both. An 8-megapixel camera on the front handles selfies.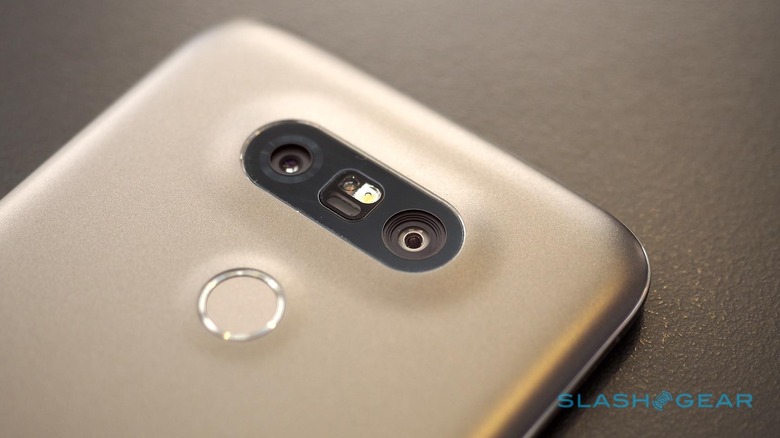 What makes the G5 particularly interesting is its modularity. Press a button on the bottom left edge of the phone and you can snap off the lower panel, which draws out complete with the 2,800 mAh battery. In its place, you can slot a variety of different pieces – LG calls them "Friends of G5" and gives them, for reasons unclear, a cat-wearing-sunglasses logo – bringing alternative functionality.
Now, while it's not as wide-ranging in its interchangeability as, say, Google's Project Ara, the G5 does have the advantage of actually being market-ready.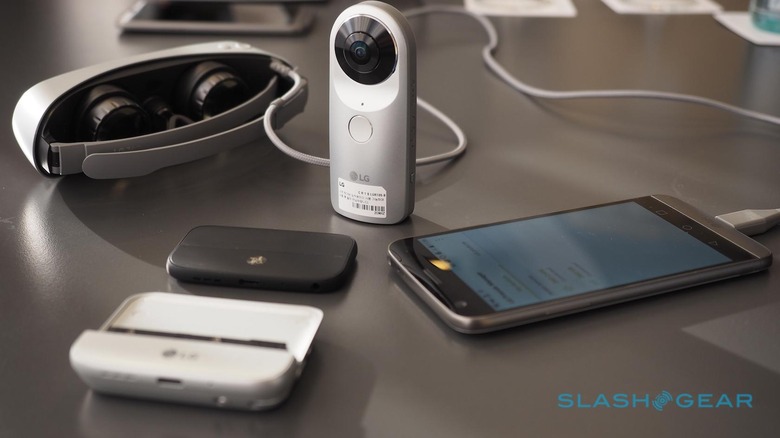 Today, there are a small handful of accessories. The LG CAM Plus, for instance, is a camera grip attachment: in addition to being easier to hold, it has a two-step shutter release, a dedicated video recording button, a zoom wheel, and a shortcut switch that loads the camera app. Inside, it has a supplementary battery, too, adding 1,200 mAh to the G5's charge.
If music is more your scene, the Hi-Fi Plus with B&O Play adds a 32-bit DAC with upsampling, with 384 kHz playback. Usefully, it supports standalone use too: put on its cover and you get a regular USB port, allowing you to connect it to a laptop or other device.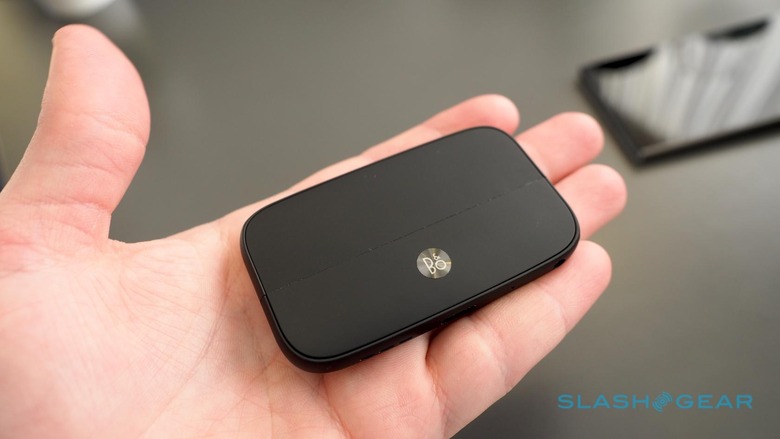 In the pipeline is a collaboration with Parrot, on a drone controller attachment. That will add physical flight controls to the G5, which will be used to navigate select models of Parrot's quadcopter. There's also the LG Rolling Bot, a remotely-controlled robot with a live-streaming 8-megapixel camera that can be left to scurry around your home or office.
LG's other "friends" for today don't actually snap into the multi-functional port. The LG 360 CAM is a 360-degree camera for photos and video. Looking a little like a truncated Ricoh Theta, it has a pair of 13-megapixel, 200-degree lenses positioned back-to-back, capturing to its 4GB of internal storage or an optional microSD card.
It'll support standalone use – it has a dedicated shutter release button and a 1,200 mAh non-removable battery, along with a standard tripod screw – but you can pair it with a G5 wirelessly and control it from afar, too. Picture processing is done in the camera: you can wirelessly transfer them to your phone, and even upload the 360-degree photos to Google Street View. However, right now there's no way to process the video without a G5, though LG tells me it's weighing the possibility of a desktop app.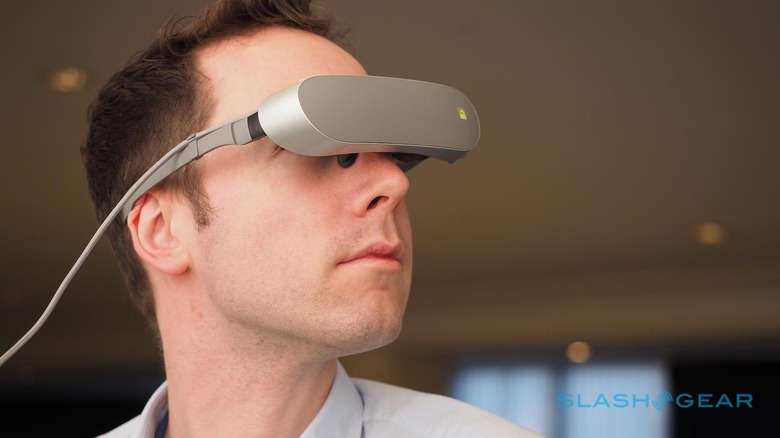 While you can view the content on the G5, for best results LG would rather you plug in the LG 360 VR, its virtual reality headset. Although it's Google Cardboard compatible, the 360 VR eschews the typical "slot in your phone" approach that Samsung uses for the Gear VR; instead, it has its own displays.
That makes it much lighter – at 118 grams it's about a third of the heft of rivals – though it does mean you have a cable linking it to the USB-C port of your G5. Resolution falls somewhere in-between 720p and 1080p – LG says it's 639 ppi – and the eyepieces are individually adjustable not only for focus but width; even with my odd prescription, I was able to get a pretty clear view.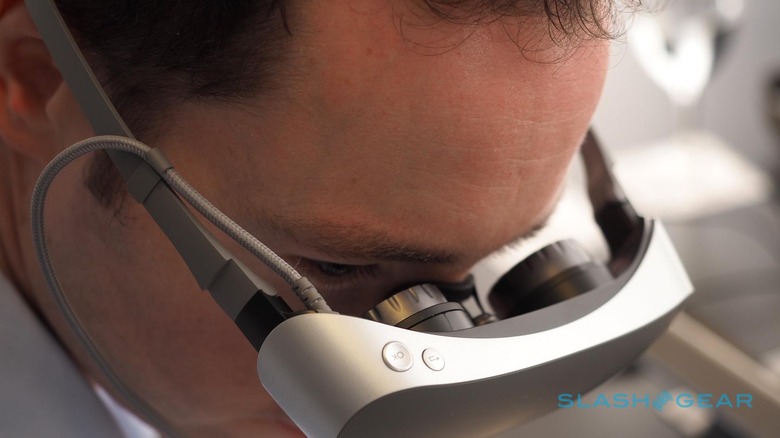 Navigation controls are limited to a select button and a back button: the 360 VR uses a gyroscope to move a virtual pointer through the menus. Alternatively, you can use the G5 as a control pad. There aren't built-in headphones, though you do get a headphone jack; if you'd rather, you can simply leave the G5 to play back audio, or pair some Bluetooth headphones.
Currently, the LG 360 VR only supports the G5, but LG tells me that's just a driver issue. It's certainly feasible that, with the right software, it could support a different device like a laptop.
All of the accessories are handled through the LG Friends Manager, which tracks what physical devices are attached as well as what wireless add-ons are nearby and connects with them automatically. LG says it's keen to explore third-party partnerships, and there'll be an SDK for those looking to produce hardware that expands the G5's abilities. The company did some fettling of Android to make sure the boot-up time is fairly swift, since the G5 powers off every time you remove the lower section.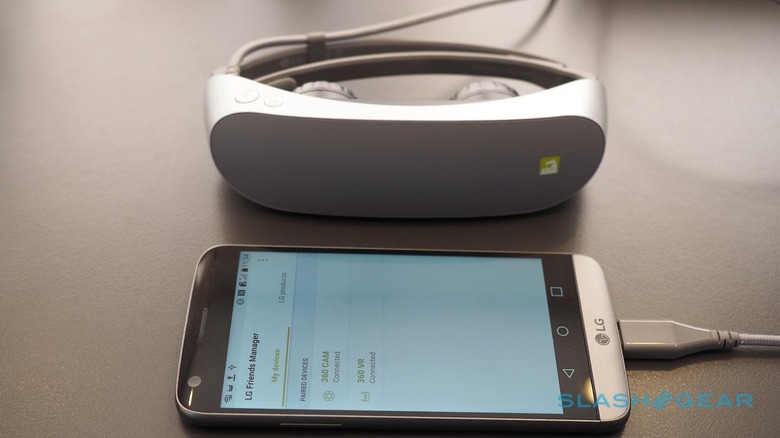 It's a clever system, though exactly how useful in the longer-term it turns out to be will depend on how committed LG is to the modularity system. Owners of the phone will presumably be more willing to buy add-ons for it if they know that they'll be able to use those same accessories with the LG G6, for instance. Right now, though, LG isn't commenting on those plans.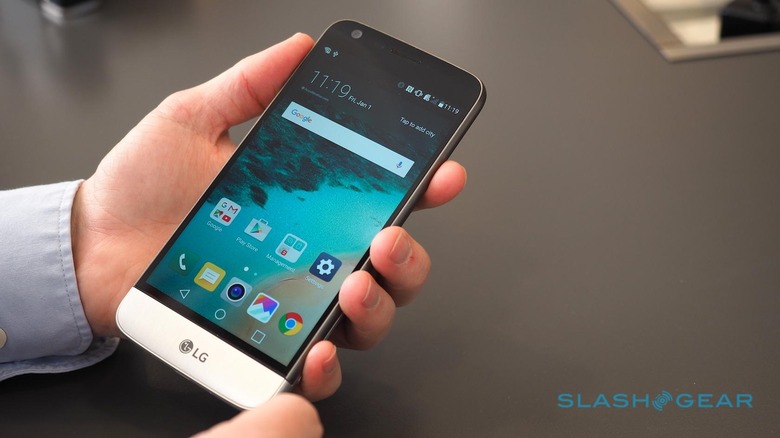 As devices go, though, the G5 has a lot to recommend it off the bat. There are a couple of points which are likely to be mildly controversial – there's no wireless charging, for instance, and LG's UX 5.0 has done away with the app drawer – but for the most part fans of the company's phones are likely to appreciate the better-quality feel and swifter components.
LG isn't talking specific release dates at this point, though we'd expect to see the G5 sometime around Q2. It'll be offered in four finishes – titan gray, silver, gold, and pink – with pricing for it, and the "friends" accessories that it can be paired with, announced closer to availability.
[gallerybanner p="428054"]