OnePlus 3 Review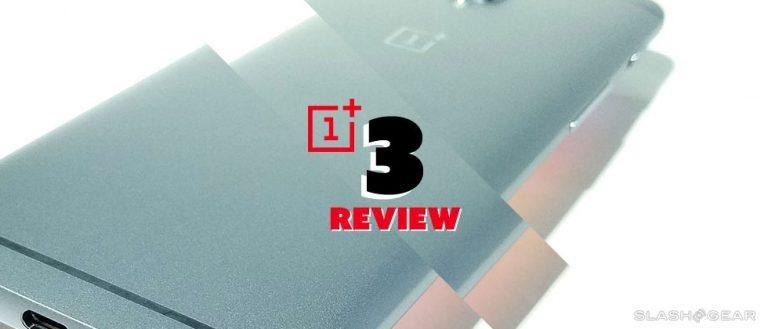 The OnePlus 3 is a phone that competes with the finest smartphones on the market today at almost every level. Why might you want to buy one? Because it might be a slightly smaller amount of cash to purchase than a device with almost identical features. How is this device different from its competitors? It looks slightly different and acts slightly differently. Also, you won't have to wait for a code to get the "opportunity" to buy one this time around.
The device you're about to see is thin. It's light. It's robust. It has a smooth glass front with edges that curve down in an elegant way around the rim. The look is nice. The look is classic.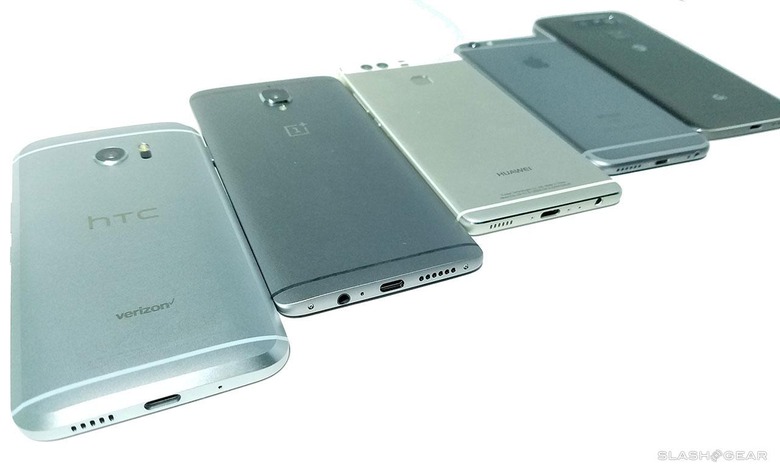 I can't help but feel like I've seen some of these design elements before, but I might be mistaken.
There's a front-facing home button on this device that's touch-sensitive, like the back and menu buttons to the left and right of the home button. Unlike an iPhone or Samsung Galaxy smartphone, the home button here does not physically press in, it is just sensitive to touch.
See our OnePlus 2 Review, too.
Under this home button you'll find a fingerprint scanner that works very fast. As fast as one would expect from a smartphone market that uses basically nothing but OneTouch FPC units for fingerprint detection.
The sensor on this device works with essentially the same process as the OnePlus 2, and – since we have a new generation of devices and hardware inside – this fingerprint scanner works just a bit faster, too. As it should.
A power button rests on the right of the phone, a volume rocker on the left. Above the volume rocker is a switch that allows you to move between levels of privacy – with silence for notifications, at least. I wish this switch could be used and customized the same way Oxygen OS allows other buttons on the device to be customized.
There's a whole button menu in settings, after all. There you're able to program double-tap actions for the home button, long presses and so forth – to do what you like.
That same menu allows enabling of an on-screen navigation bar if you dont like tapping off-screen, and the ability to swap navigation bar button functionalities. You can turn the backlight on or off, and activate or de-activate your home button.
Customization should be key, here, from a company that says they're all about the absence of compromise in all things. And they are, for the most part – they certainly make a good effort of making a best-in-class device, that's for sure.
OnePlus 3's implementation of Oxygen OS allows you to turn status bar icons off or on, customize LED notification light colors, and switch on a Dark Mode systemwide. You can change the device's accent color and Android's "invert colors" option is lifted all the way to the main shortcuts pulldown menu.
There's also an adjustment bar in this phone's settings that allows you to augment the device's display color temperature.
Oxygen OS on this device has a single extra home screen called "Shelf" that you can access if you pull your original home screen to the right. There you'll find a customizable set of "shelves" where widgets and app shortcuts can be placed.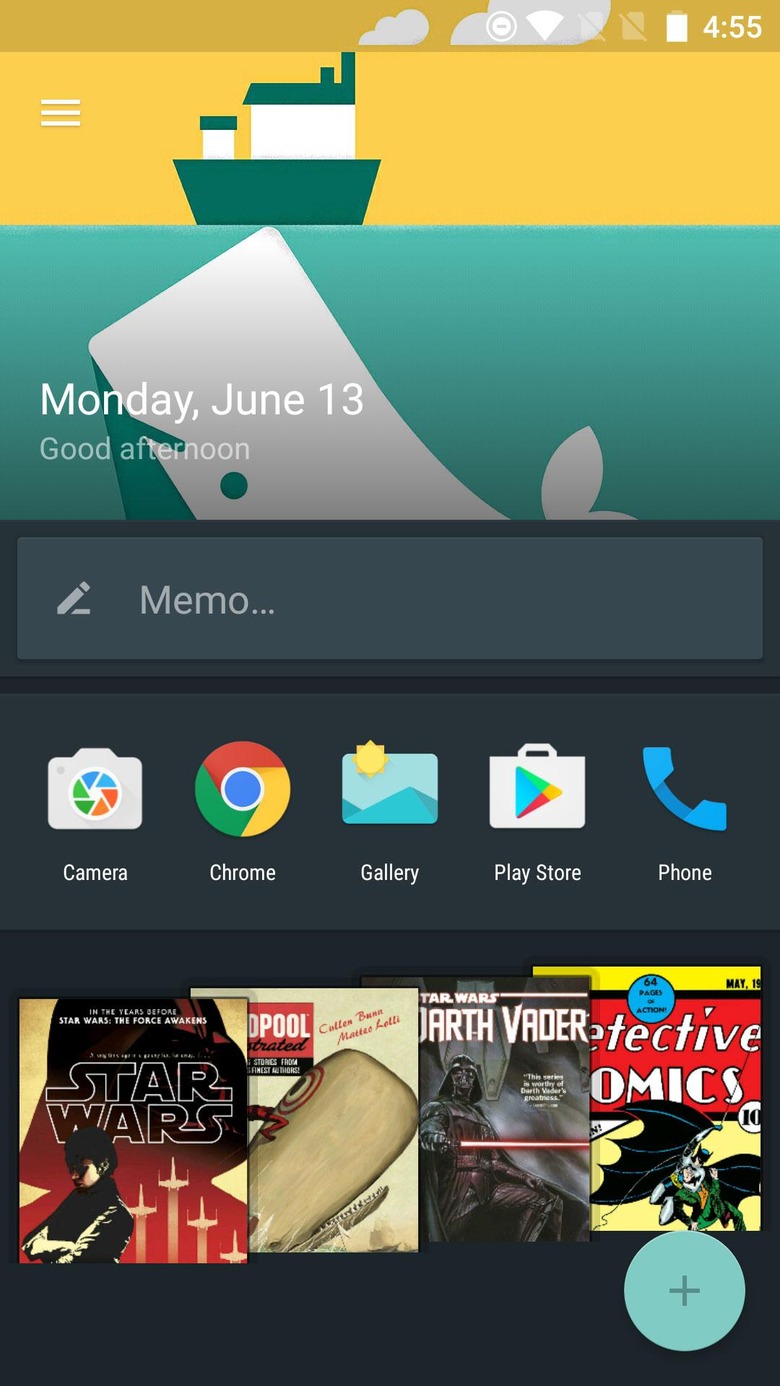 This extra home screen is another example of a small modification made to the basic build of Android that's not entirely whacky. This shelf is entertaining to use and certainly doesn't detract from the experience of using the phone.
The bootloader for the device comes unlocked immediately too, so you can feel free to customize software at a deep level.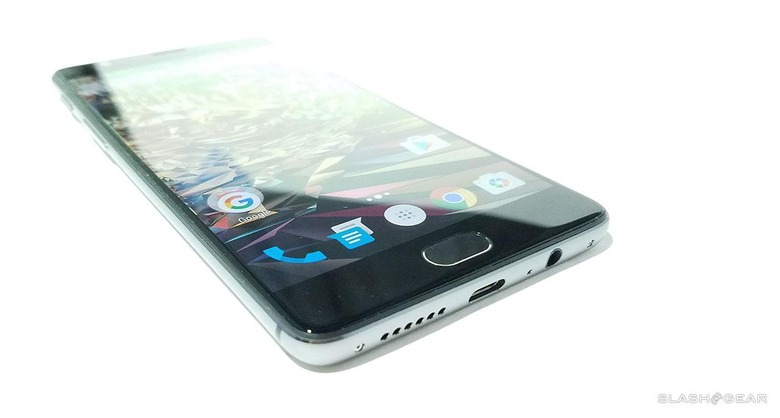 I've not yet done anything so drastic to the OS yet for lack of a reason to. While I'm drawn to Google's most Vanilla version of Android on most devices, excluding some fairly big names in smartphones, here OnePlus has created a nice set of very basic modifications for Google's Android.
You're still working with Android Marshmallow, so you get features like Google Now On Tap – which is particularly awesome now that Google Goggles are effectively built in to Android with smart camera image scanning.
The additions OnePlus makes to Google's Android are reasonable.
There's a local gallery app (as there should be on every smartphone), so you can browse your images and videos. There's also a Files app that allows you to explore your device – another app that I believe every smartphone should have by default.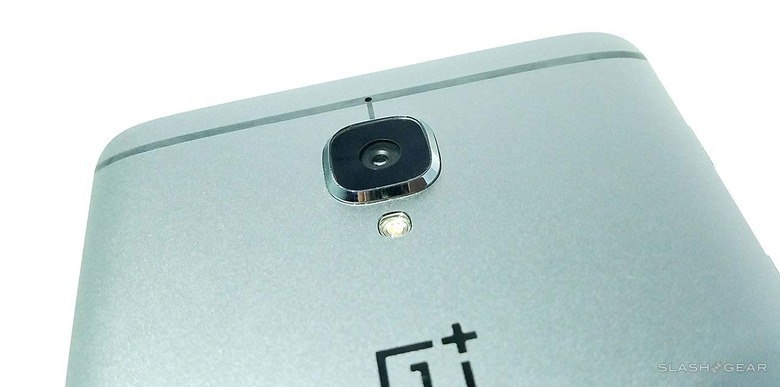 There's also a camera app made by OnePlus.
While we're a bit miffed by the "HD" button and its modification of photos on the fly, the rest of the software is a nice mix of simplicity and camera control.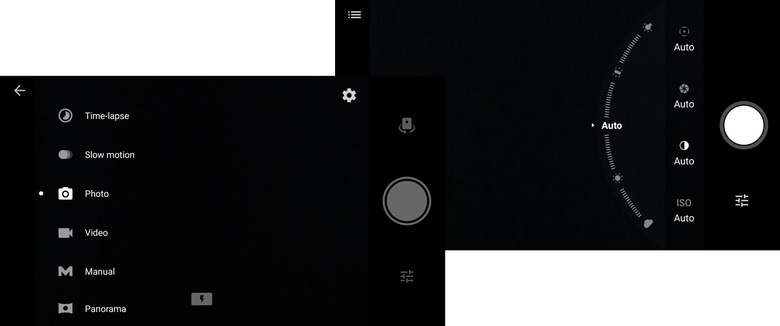 According to OnePlus, this "HD Mode" you have to activate is not referring to "HD" as in higher-definition, but HD as in "enhanced" somehow. The HD feature in this device's camera software "enhances image detail, sharpens lines, and increases clarity." It's basically a beauty-shot sort of button.
A manual mode makes for an advanced camera experience, and the ability to shoot RAW photos is always a plus.
Above you'll see a number of photos we've taken with the OnePlus 3. Stay tuned to our OnePlus tag portal for camera battles between this device and the rest of the high-end smartphone market.
The battery life on this smartphone is good. It's nothing extraordinary, lasting around a day with heavy use – but it's certainly not bad.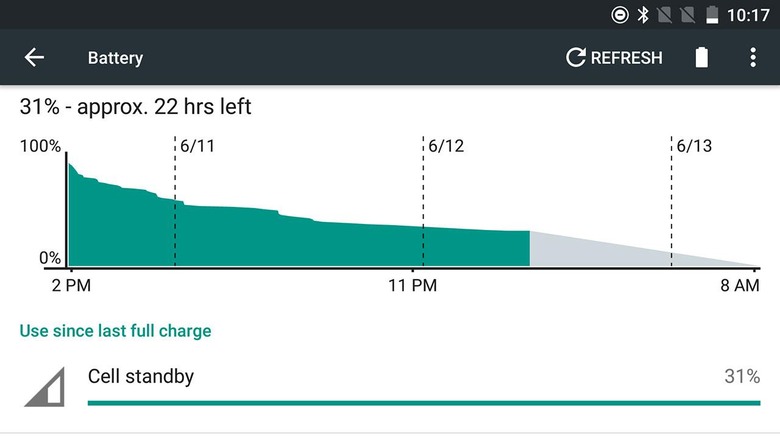 The battery chart from within Android you see above is indicative of a day you can expect to have with the OnePlus fairly regularly.
Verdict
Is the OnePlus 3 worth the cash you'll pay for it?
Absolutely.
For $400 you're getting a device that has everything you'll likely be looking for in a top-tier smartphone, including an excellent camera, a display that's just as bright and sharp as the best on the market, a modern processor (made by Qualcomm), and a built-in community of software modders and OnePlus superfans. This isn't the only device to have these positive features, but at $400 there's little else the company could possibly do to make a better device.
The OnePlus 3 is available in Soft Gold and Graphite (Gray). We've got the Graphite model here.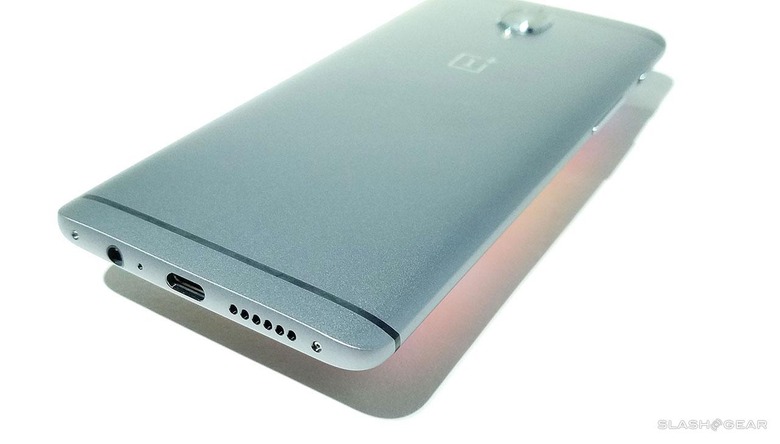 In addition to the $400 USD USA pricing, the OnePlus 3 will cost 309 GBP in the UK, and 400 Euros across Europe. The OnePlus 3 will be available June 14th in the United States and in locations throughout Europe, then on June 15th in India and China.

Above and below you'll find specifications for this smartphone as provided by OnePlus.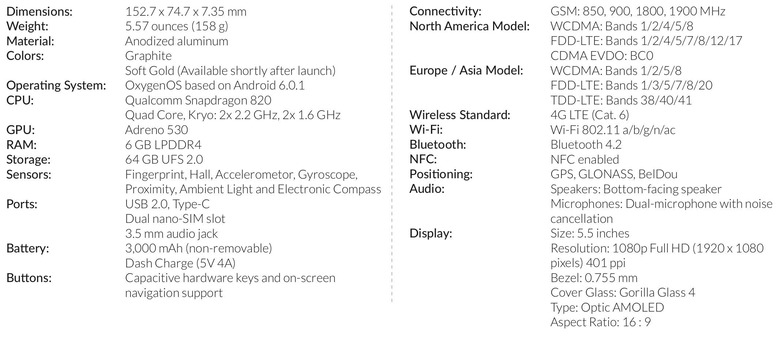 Let us know if there's anything else you'd like us to test with the OnePlus 3 – tests, environments in which to take photos, etc., and we'll see what we can do!