OnePlus 2 Review: An imperfect assassin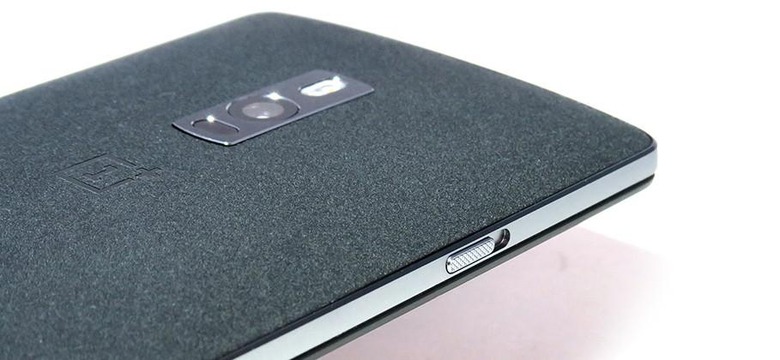 The OnePlus 2 is a winner in its price category, destroying competitors in almost all objective comparisons of hardware, but OnePlus aims its attack far higher. The tagline is "Flagship Killer" and OnePlus takes that seriously: this phone isn't priced like a flagship. but with a few omissions it squares up well to those from rivals. Nonetheless, is competitive pricing enough to forgive the few odd blips on the spec sheet? Turns out, using the OnePlus 2 is much like having a Nexus smartphone from Google, but with some unique features that – for better or worse – set it apart.
Display
The display on the OnePlus 2 is not particularly miraculous, but certainly doesn't look pathetic near its far higher-priced brethren. The display on the OnePlus 2 is not a 2K-beast, not nearly as sharp and brilliant as the Samsung Galaxy S6. It's not even really quite as bright as the iPhone 6.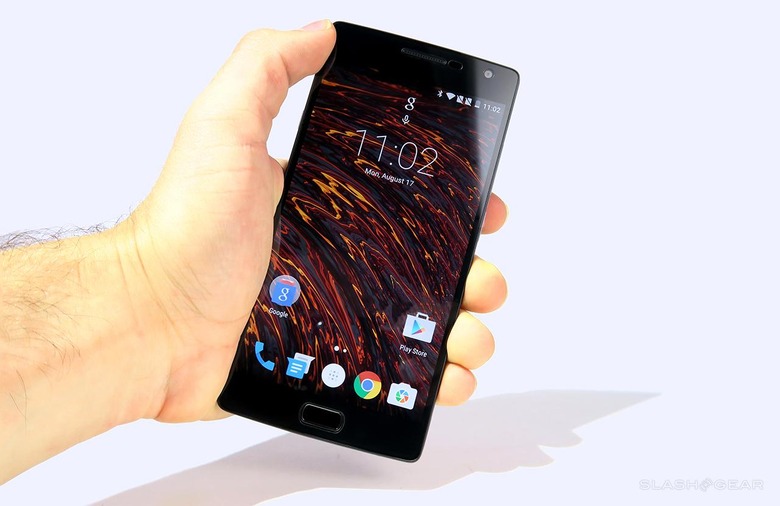 But this display does stand up well. It's just as nice as the best-rated 1080p displays of last year, and not dim enough that you'd notice the difference between it and its competitors unless you had them all sitting next to one another – like you'll see here.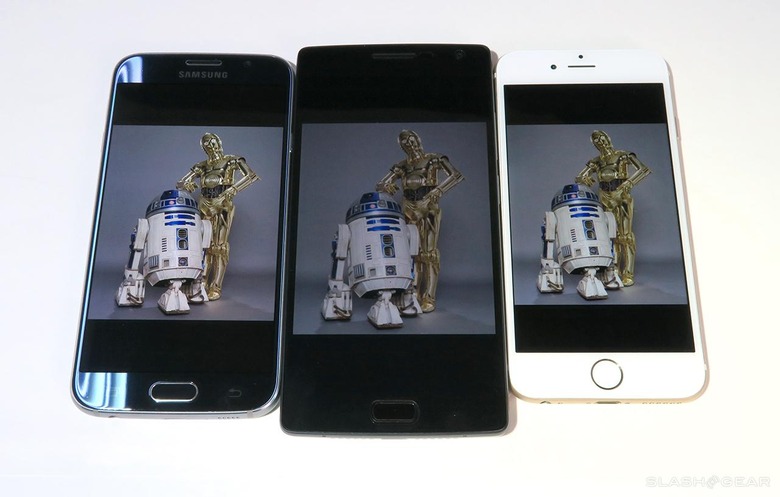 Above and below are the same devices (Samsung Galaxy S6, OnePlus 2, iPhone 6) with the same brightness and the same images on their displays.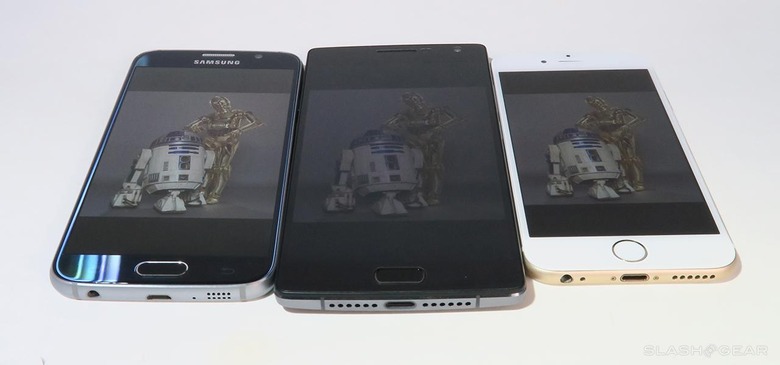 Just a bit dimmer and not quite as sharp as the devices that cost nearly twice as much. That seems like a pretty OK value proposal to us.
Buttons
On the right of the device you'll find two buttons. Both buttons are made from a smooth, hard metal, the smaller reserved for power and screen lock. The other button is a volume rocker and is made from the same smooth metal.
On the left of the device you'll find a hardware switch. This metal switch has a 3D diamond pattern making for a respectably grippy platform without requiring any sort of soft material that'd deteriorate. This button is used to set the OnePlus 2 to "do not disturb" mode right out of the box.
Up front are two capacitive buttons flanking a home button/fingerprint sensor. Under the two menu buttons are LEDs that are extremely dim – they disappear when not in use.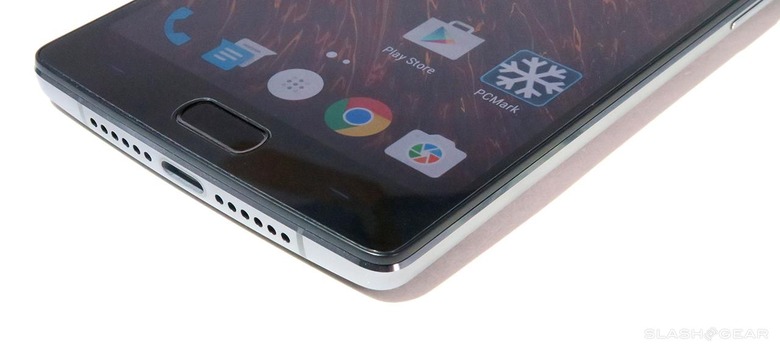 The fingerprint sensor/home button does not physically move. It's just as capacitive as its nearest neighbors, and can take some getting used to. Especially if you're switching from a device whose home button has a push-in to function.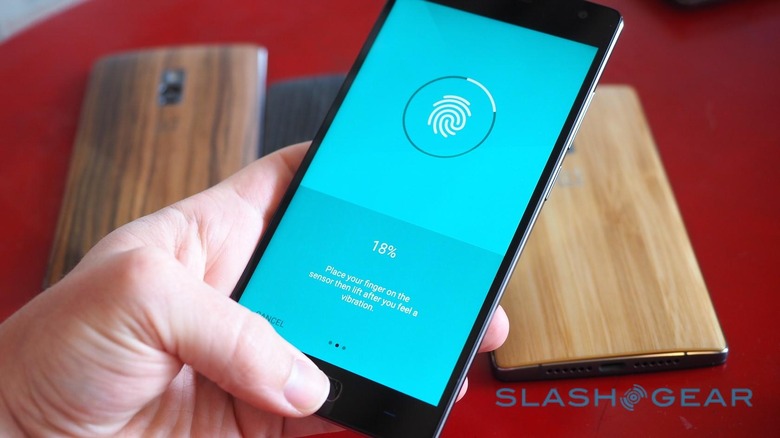 Under the button you'll find a fingerprint sensor that works roughly as reliably as the Samsung Galaxy S5's sensor. The iPhone 5s and 6's fingerprint sensors still reign supreme for instant detectability from all angles.
Materials
Up front you'll find a Gorilla Glass 4 panel covering the OnePlus 2's display. This is the exact same material as the Galaxy S6 uses both up front and behind (it's a lot of glass).
Gorilla Glass 4 is the toughest reinforced glass made by Corning for mobile devices yet, and we've yet to see a scratch in the surface of any of the devices we've been testing. Not that we've been bashing them around or anything, but normal use seems pretty much unable to knick the surface.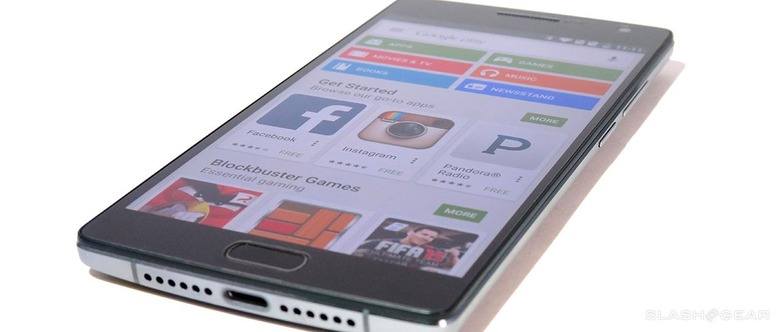 Around the rim you'll find a metal alloy made with aluminum and magnesium. Accents on this mix are provided by stainless steel.
The back of this device is removable. While you'll have an array of back covers available for purchase at some point in the future, the device we've received for review has the company's unique "Sandstone" coating.

This cover is light, but hearty. While we wouldn't recommend carrying this device in the same pocket as a second smartphone (because that's just asking for trouble), our damage tests suggest that sandpaper-like coating on the "Sandstone" here is not gritty enough to damage your average glass panel.
Not unless you try REALLY hard.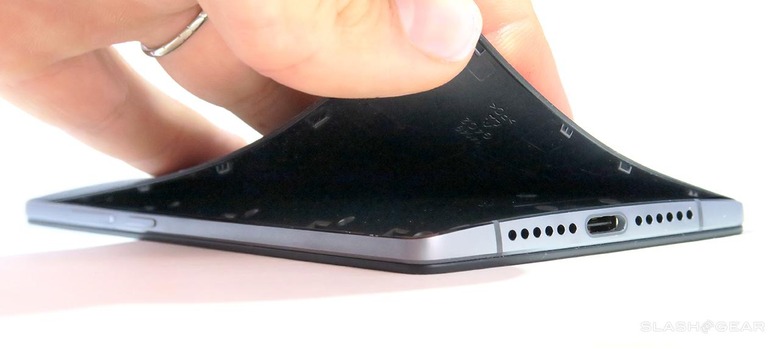 Under the cover you're not going to find much.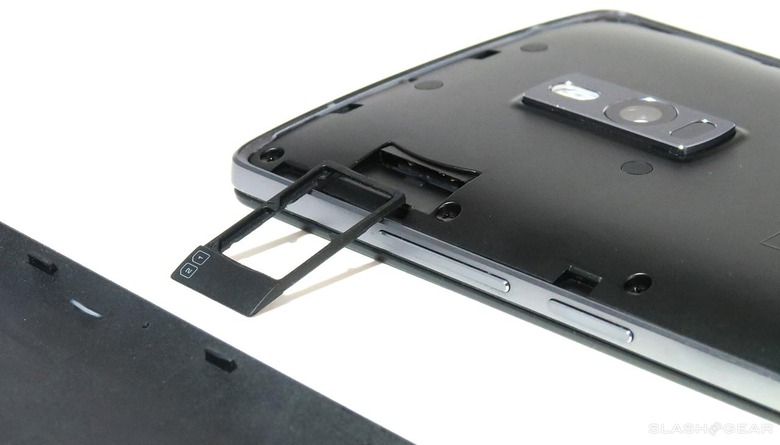 The battery inside the OnePlus 2 is not removable, and the only bits and pieces you'll have to fiddle with here include a drawer for 2x nan-SIM cards.
Connectivity
Dual-SIM connectivity allows for GSM / HSPA / LTE with potential speeds as follows: HSPA 42.2/5.76 Mbps, LTE Cat4 150/50 Mbps. We've had successful standard LTE speeds with AT&T in Bismarck, ND, and will be testing additional bands across Europe as we head to Berlin for IFA 2015 this early September. If anything fails, we'll let you know!
This device connects to Wi-Fi 802.11 a/b/g/n/ac and is able to work with Wi-Fi Direct and DLNA-friendly devices. You'll also be able to use A-GPS and GLONASS satellites for mapping.
Also inside is Bluetooth version 4.1 with A2DP and Bluetooth Smart connectivity. Physical syncing and charging is provided by a USB/micro-USB 2.0 Type-C cord, one of which is provided in the box.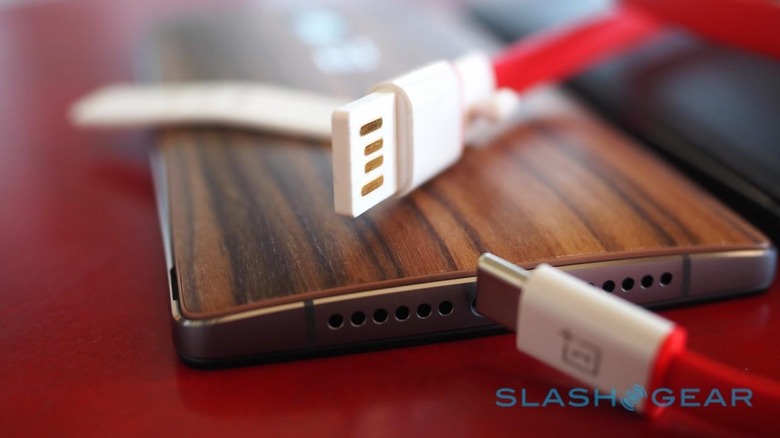 This cord is great if you're the sort of person that takes good care of their cords. If you've owned an iPhone in the past and aren't so very responsible, you know the pain of needing to buy a new cord each time the old one becomes lost or destroyed.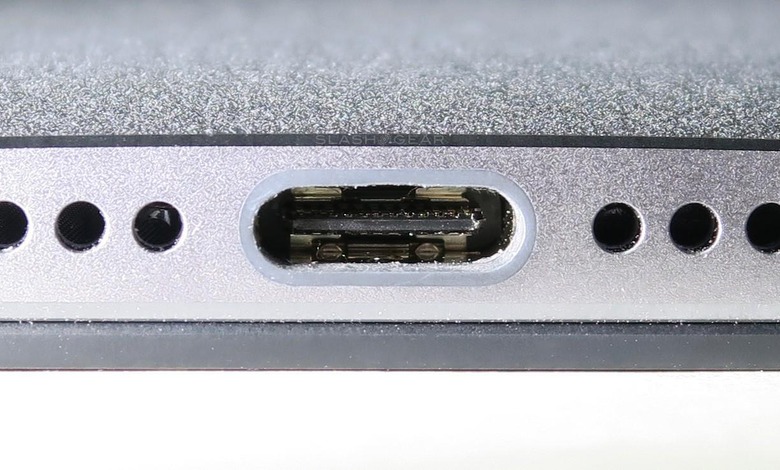 The good thing here compared to the iPhone is that microUSB v2.0 Type-C is a standard with cords made by more than one company. Within the next few years we'll see far more mass production on these cords as more device manufacturers start to use them as a standard for their smart devices.
Processing Power
The OnePlus 2 has a Qualcomm MSM8994 Snapdragon 810 processor inside with Quad-core Cortex-A53 & Quad-core 1.8 GHz Cortex-A57 CPU and Adreno 430 GPU. For the average user, this just means that one of the newest processors is present and will be good to go for apps of all sorts for the next several years, no problem.
This same processor can also be found in the HTC One M9, LG G Flex 2, and Sony Xperia Z4. The processor in this device is just about a half-step (barely worth mentioning) below the processors in the Samsung Galaxy S6 and the LG G4, and you'll really have to try hard to find a test that'll show you any significant difference.
Expandability
The OnePlus 2 does not have a microSD card slot, so you'll be depending on the data storage space provided inside the device. There are two versions of this smartphone thus far, one with 16GB of internal storage (with 3GB of RAM) and one with 64GB of internal storage (with 4GB of RAM).
Software
In this device is Android. OnePlus 2 calls is Oxygen OS, but unless you're really making an effort to seek out the differences, you're not going to notice that this operating system is far and away different from stock Android. You'll see it in the apps.
You'll also see the difference between standard Android and Oxygen OS in Settings. Here you'll find features like "Customization", a settings menu that allows you to change the colors of your LED notifications (to one of 8 pre-made color choices) and accent colors. This system also allows you to switch back and forth between standard (light) and dark themes, making the biggest difference in the way you view your menus and app drawer.
It would seem mostly like OnePlus designed Oxygen OS to keep their own unique software features intact while effectively staying out of the way of Google's vision for a basic Android. We'll see if this holds up once Android 6.0 Marshmallow takes hold.
Camera
The camera app provided by OnePlus has an HDR mode, super strange Beauty mode which makes your face smooth, and Also present is the odd "Clear Image" mode, which apparently witches together multiple images – something like HDR – to create an especially sharp image. The difference between a standard shot and a Clear Image shot is so minor it's difficult to see why this is a feature at all – we're going to go ahead and assume there'll be more to it in future updates.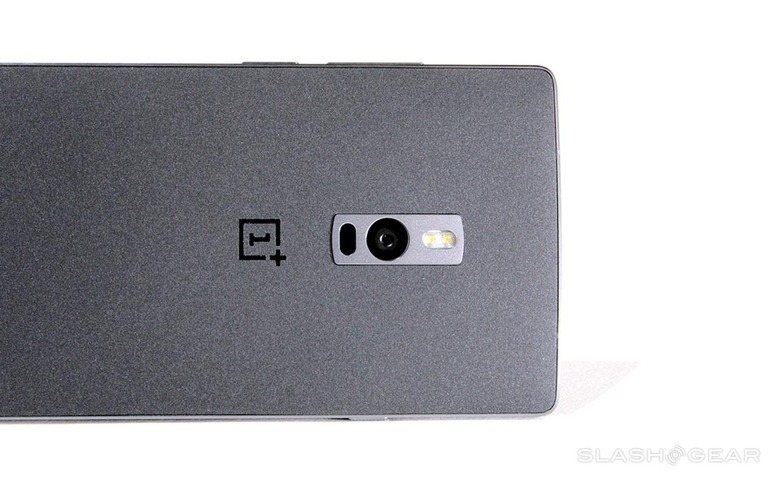 You've also got panorama modes, time lapse, and slow-motion modes. For a look at a collection of photos taken with this device's camera, head over to our full OnePlus 2 Photography Gallery. Also stay tuned for our blind camera tests with other major brands like this one – more incoming!
Battery
With a 3,000mAh battery under the hood you'll find the OnePlus 2 easily running through full day's work without issue. We had difficulty running the battery out in one day, even with heavy usage.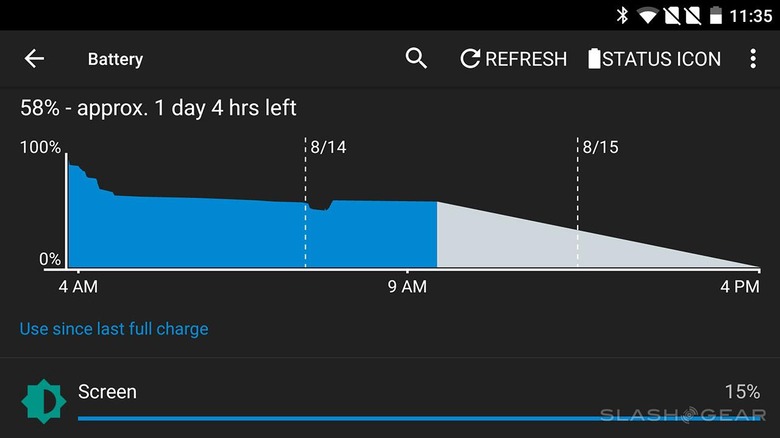 While in the past having a device without a removable battery seemed more a concern, here we're not worried so much. Especially with a 1080p display, even using the device's camera and streaming video for extended periods of time won't run the battery out in any unreasonable amount of time.
You're not going to be able to charge this device up as quick as the other hero devices on the market today if they've got Qualcomm's QuickCharge 2.0 enacted. That's a bit of a bummer. On the bright side at least with the reversible USB Type-C cord you won't be wasting time fumbling with the plug.
NFC
This device has no NFC. While this wouldn't have been a big issue a year ago, today services like Android Pay (and other mobile payments on Android) make NFC far more useful. If you're not worried about making mobile payments with a tap, or haven't ever made use of the NFC on the device you have now, don't worry about NFC here. If you use NFC on a daily basis or plan on using Android Pay, be aware that this device simply does not have the hardware.
Wrap-up
The version of the OnePlus 2 we've reviewed here will cost you $389 USD, and you can add alternate back covers like Bamboo, Kevlar, Black Apricot, and Rosewood for $27 apiece. Because this device comes with a screen protector on its front display right out of the box, we'd recommend waiting on purchasing any screen protectors right off the bat – but if you do, OnePlus has them for sale right through their standard online store.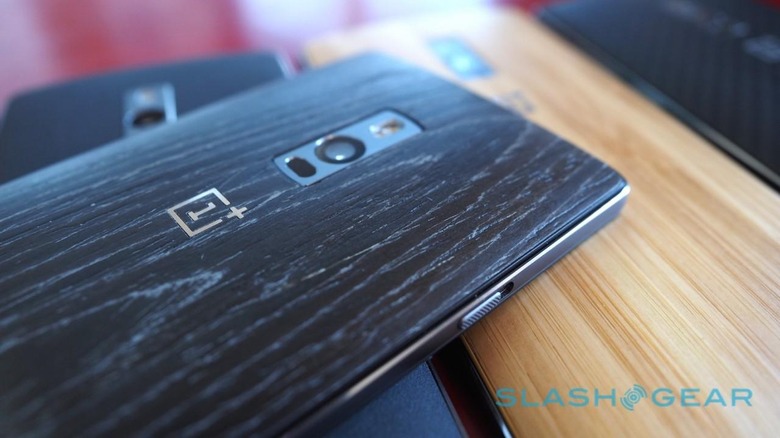 The biggest competitor for this OnePlus 2 device hasn't yet been released yet. If you're in the market for a device that costs this amount of cash or less, the OnePlus 2 is king. When the Moto X Style is out later this year, we might have to change our tune.