Oculus isn't giving up on Gear VR: Facebook 360 Photos, more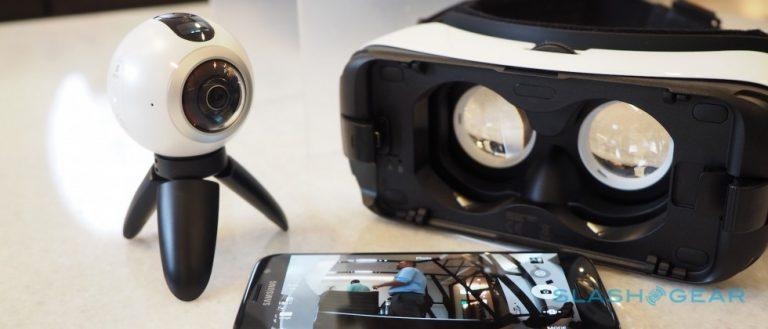 Oculus Rift may finally be shipping, but that doesn't mean the company is sidelining its smartphone-based Gear VR, which is due for some big updates in UI and social integration. Over 1m people used Samsung's Gear VR in April, the company says, a milestone which according to Max Cohen, head of mobile at Oculus, arrived much sooner than had been predicted.
"For people that go into VR, they're spending 25 minutes a day [on average]," Cohen said in a meeting with press in San Francisco this week. "They're highly engaged with this product when they're in VR."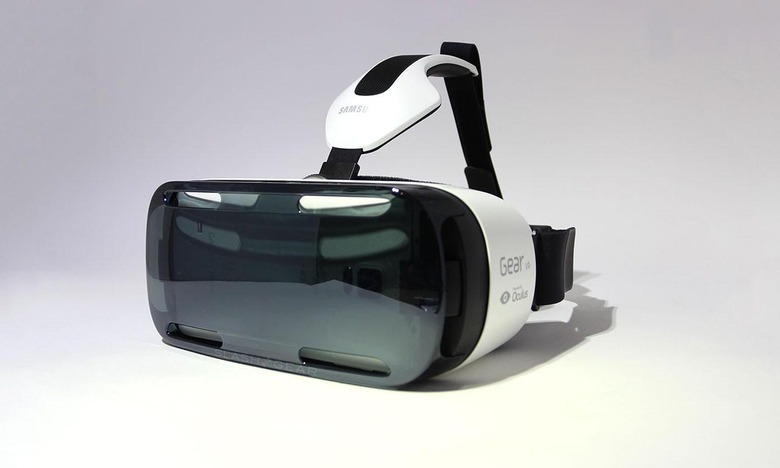 Indeed, a "significant amount" of people are using Gear VR to watch full-length movies – Oculus partnered with Netflix to make an app for the platform, and there are hundreds of movies available to purchase for the headset – and, contrary to most electronics use, the VR system saw increased activity around the holidays as, presumably, owners demonstrated it to friends and family.
Now, with over 250 apps and experiences for Gear VR – including 21 games that began as Gear VR titles and have since been ported to Rift – there's a new batch of software that demonstrates some of the breadth of VR.
Dragon Front will kick off in beta this Summer on Gear VR, a trimmed-down version based on the popular Rift game, while Tactera – a virtual tabletop real-time strategy game from the same developer as Rift-to-Gear VR port Darknet – is due at the end of May.
Though gaming may be most commonly-associated activity with virtual reality, Cohen is quick to highlight that it's not the only thing Gear VR is being used for. "Gaming is an important part of our platform, but it's just a part," he points out.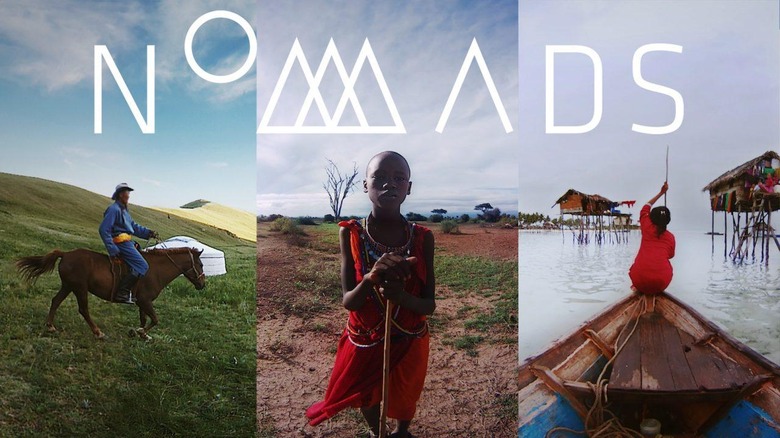 Today, Felix & Paul Studios have revealed Nomads, a 360 3D video series which follows the lives of yak herders on the Mongolian steppes, Maasai warriors in Kenya, and the traveling coastal communities of Borneo. It's a more peaceful, thoughtful experience than the first-person gaming usually associated with virtual reality, I found when I previewed the app on Gear VR, filled with dramatic scenery.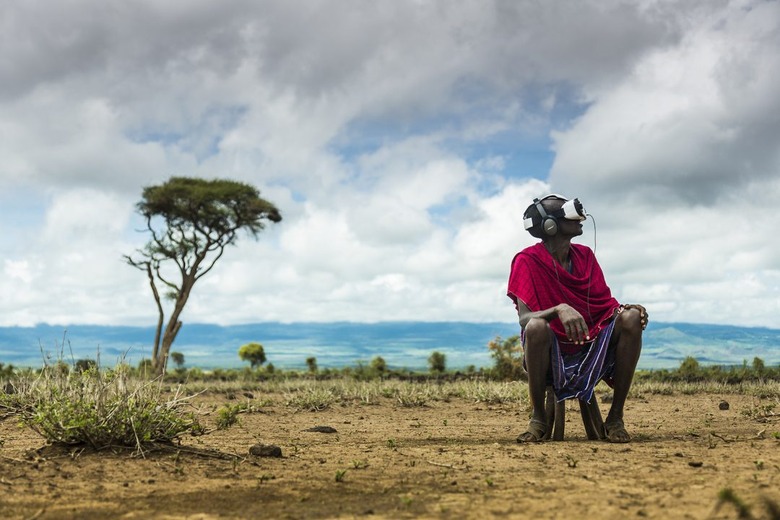 Making faux-eye-contact with Maasai warriors as they slyly glance at the 360-degree camera in their midst, I realized the fourth-wall is oddly quick to fall away in VR, even if you're always aware that you're wearing a hunk of plastic and Galaxy smartphone strapped to your face.
Still to come is Discovery's Deadliest Catch VR, which goes inside the boats featured on the TV show, and which is released on May 17th.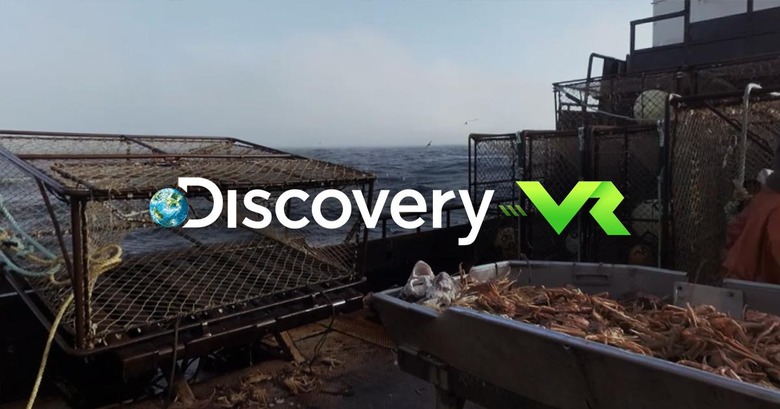 80-percent of Gear VR owners engage in video content according to Eugene Wei, head of video at Oculus, and the counter is soon expected to tick over into 3m hours watched. Although Oculus Studios has helped fund some game and video projects, the company's primary contribution is technical and workflow assistance, as filmmakers and photographers figure out the potential – and the problems – of a relatively new medium.
"It's not like regular video, where everything has been figured out," Wei says. "It's hard to tell stories in 360 video."
Oculus is realistic about the size of the market, currently, too. "I don't think it would make much sense to spend $500m on a two hour 360 movie right now," Cohen says. "We love this medium, we do think it'll change peoples' lives, but we think it will take some time."
For you and I – who might not have the $30k required to build a Facebook Surround 360 camera – there are changes coming to Facebook which should make sharing Gear VR-compatible content more straightforward.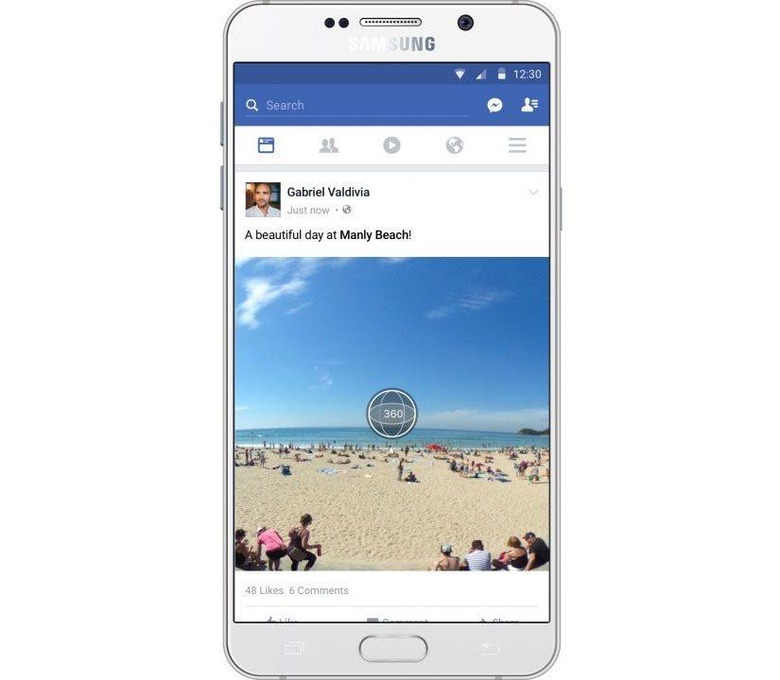 NOW READ: Ricoh Theta S Review
Facebook 360 Photos will arrive in the next few weeks, supporting uploading a 360 or panoramic image from a smartphone or 360-degree camera like Samsung's Gear 360 or Ricoh's Theta S. That content can be viewed by dragging the photo around with a finger or mouse, or – if you're using the Facebook mobile app – by tilting your phone around.
If you have Gear VR, though, you'll be able to load the image and move your head to look around it.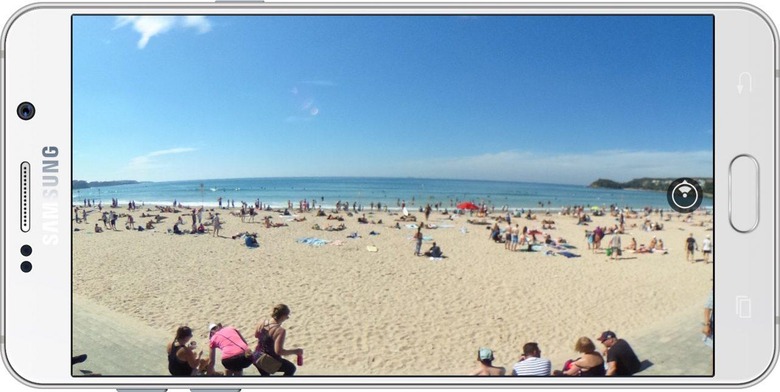 Meanwhile, come June there'll be a new way of accessing all this too, with a redesign for Oculus Home on Gear VR. That should make it easier to access recently-played games and experiences, among other things.
"App discovery is going to be one of the biggest problems," Cohen says, pointing to the issues already experienced by Apple's App Store. Oculus will try to pre-empt that with a "What's New" feed that can deep-link into apps, which will arrive in Oculus Home this week, together with a revamped library interface.
Eventually, there'll be a social element to Oculus Home, though Cohen says it won't be present on day one. That'll include features like presence, so that you can see what your friends are doing and, if supported, jump straight into the content with them. Alternatively, you'll be able to invite friends to join you in compatible apps.
NOW READ: Oculus Rift review round-up
All the same, Cohen is clear that Oculus won't be forcing social on anybody, despite being a Facebook company.
"We're going to continue to use the Facebook ecosystem in ways that people want, but we're never going to force them to create a Facebook account," he promised.
"Some people will want to be anonymous or pseudonymous in VR. It's a more personal experience, and we're very conscious of that."