Nyko Xbox One, PlayStation 4 Charge Bases eyes-on with NVIDIA SHIELD bonus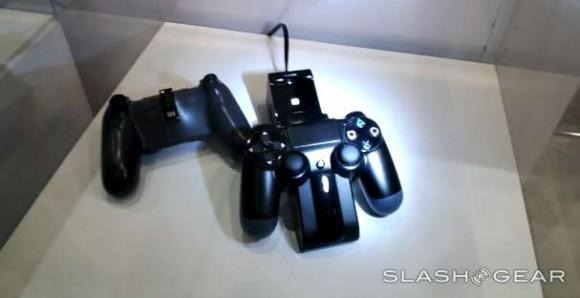 If you were wondering how it is that Nyko is bringing charger bases for both the Xbox One and the PlayStation 4's controllers – look no further. We had a quick chat with the folks at Nyko at E3 2013 this afternoon and got the quick once-over on how their unique technology works. Here well before the Xbox One or the PlayStation 4 are out in the public, Nyko is hitting it hard with unique abilities for the wireless controllers that will define the next generation in console gaming.
The Charge Base exists in two models coming out later this year – one for the Xbox One's controllers, the other for the PlayStation 4's controllers. While the Xbox One edition will be working with 2 rechargeable batteries, simple enough, the PlayStation 4 model gets a bit more complicated.
The company's PlayStation 4 controller charge base works with Nyko patented USB charging dongles. This system makes for a rather simple drop-and-charge setup for the PlayStation 4, while the NVIDIA SHIELD device solution has an added ability.
As we explored briefly earlier today and as our host above will explain, Nyko's solution for the NVIDIA SHIELD dock will work with the device's HDMI-out port. Placing this dock and the SHIELD device next to your television and hooking up then connecting a wireless controller to SHIELD from there will allow the user to work with yet another Android gaming console out in the wild.
Sound like a winning combination to you? Though our host mentions a $29.99 for the SHIELD base and/or the PlayStation 4 / Xbox One controller base, it's clear that final price points aren't entirely solidified. It's also clear here that the NVIDIA accessories are aimed at a release date that's right up next to the device itself – hot stuff!