NVIDIA SHIELD Android TV Review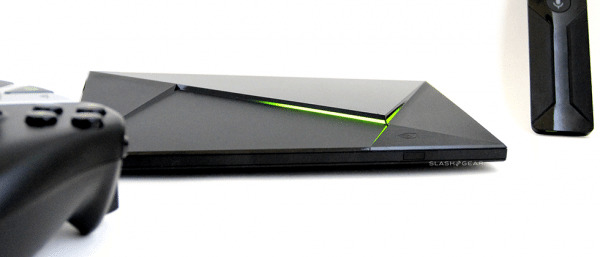 If Nexus Player was Android TV's trailer, NVIDIA SHIELD is the platform's first big blockbuster. This piece of hardware exemplifies all of the high points of NVIDIA's hardware history, taking the Android TV operating system to a place that not only shows off everything Google's done, but adds on features that make this environment even better. In NVIDIA SHIELD you'll find your new best bet for a top-notch living room TV controller, gaming system, and media center all in one.
We went into reviewing the NVIDIA SHIELD expecting an experience similar to that of the SHIELD Portable or the SHIELD Tablet. Boy were we wrong. While the NVIDIA SHIELD Android TV exists in a similar general ecosystem, the Android TV user interface changes everything.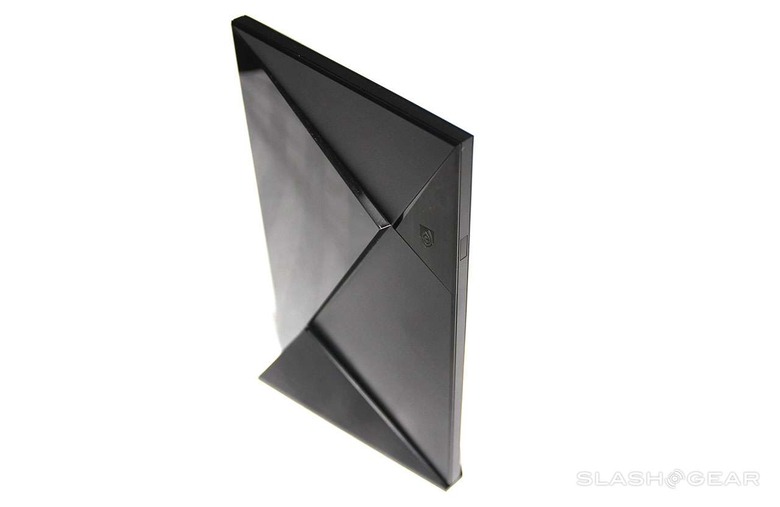 This isn't a mobile device the way a tablet or a phone is a mobile device. This is Android TV, and because NVIDIA's all about boosting their experience with high-end gaming features, this is the best Android TV experience yet.
Entertainment
Along the top of the first screen you see after logging in to NVIDIA SHIELD through Android TV you'll see a side-scrolling gallery of media bits you can jump right in on and experience. This gallery changes as you use different apps and play different games, evolving as your tastes change and your experience pushes the machine to know you better.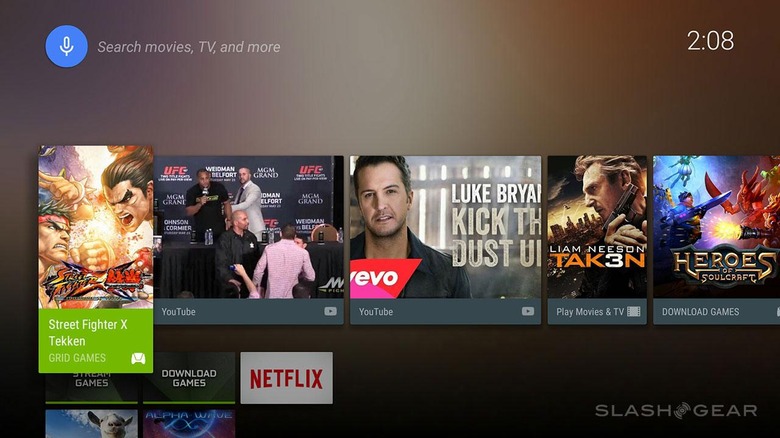 Right out the gate you're presented with Netflix, strangely situated immediately to the right of your portals to SHIELD gaming features.
If you don't use Netflix for video, you've got the option of downloading Hulu Plus, VEVO, Crackle, or the Sling Television app.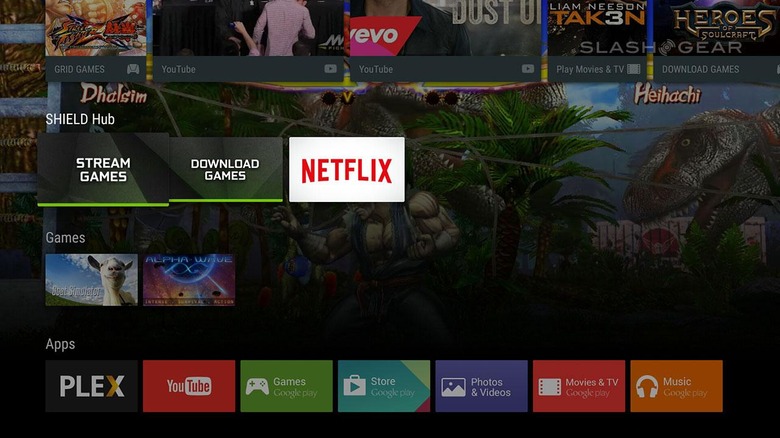 For those of you that have massive amounts of downloaded or ripped pieces of media, there's Plex for Android and VLC, both of which work natively on Android TV.
Google's own suite of entertainment apps work like a charm too, of course. This includes Google Movies, Google Music, and YouTube. All have user interfaces that are very easy to navigate and enticing to use.
If you were hesitating buying digital media from Google's services before now, NVIDIA SHIELD may very well be the point at which you turn to the dark side.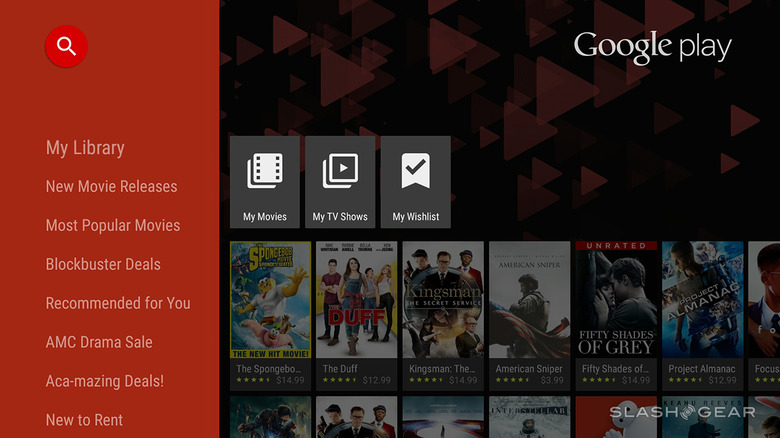 You've also got the option of browsing photos and video you've loaded to the system with Android TV's built-in gallery app.
The app "Photos & Video" is a super simple collection of folders in which you can see what you've got on-hand at any time – this includes Screenshots and Game Recordings as well.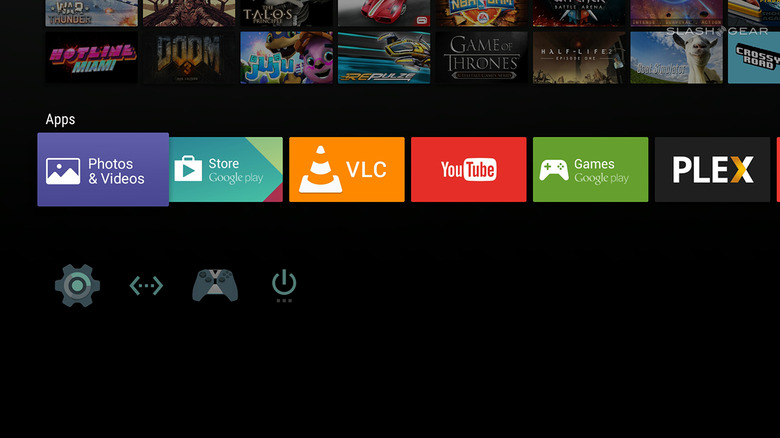 The Google Play Store connects you to all Android TV-compatible apps in a simple and concise fashion, complete with connection to your Google account for purchase where necessary.
As this is an Android TV unit, you've also got the option to use Google Cast abilities. Like the Chromecast dongle, this allows you to send photos, video, and music from your smartphone or tablet to your TV.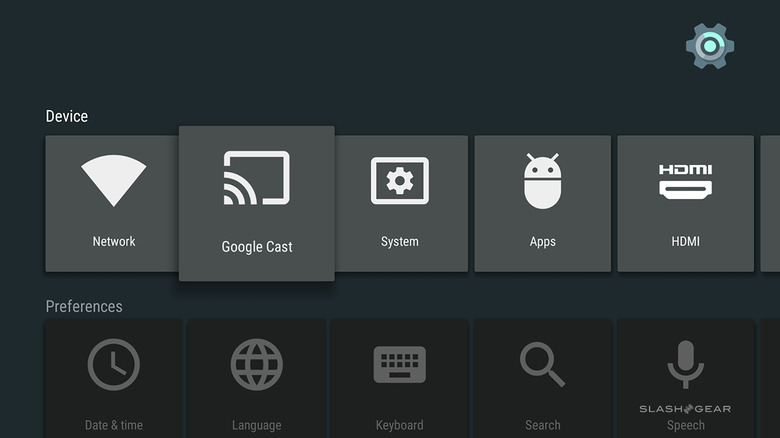 Just make sure both your NVIDIA SHIELD and your mobile device are on the same Wi-Fi network and you'll see a little "Cast" icon appear above media in apps like YouTube or Google Movies. When you tap this icon, you'll see the option to select your NVIDIA SHIELD, at which point the media will begin to play on your TV.
With the rest of this fully-equipped media-viewing suite, sans the additions that are coming soon like WatchESPN, HBO Now, and Amazon Instant Video, this is easily the most compact yet super-versatile solution for your multimedia-viewing living room experience today.
For a full list of Android TV apps, have a peek at the Android TV apps collection on Google Play.
Android Gaming
With the release of this NVIDIA SHIELD Android TV unit comes a new wave of top-level "mobile" games. At some point we reached the era in which PC games of the very recent past were able to be ported to Android, and NVIDIA has been working closely to make certain the biggest and the best were brought to SHIELD first.
This means games like Portal, Half-Life 2, and War Thunder.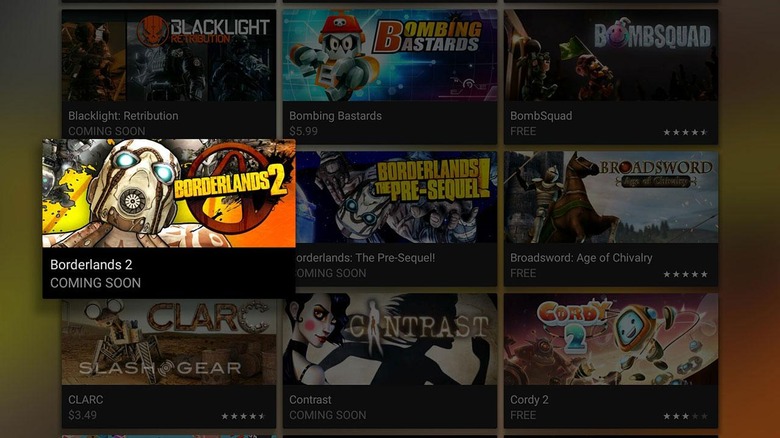 It also means DOOM 3 BFG Edition, and eventually Crysis 3.
While there'll always be room for more awesome games for Android, for now we've got such time-devourers as Goat Simulator, GunSlugs II, and pinball machines from Zen Studios.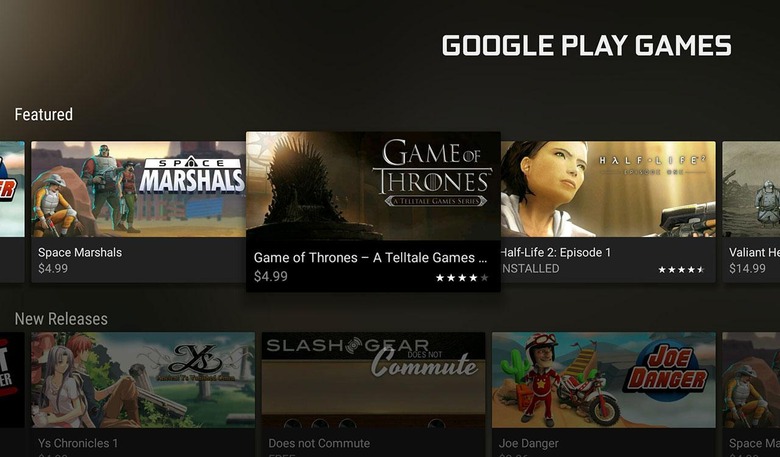 Other notable entries in this launch collection for NVIDIA SHIELD include Tales from the Borderlands, Sky Force Anniversary, Star Horizon, and The Witcher Battle Arena.
And don't forget NBA Jam.
We've had early access to War Thunder, Hotline Miami, Luftrausers, The Talos Principle, Juju, and Doom 3 BFG Edition here for demonstration purposes. We expect their final release iterations to look basically identical.
Above you'll see a collection of Android games played on the NVIDIA SHIELD Android TV recorded with the SHIELD's built-in ability to record its output.
The games you'll see in the video above are as follows, in order:
1. Star Wars Pinball
2. Repulze
3. Sky Force Anniversary
4. GunSlugs 2
5. Tales from the Borderlands: A Telltale Games Series
6. Game of Thrones: A Telltale Games Series
7. Crossy Road
8. Goat Simulator
9. The Witcher: Battle Arena
10. Alpha Wave
11. Luftrausers
12. Hotline Miami
13. DOOM 3 BFG Edition
Luftrausers, Hotline Miami, and Doom 3 BFG Edition are not yet available on the Google Play app store at the time of this review's publishing, but they all will be sooner than later.
NVIDIA GRID Gaming
While NVIDIA GRID works right this minute, we're going to be reserving final judgement on this bit of functionality until a bit later this year. The reason for this is the oncoming set of changes to the UI and overall presentation of the NVIDIA GRID gaming system, including pricing.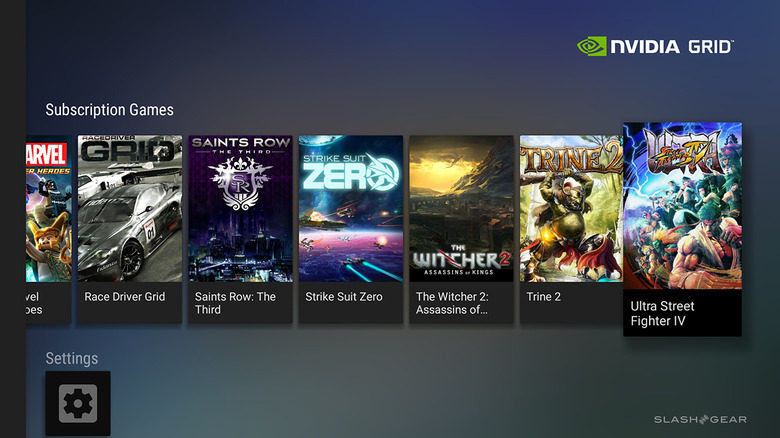 For now it's still just free to NVIDIA SHIELD users.
It won't always be that way.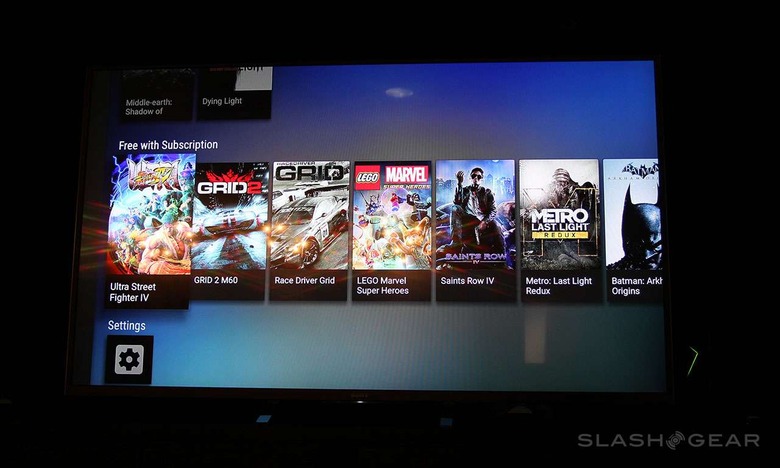 Have a peek at our NVIDIA GRID Store detail article from earlier this year and head to the NVIDIA GRID tag portal for further judgement when the time comes.
PC Game Streaming
This feature goes by the name GameStream, and it's been working for several years on both the original SHIELD Portable and the SHIELD Tablet, both locally and over the remote web. Now that we're here with the SHIELD on the same network, it's just a matter of re-testing what we know already works.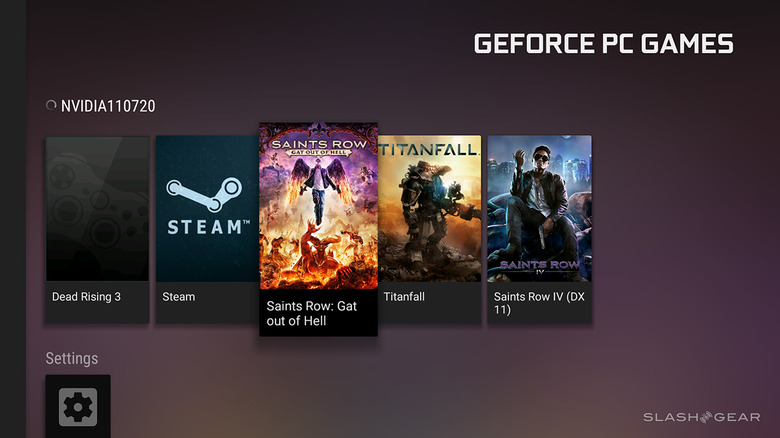 For those of you that haven't seen any SHIELD device before, it works like this:
1. Your gaming PC sits in one room with an NVIDIA GeForce GTX graphics card inside.
2. Your NVIDIA SHIELD sits in the other room connected to your TV screen.
3. Both machines are connected to your NVIDIA SHIELD account, which can be independent or attached to your Google+ account.
4. Both machines are (ideally) connected to the same router.
5. You stream games from your PC to your TV screen, controlling the lot with your SHIELD Wireless Controller.
Playing games this way is magical. This is what we imagine Valve had in mind when they first imagined Steam Big Picture Mode – which, incidentally, is one of the ways you can access games here through NVIDIA's streaming software.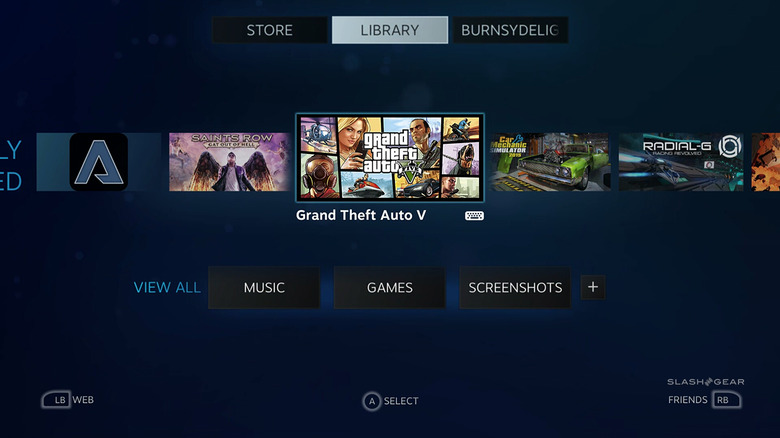 Any game you can play with a controller can be played here.
It's radical.
Hardware
The NVIDIA SHIELD Android TV unit is roughly rectangular with some lovely triangular shapes raised from its side, revealing an "Edge" with NVIDIA Green light inside. You can choose to dim this light from inside the system, but you probably wont want to.
It's an eerie sort of glowy goodness.
You can choose to sit this machine sideways, set it under your TV, or hide it away. You can also choose to sit it upright, in which case you've got the option of purchasing a SHIELD Stand from NVIDIA separately.
It's a heavy-duty metal stand that's not something you're going to want to hand to your toddler, that's for certain.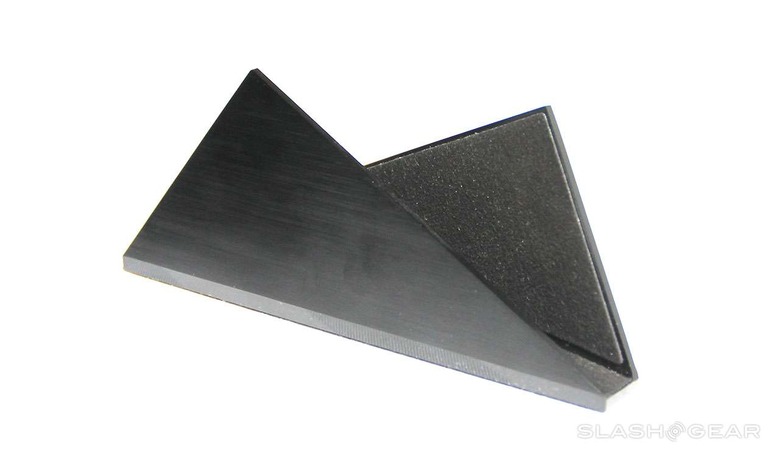 Along the back of the SHIELD you'll find a microSD card slot, USB 2.0 micro-USB port, and 2x full-sized USB 3.0 ports. You'll also find a gigabit ethernet port, HDMI 2.0 port with HDCP2.2 for 4K output, and a power connector port.
If you use an audio receiver that you'd like to use with your NVIDIA SHIELD, you'll have several options. If your audio receiver is HDMI 1.4 capable, you'll connect SHIELD with HDMI to the receiver, then the receiver to your TV set with another HDMI cord. If you're doing this with 4K, you'll need to run the SHIELD's HDMI straight to the TV, and the TV's audio out to your speaker system.
If you're going for 4K and your audio receiver is HDMI 2.0, HDCP 2.2 capable, run the SHIELD to the audio receiver with HDMI, then HDMI out to your TV. Audio is serious business.

Up front you'll find an IR-receiver. You'll likely never use this, as both of NVIDIA's controllers use Wi-Fi direct to connect, and your smartphone will connect to the SHIELD with Bluetooth or a physical cord.
But it's there nonetheless.
Inside the NVIDIA SHIELD Android TV you'll find the NVIDIA Tegra X1 processor, complete with Maxwell GPU and 3GB of RAM. This is a bit of an over-power situation, as this processor can handle far more than is currently available in software for now.
We're not running any benchmarks now because there's no reason to do so. The processor is well and above what you'll need to do anything you'll want to do on this machine, and it has no direct competitors. The closest you'll come is the Razer Forge TV with a Qualcomm Snapdragon 805 in it – we'll see how that machine stacks up when Razer's time comes.
SHIELD Wireless Controller
This controller is ever-so-slightly different from its predecessor. Connectivity is the same, button lightness and toughness is the same, size is the same.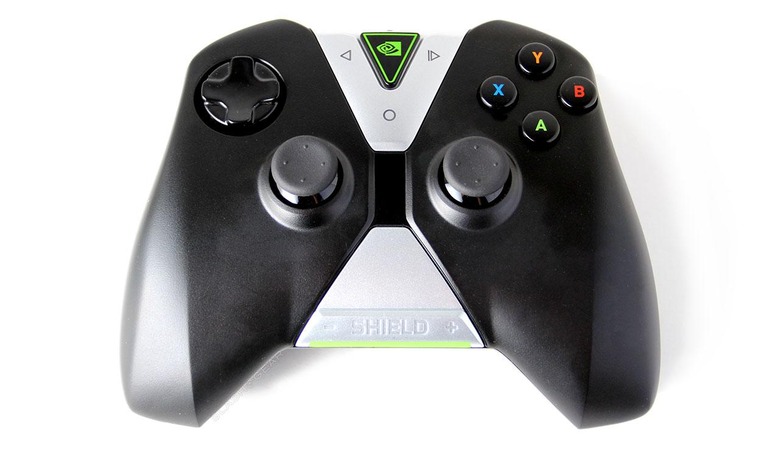 The difference is in the home button. Instead of a little house icon, you've got a circle. This matches up with the Android TV experience.
You'll see that same circle icon on the standard SHIELD remote and any other Android TV remote you'll see out in the wild in the near future.
This SHIELD Controller also has a slightly different button configuration than the Controller you may have been using to control your SHIELD Tablet.
The green "SHIELD" button will initiate voice commands and search through Google's Android TV-based interface.
A long-press on the circle home button will bring up your screen recording, screenshot, Twitch streaming, and local broadcasting options.
Personal preference is the only thing separating the SHIELD Wireless Controller from those controllers of the Xbox One and the PlayStation 4 (with the DualShock 4). NVIDIA's created a controller that's every bit as top-notch as its non-mobile peers.
SHIELD Remote
This remote is easily capable of butting horns with the most popular smart TV remotes on the market today. The SHIELD Remote consists of four buttons and a directional ring as well as a touch panel for adjusting volume.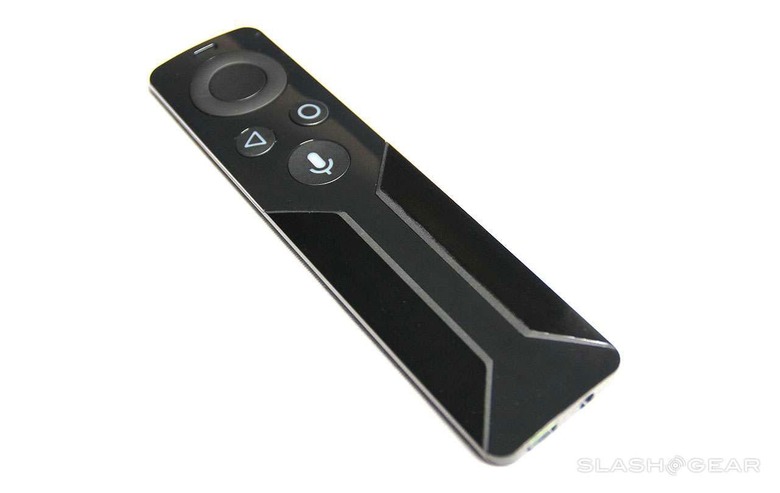 Slide your finger up and down the crevice on the lower half of the remote and volume on your SHIELD will be adjusted accordingly. Like the Wireless Controller, this Remote has its own headset jack that outputs audio for those times you'd rather keep your experience to yourself.
NVIDIA suggests that this remote has 4 weeks of battery life – we'll let you know when we run out. You can re-charge the battery in this Remote with a standard micro-USB cord, and it turns off automatically when its not in your hands to save battery life.
The ring near the top sits below the single mic. The center of this ring is a basic selector, while the ring is able to navigate you through menus up, down, left, and right.
There's a Back button as well as a Home button. You'll recognize the Home icon from the SHIELD Wireless Controller – this circle and the back icon correspond with the Android TV suite of control icons.
At the bottom of this button cluster is the microphone button which, when activated, allows you to send voice commands to your SHIELD unit. When pressed, this button also lights up with a cool glow of NVIDIA Green.
Wrap-up
You don't have to worry about this platform being new, like you did when PlayStation 4 and Xbox One launched. It's already got a stable of games, pumped up and waiting for you to play.
You don't have to worry about this platform relegating which media you want to watch on your TV. You can side-load all the movies, photos, and music you want.
If cable TV is dead, NVIDIA SHIELD is a good candidate to put the next nail in the coffin. With NVIDIA SHIELD, you've got the tool to make your TV do whatever you want it to do.
When I reviewed the NVIDIA SHIELD Tablet, I said it was the world's most versatile tablet. Here with the NVIDIA SHIELD Android TV, I have no reservations in calling this unit out wholeheartedly.
NVIDIA SHIELD is easily the best smart TV device on the market today.
NVIDIA SHIELD is priced in at $199 for its 16GB edition with a SHIELD Wireless Controller, power cord, wall plug, and 4K-capable HDMI cable included in the box. Additional controllers can be purchased for $59.99, while the SHIELD Remote can be purchased separately for $49.99 USD.