NVIDIA SHIELD Android TV hands-on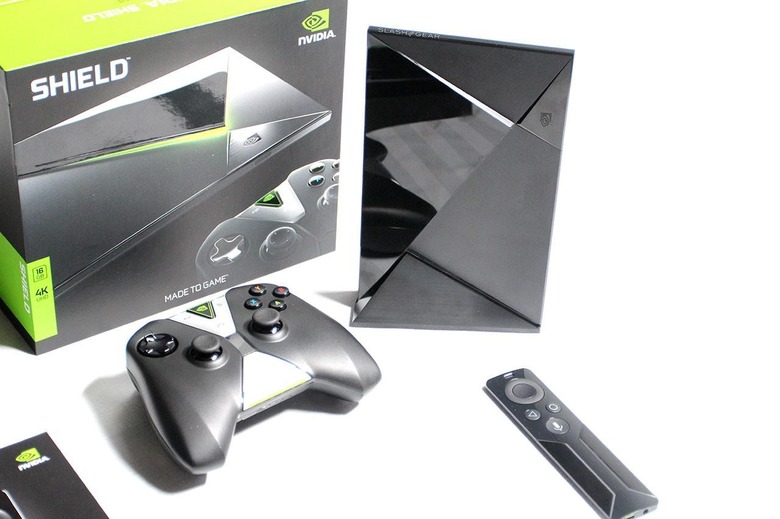 The living room-based center of the NVIDIA SHIELD family has been revealed this week at GDC 2015, and we've had the opportunity to get up close and personal. This device goes by the name NVIDIA SHIELD – see more about that naming convention in our first detail article if you must – and it's made to sit beside your television. Our first experience with the NVIDIA SHIELD Android TV device was with a developer iteration, but it's set to be essentially the same beast when it's released later this year.
Hardware
This is the NVIDIA SHIELD living room entertainment device. It's mean to sit either underneath or beside your TV. It rolls with an NVIDIA Tegra X1 processor inside.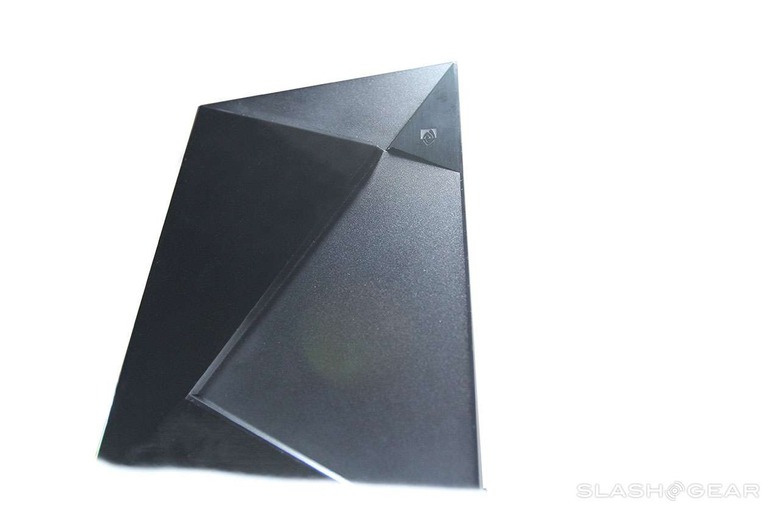 Along the back you've got HDMI 2.2 out (full sized port), gigabit ethernet, two full-sized USB ports for accessories, a power port, and a micro-USB port for connecting to your PC for side-loading content, hacking, or whatever you want to do.

Under the hood you'll find 16GB internal storage. There's also a micro-SDXC port so you can add up to a whopping 2TB of additional storage. That's if, of course, you can find a 2TB micro-SDXC card in the wild – good luck to you on that.
Up top is a capacitive power button, and along the side you've got a lovely NVIDIA-green LED edge – reminiscent of the teaser for this event.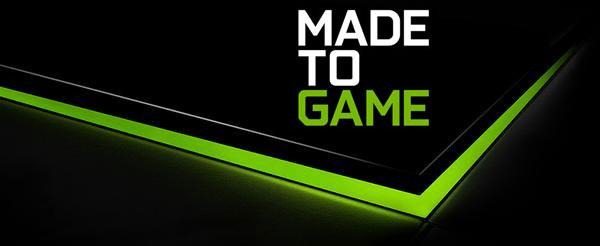 When you purchase this NVIDIA SHIELD device, you get a power cord, HDMI cord*, and SHIELD Wireless Controller.
*UPDATE: We're not 100% certain on the HDMI cord yet – the developer version comes with an HDMI cord, not sure about the final consumer product.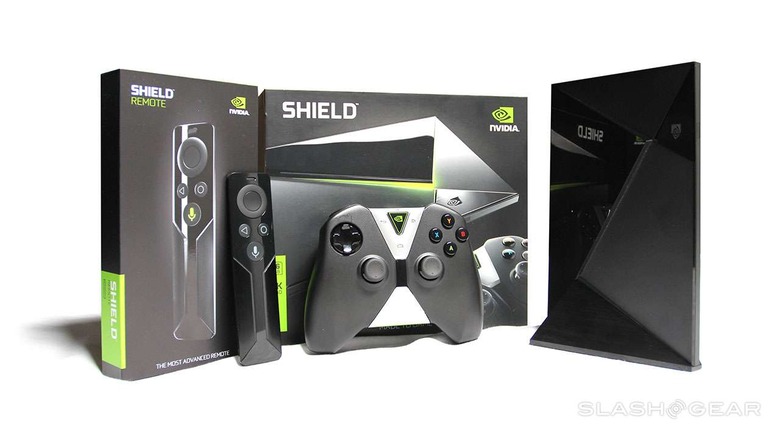 What you do not get is the SHIELD Remote. This tiny remote has a d-pad, a couple of basic Android TV control buttons, and a microphone. With this microphone you'll be able to send voice commands to your NVIDIA SHIELD Android TV device.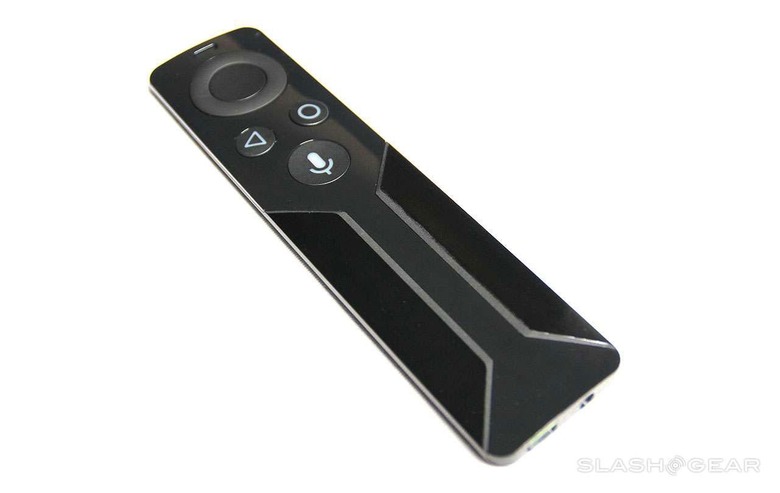 This Android TV device works with Dolby 5.1 and 7.1 surround sound output.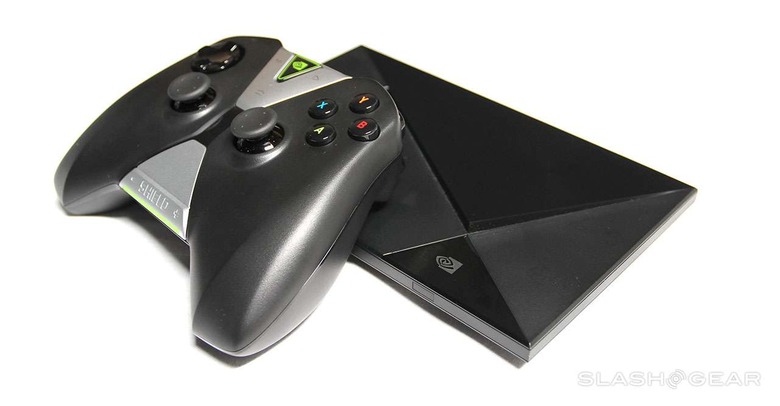 You're also able to output up to 4K resolution, 60-frames per second video. This is not possible on the Xbox One, and it's not possible on the PlayStation 4.
UPDATE: Full specifications can be found in our NVIDIA SHIELD Specs guide.
Software
This NVIDIA SHIELD device runs with Android TV OS. This version of Android TV is just about as pure as Android is on the SHIELD Tablet – there are a couple of additions made by NVIDIA.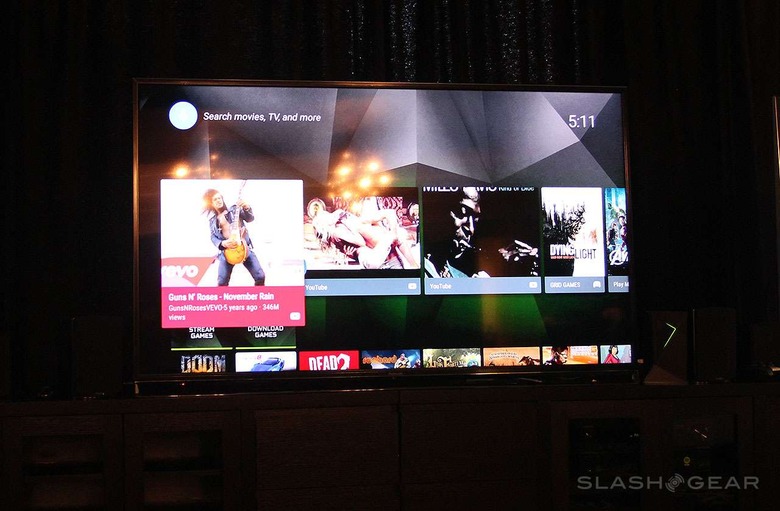 One is a portal to NVIDIA GRID, the other is a portal to NVIDIA GameStream games. You'll want to hear about the updates to NVIDIA GRID from earlier today – especially about subscriptions for streaming. NVIDIA GameStream works the same as it does with NVIDIA SHIELD Portable and Tablet, allowing you to play full-powered PC games from your home computer streamed to whatever SHIELD device you have – in this instance, on NVIDIA SHIELD here on your TV.
Android TV here is connected with your Google account, therefor bringing you all the files you've purchased with Google Play. This means music, movies, games, and other Android TV-friendly apps.
By the time this system launches (in May), you'll find "over 200 games that are controller friendly" – so says NVIDIA. You'll already find a bunch through their SHIELD-centric game portal now.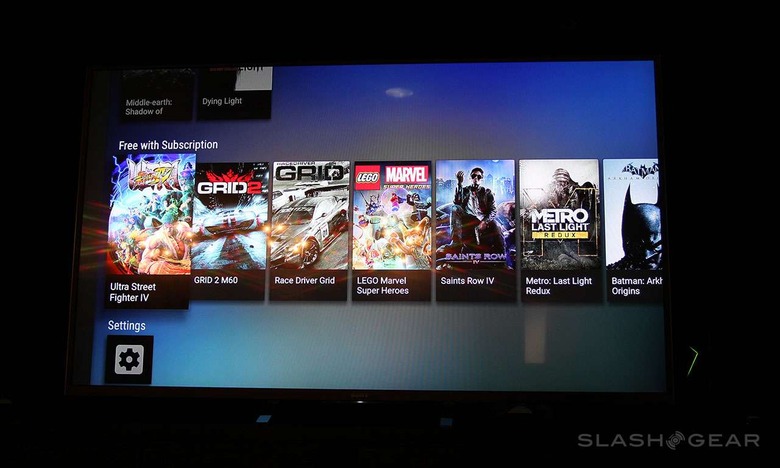 You can also side-load content. NVIDIA says that MKV files will be amongst the many video formats that'll work just find on SHIELD. This system will also be fully capable of working with XBMC content.
Being Android TV, this device also has Chromecast abilities.
Benchmarks
The benchmarks you see here should give you some idea of how well the NVIDIA Tegra X1 is performing in this NVIDIA SHIELD developer unit. These are similar numbers to what we saw earlier this year when we saw the reference hardware for Tegra X1 at CES 2015.
We're not going to discuss benchmarks here at length simply because we're not working with a final consumer unit. This is still a developer unit, one running benchmarks before the device is even announced – so we'll be running more in-depth tests once we get our own review unit (likely in a few weeks).
First Impressions
First – it would appear that this device is very, very similar to all other Android TV devices already on the market. That's not a whole lot to compare to. Also take the Razer Forge TV into consideration.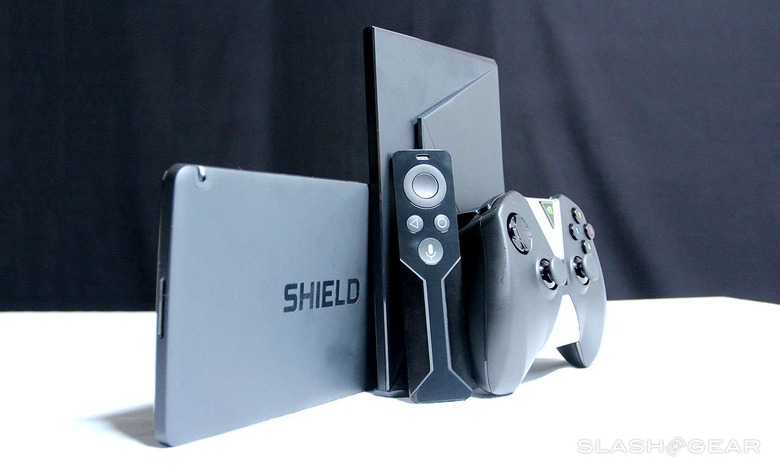 Here NVIDIA provides a unique set of abilities – gathered from the rest of the NVIDIA SHIELD family – that no other Android TV device has. While Razer Forge TV has streaming abilities, NVIDIA SHIELD has a proven ecosystem that reaches back to 2013 and two very different devices ago.
NVIDIA has products and software that work, and are working today – this is just an extension of that system.
The NVIDIA SHIELD system we're seeing here feels strong. The new products is the new combination – we could do most of these things before, now they're all together in this handy package.
We got the opportunity to see and/or play a few games on the system this week, each of which were fairly impressive.
Doom 3 is an example of a game that's coming to Android with NVIDIA's help, but hasn't yet been launched. This title is being released in a way that's very similar to NVIDIA's tag-team with Valve on the release of Portal and Half-Life 2 to Android.
NOTE: At this time we do not know when Doom 3 will be coming to Android. The same is true of Crysis 3.
Yes, NVIDIA SHIELD can run Crysis. This iteration of Crysis 3 is very early – so early we weren't yet allowed to play it ourselves. We could only watch our hosts at NVIDIA play it.
Crysis 3 for android looks great on NVIDIA SHIELD. It looks like a brand new game.
Streaming to NVIDIA SHIELD from the PC and from NVIDIA GRID is impressive as ever. We played multiplayer games like Street Fighter with great results – this is new to the SHIELD ecosystem too – this powerfully-packed a multiplayer system.
Dying Light was also available to play with NVIDIA GRID.
I personally reviewed the original NVIDIA SHIELD Portable and the NVIDIA SHIELD Tablet as well as NVIDIA GRID and NVIDIA GameStream over the past couple of years. I've been using these devices and these systems for years.
The NVIDIA SHIELD living room entertainment device brings the whole SHIELD experience together in a way that feels natural, powerful, and very welcome. Based on what I've seen so far, NVIDIA seems to have created a very strong amalgamation of elements that'll result in the finest "set top box" when it's released later this year.
Wrap-up and Availability
The NVIDIA SHIELD living room entertainment device will be made available in May of this year. You'll receive at least the device and the wireless controller in the box for a cool $199 USD.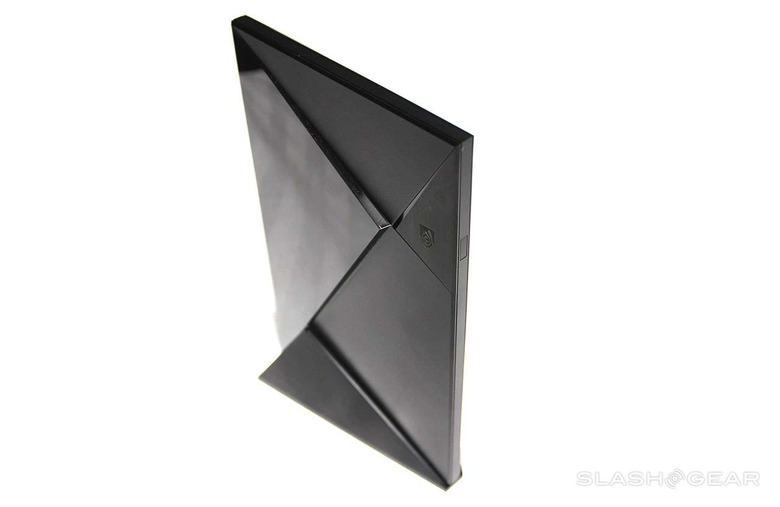 That does not include the NVIDIA Remote, which will be priced out at a later time. It also does not include the metal stand you see holding the NVIDIA SHIELD upright in several photos here – that'll be priced separately as well.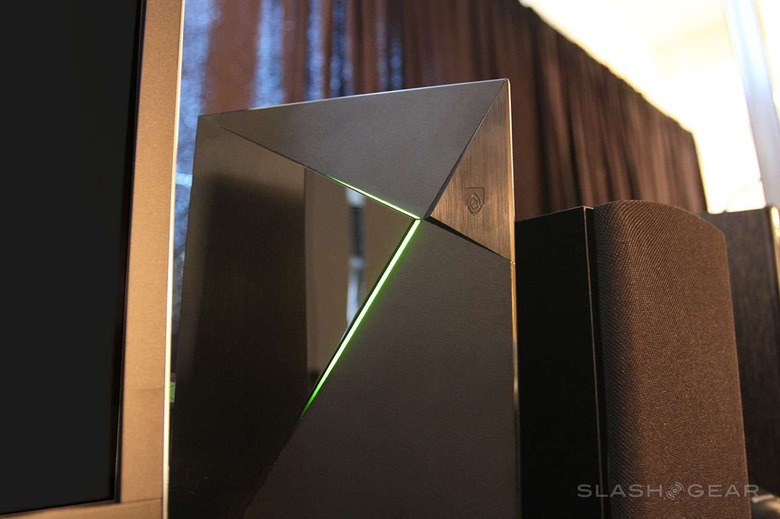 This is the new "core product of the SHIELD line," so says NVIDIA. Let us know what you think!