NVIDIA Fermi GeForce GTX 470/480 cards scarce at launch?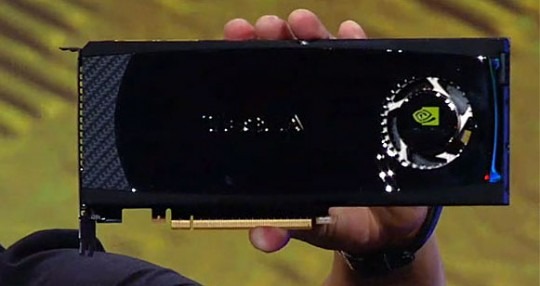 AMD are hammering away with their DirectX 11 graphics cards – the ATI Radeon HD 5830 made official this morning is a good example – but things may not be quite so ship-shape over at NVIDIA.  According to DigiTimes' sources, despite NVIDIA's intent to announce their Fermi-based GeForce GTX 470/780 GPUs on March 26th, there'll be a limited number of actual shipping cards at the time.  That, they reckon, is down to NVIDIA's reluctance to part with reference board designs.
According to sources at second-tier graphics card manufacturers, NVIDIA is still yet to provide complete reference board designs from which they can design their own products; that will delay their shipments until April 2010 at the earliest.  Instead, NVIDIA are believed to have been giving priority to first-tier graphics card manufacturers or those willing to produce solely cards based on their chipsets rather than those of rival ATI.
It's unclear, then, whether the second-tier delay is an attempt by NVIDIA to control the Fermi market or merely a symptom of previous delays that have affected the platform.  XFX and PNY are apparently already confirmed to be among the first wave of GeForce GTX 470/480 card manufacturers, with prices expected to be around $499.99 and $679.99 respectively.