NVIDIA delaying GPUs over subpar performance and production?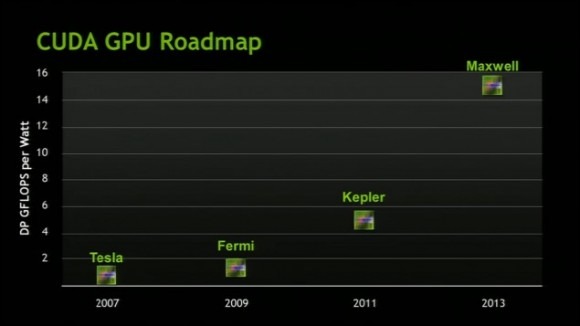 NVIDIA has reportedly delayed its GPU roadmap, pushing back the release of 28nm, 22nm and 20nm chipsets over what's said to be poor yields from production partner Taiwan Semiconductor Manufacturing Company (TSMC) along with underwhelming product performance. According to DigiTimes' and sources at graphics card makers, NVIDIA's 28nm Kepler GPUs – which were originally expected to begin shipping later this year - are now not expected to arrive until 2012.
That's echoed by Fudzilla's sources, which claim that NVIDIA believes that, if Kepler production does begin in Q4 2011, it will be so late in the year as to make only a 2012 launch feasible. Meanwhile, the 22/20nm Maxwell architecture chips, are now said to be due in 2014, rather than 2013 as NVIDIA announced late last year. The company is yet to comment officially on the report, nor has it confirmed the delayed releases, but the sources claim the TSMC's production process is pumping out at lower yields than it or NVIDIA had hoped for.
However, another potential reason suggested is that the performance of Kepler GPUs is lower than NVIDIA expected. That could well be the case, as TSMC's other significant client of note, Qualcomm, is supposedly sticking with its existing schedule for 28nm Krait chips. The MSM8960, MSM8270 and MSM8260A are all expected to launch in Q4 2011. Details of Qualcomm's roadmap leaked earlier this week. AMD is expected to use TSMC's 28nm production facilities for its next-gen Krishna and Wichita APUs along with the Southern Island GPU in the first half of next year.
It's not the first time we've heard talk of low yields and subpar performance impacting cutting-edge NVIDIA chips. The company was forced to publicly deny ongoing issues with Fermi production in mid-2010, after leaks suggested TSMC's 40nm facilities were operating at sub-50-percent yield rates and that NVIDIA was forced to use fewer cores in its GeForce GTX 480 and 470 graphics cards as a result of the shortage.
TSMC made headlines recently when it was reported that Apple was looking to ditch Samsung – with which it has an ongoing patent spat in the courts – for the chip production company in the manufacture of the next-gen Apple A6 processors for future iPad and iPhone models.