NPD Is Dead Wrong, Android Has Nothing To Worry About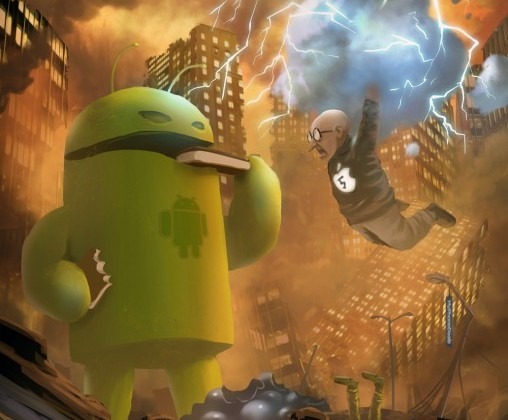 Just yesterday a report was released that we reported on which essentially said that Android had better watch its back because Microsoft's Windows phone 7 was coming. It certainly is true that the release of Windows Phone 7.5 Mango may boost sales a bit, the report, created by research firm NPD's Connected Intelligence unit, should in no way indicate that interest in Google's mobile OS is about to wane. On the contrary, ladies and gentlemen, you've only to look at the details in the correct way to see that no other system, save Apple's iOS, has a chance at reaching Android anywhere in the foreseeable future.
The report, indicated here by the graph below, shows that Microsoft's Windows Phone 7 MIGHT gain momentum soon with a reported 44 percent of smartphone owners AND those who say they intend to buy one saying that they are considering a Windows Phone 7 device for their next purchase. It is this one statistic that has the Windows Phone 7 cheer team in a tizzy. What the rest of the mobile-minded universe should see, on the other hand, are the two other statistics in the study that make all the difference.
Note also, before we get to the two barnstormers, that the graph shown here reveals the "What OS are you considering for your next purchase" chart to not only show Android as the clear dominator, but both "Don't know" and Apple iOS in a race for second. Windows Phone 7 wins out on only one carrier: T-Mobile. This is undeniably strange as T-Mobile currently only has one single Windows Phone on the market: the HTC HD7. Is this single choice indicative of a better business model for Microsoft in the future? Think about how well the iPhone does simply because there's only ONE. That's a conversation in and of itself, on the other hand, so let's continue.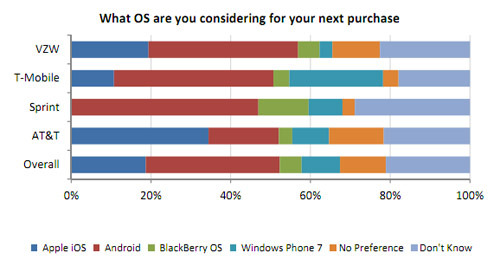 The study also shows, at least in that one graph, that Android has a strangle-hold on every carrier except AT&T, this clearly because the big blue carrier had the iPhone first and exclusively for a rather long time, while the only other carrier to have the iPhone, Verizon, has a lot invested in the DROID brand name which pushes their Android sales through the roof.
Then there's the couple of statistics that crush Windows Phone. First, this study showed that 45 percent of consumers are not aware of the Windows Phone 7 platform at all. While it may be true that BlackBerry isn't doing so hot right this moment, should you ask essentially anyone on the street at any given time here in the United States if they know what a BlackBerry is, they sure as heck won't come to the conclusion that you're speaking about a tasty food at first.
The second and, again, big blow to Windows Phone 7 here, is the following statistic from this study: 50 percent of consumers planning to purchase a smartphone in the next six months say they are not choosing the Windows Phone because they do not know enough about it. If this isn't indicative of Microsoft not informing the public properly of how their OS works, I'm not sure what is.
Still seem like Android is in trouble to you?
Image above via Android Community.