Notion Ink Adam: Behind The Scenes
Notion Ink continues to be one of the most searched for companies on SlashGear, an impressive record for a start-up firm taking on the might of Apple. Closely followed since their CES 2010 debut with the Adam tablet, aside from a few morsels of news in the intervening months the company has dropped back into a stealth mode of sorts. Now, in the first of an exclusive two-part feature, SlashGear can flesh out the Notion Ink story so far, including investor nightmares, multiple ODMs and an Android app-drawer's worth of custom Adam applications.
First, a refresher. Notion Ink first made headlines midway through December 2009 as the first tablet to be announced using Pixel Qi's innovative transflective display, but it was CES 2010 the following month where they really made a splash with their prototype. Packing NVIDIA's second-gen Tegra 250 HD-capable chipset, the Android OS and Flash compatibility, the promise was not only internet browsing and multimedia but content partnerships that would turn Adam into a digital hub.
The start-up was overwhelmed with interest, and the news shortly after Mobile World Congress in February 2010 that they'd closed funding seemed a sign that Adam was on its way to market. Since then, hardware delays and investor issues have partially derailed Notion Ink, sapping their momentum to the point where the fan mail turned into angry messages demanding solid release dates and pricing news.
As stories go, it's a telling account of the challenges – of hardware, software and investment – that new companies face trying to get fresh devices off the ground. Being blunt, Notion Ink tells us that if they hadn't locked themselves in with their first investors, Adam would already have launched in twelve countries now, complete with the promised App Competition designed to drive developers to the platform.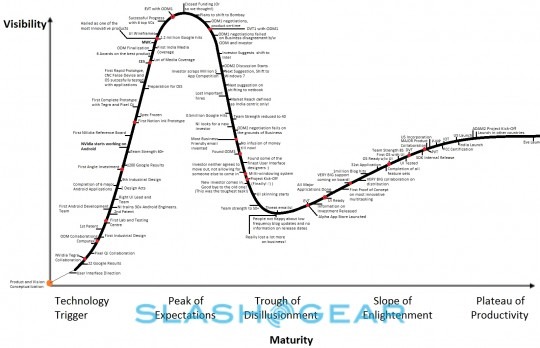 The first problems occurred after MWC, shortly after Notion Ink completed plans to move to Bombay. The Adam design had already been finalised, with the spec frozen prior to CES and ODM finalization in-between the two shows. Notion Ink's first choice of ODM produced a design verification testing (DVT) prototype; however, negotiations with the company failed over business disagreements between the ODM and Notion Ink's investor. Bizarrely, despite having spent four months on due-diligence working through the platform options and settling on Tegra 2 and Android, the investors first suggested shifting from NVIDIA to Intel; then, amid negotiations with the second ODM, they pushed for a switch to Windows 7 and even converting Adam from a tablet project to a netbook. According to Notion Ink, it was only media attention that helped convince the investors that Adam could provide some competition to Apple's iPad.
In the midst of the suggested hardware and software changes, the investors also pushed to axe Notion Ink's App Competition, a million-dollar promotion to encourage tablet-scale software development. The project began hemorrhaging staff, the company's 60+ strong workforce dwindling to 40, as the backers decided that Adam's potential market reach was likely limited to India alone. Amid searching for an alternate investor – and still yet to see an infusion of money from their initial partners – negotiations with the second ODM failed.
Come June, Notion Ink were touting their "Most Business Friendly" email app as a key strength of the Adam software suite, their engineers having been working on custom software since the get-go. Shortly after, the first capital arrived and the third ODM was agreed; however Notion Ink's investor proved reluctant to step out and allow alternate VCs to move in. Eventually – with would-be buyers complaining of infrequent blog updates, little in the way of public information and no fixed release dates – a new investor was secured in early June and the team once more began to grow. Prior to the investor news going public, Notion Ink's engineers completed engineering verification testing (EVT) with their new ODM and launched their alpha App Store.

Since then, the Notion Ink blog has seen 1m hits, 31 applications and the underlying OS have been finalized, and the company's unique multitasking system has shifted from idea through proof of concept to working model. Shortly prior to DVT, the Notion Ink team had grown to 85 members, and after the internal release of the Adam SDK the third ODM design hit product verification testing (PVT).
In the end, the NVIDIA Tegra 2 delay failed to have a knock-on effect on Adam solely because of their investor issues; the company tells us that, had they not been experiencing five months of delays with their investors, it would have pushed their timescale back from April to August 2010. While the company won't name either their current ODM or investor, they have told us that they've been "working with the best" and that all had invested heavily in the platform.
In the second part of our Notion Ink coverage, we'll be talking about what the company has been doing during their extra development time, how the hardware and software has been evolving since the last functional prototype we saw, and hopefully showing you screenshots of the company's custom UI. We'll also have some tidbits on Notion Ink's next-gen models, and best of all, the first public news on release dates.
Part two of our Notion Ink feature is now live!