Notion Ink Tegra Android smartpad uses Pixel Qi display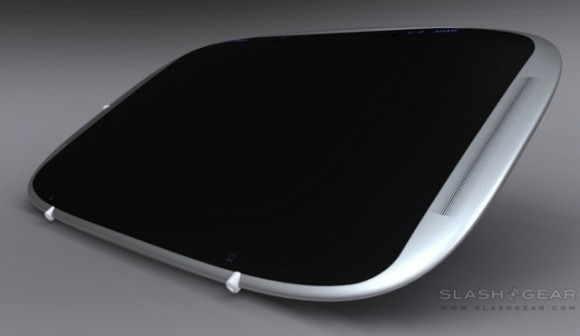 CES 2010 is likely to see a fair few internet tablets being announced, but SlashGear has heard about one particular model that has more than a little promise. Notion Ink's as-yet unnamed Android "smartpad" is based on an unnanounced NVIDIA Tegra T20 chipset supporting 1080p Full HD video playback, has integrated WiFi, Bluetooth and UMTS/HSDPA, and – perhaps most interestingly – is the first confirmed device to use the Pixel Qi transflective display. Notion Ink are saving the live hardware shots for CES – hence the renders – but they did send us some photos of the 10.1-inch 1024 x 600 Pixel Qi panel in action, which you can see after the cut along with the full specifications.
The Notion Ink smartpad measures 6.3 x 9.8 x 0.6 inches and weighs 1.7lbs; as well as the triband (850/1900/2100) UMTS/HSDPA, WiFi b/g and Bluetooth 2.1+EDR it also squeezes in A-GPS, a digital compass, accelerometer and proximity, ambient light and water sensors. Connectivity includes USB, HDMI, a 3.5mm headphone jack and a microphone input, and there's also a 3-megapixel autofocus camera with video recording support. Onboard storage is either 16GB or 32GB of SSD, and there's an SD slot for augmenting that.

Initially – at least as it's to be shown at CES – the smartpad will use the regular Android UI, with full gesture support. Navigation is either via the touchscreen or a trackpad, and Notion Ink have added a matte-finish anti-glare, oleophobic and scratch-resistant coating to the Pixel Qi display. Of course, the panel itself can be viewed indoors as a regular LCD, or outdoors in either transflective mode with reduced color vibrancy or fully reflective 64-level grayscale mode. Notion Ink say they've been developing a number of applications that should be added sometime after CES, including Office-style software, Flash-based titles and some graphics apps that include physics-based functionality. Ebook reading is also another possibility, and the company are in talks with several (unnamed) content providers.
Perhaps most importantly for a web-browsing tablet, battery life estimates are impressive. Notion Ink reckon the smartpad will be good for up to 48hrs standby on its integrated rechargeable Li-Ion battery, 8hrs of HD video playback and 16hrs of internet surfing over WiFi. It seems it's the eight-core Tegra T20 chipset that's primarily responsible for such longevity, though Notion Ink can't share any more details on that SoC itself. Meanwhile media playback isn't sacrificed, and Notion Ink have apparently played three 1080p HD videos simultaneously with only a small loss in frames.  The company is still working on optimizing the hardware, so we might see even greater runtimes and performance by the time the smartpad launches.
The big issue remaining is price, and so far we're not sure exactly what sort of MRSP Notion Ink expect their Android Tegra tablet to command. The general consensus seems to be that a $300 price point is roughly what the market expects; however we're not sure everything on the smartpad's spec-sheet could be brought in for that price, at least not without carrier subsidies. We'll update with more information when we have it, together with video.