Nokia World 2009: SlashGear wrap-up
As well as the obvious product launches from Nokia World this week – the N900, X6, X3, N97 mini and Ovi SDK – SlashGear also had the opportunity to sit down with various executives and team members from the company and discuss not only Nokia's plans for the future but some of the decisions that have brought them to this stage. After the cut in our Nokia World wrap-up, a new DRM-free media store, plans for future netbooks, the push for the US market and more.
Of the four new devices launched this week, they span much of Nokia's core range from entry-level through media and topping out at smartphones. However, only one – the X6 – supports Comes With Music. According to Liz Schimel, VP of Nokia Music, the company is planning an "a la carte" music download service that will deliver DRM-free MP3 tracks in the same way that Amazon and iTunes offer; however she also confirmed that Comes With Music will continue to use DRM. The individual track download service should be in operation by the end of 2009.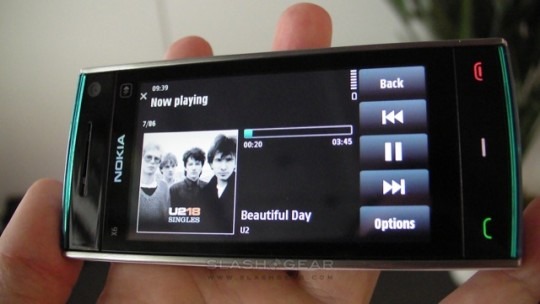 As for the devices Comes With Music offered on, Schimel suggested that rather than making it an option for all handsets – or indeed an after-purchase add-on – Nokia intend to concentrate on "tightly integrating phone and service". Meanwhile they are looking at both Booklet 3G and Mac OS X support, but have nothing to announce at present. Over one-third of downloaded tracks are being done OTA (over-the-air) rather than synchronised via a PC, and Nokia are working on polishing the on-device experience to support desktop client features like star ratings.
We also had an opportunity to discuss Nokia's marketing with Timo Ihamuotila, the company's Executive VP of Sales. Ihamuotila agreed that Nokia's previous pattern of announcing devices well in advance of release had in some ways damaged their reception, in contrast to this week's launches which are all expected to be in stores within the next few months. While stopping short of saying that this would be Nokia's strategy for all new launches moving forward, Ihamuotila did say that in general there would be less of a wait between announcement and release.
As for the US market, Nokia now have a specific US development group and are focusing on just three carriers: AT&T, Verizon and T-Mobile. Contrary to simply relaunching European devices with US radios, Ihamuotila said Nokia are now creating US-specific handsets; he also agreed that the company has "not been responsive enough [to market movement]." Instead, there is now a focus on explaining services and functionality to buyers and prospective-buyers, a system which both Nokia and the carriers have invested in. Ihamuotila described a store setup in one country where customers could design their ideal N97 menu and app layout, slotting big icons into a huge magnetic N97 board, at which point the customer services team would set up their new smartphone in exactly that way. While that exact system may not be repeated, Nokia are keen to make services both easy to discover and to use.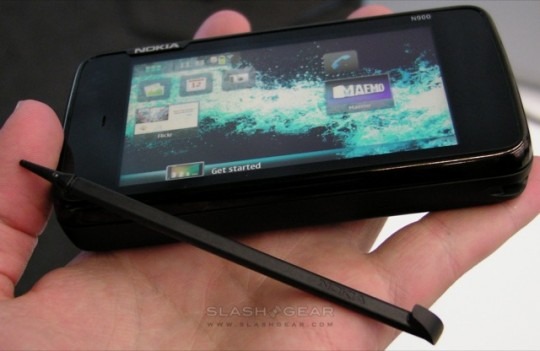 We also asked Ihamuotila about Nokia's fledgling use of capacitive touchscreens in the X6, whether this was a sign of a change in overall strategy, and why the Nokia N900 still uses resistive. He described the nature of phone technology as "cyclical" – likely a reference to the long development time in producing new handset designs – but suggested that, like the circular zoom control in the N900's browser, there was still a lot you could get out of a resistive panel. However there was also a suggestion that Nokia is moving toward greater use of capacitive touchscreens.
Turning to the Booklet 3G, something of a departure from Nokia's existing line-up, Ihamuotila concurred with other executives we spoke to in describing it as the company injecting their core skills – anywhere-connectivity, long battery life – into a new market. According to John Hwang, general manager of Connected Computers at Nokia and key designer of the Booklet 3G, the netbook represents the company's chosen balance between battery life, price and performance; for instance, when we asked why Nokia had not used NVIDIA's Ion chipset to give the Booklet 3G more capable graphics, Hwang told us that battery life took priority – at least in this first-gen model. Consumer response, meanwhile, will shape the next generation of models.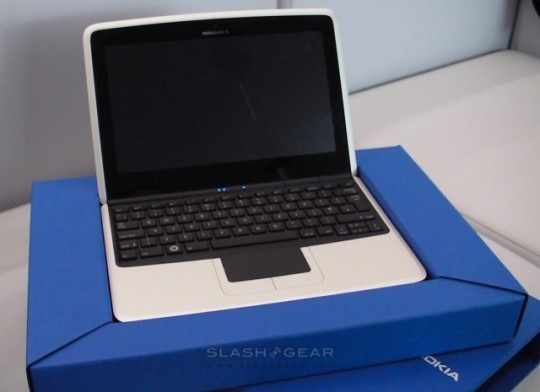 In a similar way, Maemo will continue its push into the high-end, with Symbian progressing down the scale to the mainstream market.  We covered the Linux-based OS and Nokia's plans for it earlier in the week, after meeting with Ari Jaaksi, the company's VP of software. The N900, like the Booklet 3G, is being treated as a test bed for user opinion, and while not confirming any specific hardware plans Nokia did tell us that unlike the Internet Tablets – which generally hit the market one at a time – several newer Maemo devices could coexist in sales channels, better positioning Maemo 5 and then version 6 next year.
We're glad to hear that, as we remain unconvinced with Symbian S60 in comparison to the latest smartphone platforms from rivals. Lined up against Android, webOS, OS X on the iPhone and others, especially on touchscreen devices, we're not sure S60 can hold up its end of the battle; despite the pre-production status of the N900 devices we used at Nokia World, though, we're tentatively more confident in the Maemo platform and its powerful underlying open-source building blocks.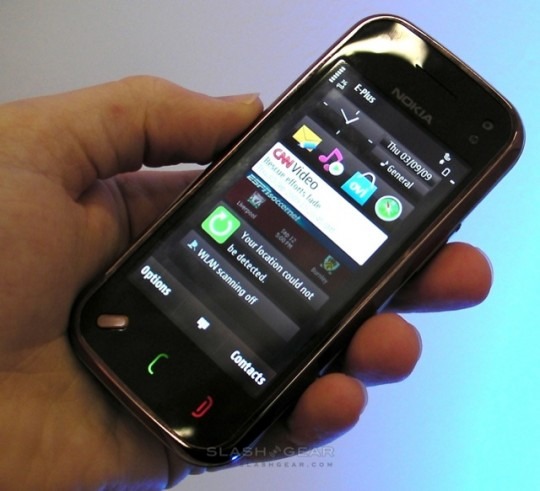 Throw into the mixture Nokia's Ovi SDK developments – which arguably incorporates (or at least will as the roadmap progresses) the best of on-device integration and the relative ease of webapp programming – and, as the range of compatible platforms broadens, they may have hit a sweet spot. What remains to be seen is how quickly they can roll out the rest of the APIs; Nokia may be saying that location-based services are what people are clamouring for first, but for their hybrid webapps to really take on native software and hold their own they'll need further integration with the core phone systems. Right now you can trigger calls and the like from records in webapps, but there's no true embedded contacts access, say, or imaging from the phone's camera.
So much, then, depends on timing. Nokia president and CEO Olli-Pekka Kallasvuo repeatedly said during his opening keynote that the company was fighting, innovating and not reacting, and it's certainly true that much of what was announced this week has potential. Maemo, the N900 redefining Nokia's smartphone niche, the use of a capacitive display in the X6, the Booklet 3G and the new Ovi SDK, all are interesting beginnings to a new phase in the Finnish company's strategy. If they can capitalise on those beginnings and deliver the second- and third-gen products smoothly and swiftly then it goes beyond potential and into standing a real chance of success. The question, then, is whether Nokia can do that before the rest of the mobile industry game accelerates ahead.
For the product highlights from this week, check out our Nokia N900 hands-on video and browser demo, Nokia X6 video, Nokia X3 video and Nokia N97 mini video; there's also our live Booklet 3G gallery. You can find all of our show coverage via the Nokia World tag. SlashGear would like to thank the Nokia Social Media team for inviting us to Stuttgart and Nokia World, and for covering expenses; sites taking part in the trip were under no obligation with regards the tone, attitude or opinion of their coverage.
[vms ba1ab13d742e22eed8da]