Nokia Ovi SDK plus Navigation and Maps APIs launched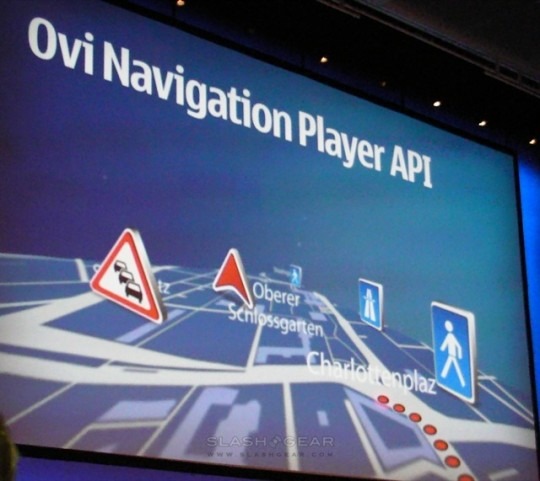 Nokia have announced a new set of APIs for mapping and navigation, which developers can use to add location-based information – such as showing nearby search results – and display location-based data.  The Ovi Navigation Player API and OVI Maps Player API are also joined by the new Ovi SDK, a platform which the company claims can be used by anyone with HTML, CSS and JavaScript coding skills.
Nokia rolled out some developers to illustrate how easy it can be to tie webapps into cellphones, with UK local search company Qype apparently needing just two people working for two weeks in order to integrate their service.  In another example, Nokia innovation competition winner Ground Guidance integrated intelligent pathway-identification into Maps on Ovi with just a few lines of JavaScript.
Asked why Nokia are moving toward webapps, when rivals such as Apple are pushing instead for native apps, Nokia suggested that it's only now that mobile devices are powerful enough to run them at satisfactory speed.  They're also being pushed by content providers than software developers.  Though they're web-based, they will have growing integration with the handsets' core features, starting with the navigation APIs and moving on to include contacts, camera and other elements.
Thanks to the new SDK, apps can be coded that run across the Nokia range, and apparently done so far quicker than previously.  Registration for the new API, SDK and documentation is open from today.  You can access the registration page and the demo videos from today's Nokia World keynote at http://www.forum.nokia.com/Ovi/.
Press Release:
Nokia expands ecosystem opportunities and showcases work with partners, publishers and developers

September 03, 2009

Nokia makes it easier for web publishers and developers to create applications with integrated services with Ovi APIs and Ovi SDK Beta introducing a new breed of applications for the web and smartphone platforms

Stuttgart, Germany – Nokia today made it easier for web publishers and developers to create applications with integrated services and native-like user interfaces, quickly and with less effort with new Ovi APIs and the Ovi SDK Beta. Announced at its annual Nokia World conference, the company said it will progressively roll out web and mobile APIs for its services, beginning with the Ovi Maps Player API and the Ovi Navigation Player API for cutting-edge location solutions on its smartphones. The company also hosted a keynote from Henri Moissinac, Director of Mobile, Facebook, highlighting the opportunities in mobile social networking and the close collaboration between the two companies.

"This is just the beginning. We will work in close cooperation with developers to evolve the offering, starting with social location solutions," said Niklas Savander, EVP, Services, Nokia. "Our goal is clear, and that is to make it effortless for our partners to create highly appealing, context-relevant applications that consumers will find indispensable."

Nokia has already been working with key partners such as Lonely Planet, Deutsche Bahn, Associated Press, Qype, National Geographic, Deutsche Telekom Medien and Langenscheidt to create example applications using the Ovi SDK Beta and Ovi APIs (Click http://events.nokia.com/nokiaworld to see the Ovi SDK video).

Web partner discusses developing with Nokia

"We've been very pleased with our relationship with Nokia," said Henri Moissinac, Director of Mobile, Facebook. "Since its release in June, the Facebook application for Nokia is available for download in more than 150 countries and is currently one of the most distributed applications in the Ovi Store. Needless to say, it's really exciting to be working so closely with the largest handset manufacturer in the world to bring our 250 million users worldwide an innovative Facebook experience on their mobile devices – and this is just the beginning."

The Ovi for Developers beta program

Nokia is inviting developers to join the Ovi for Developers beta program on the Forum Nokia Developer Community site (www.forum.nokia.com/Ovi), and will make the Ovi SDK Beta and Ovi APIs available to them. Applications created with Ovi SDK and Ovi APIs will be distributed through the Ovi Store in 2010, bringing the applications available to the hands of millions of consumers around the world.

The Ovi SDK Beta and Ovi APIs

The technology preview, now available to developers via registration, contains:

Ovi SDK Beta – an easy-to-use, web-based toolbox which provides tools to create applications for the web, and Symbian and Maemo platforms, with integrated Ovi features and a distinct user interface. The Ovi SDK Beta contains the Ovi APIs and all-new Ovi User Interface (UI) libraries, which enable effortless creation of rich applications. The Ovi SDK Beta utilizes standard web technologies – HTML, Cascading Style Sheets (CSS) and JavaScript (JS) – programming languages that are most familiar to the world's developer community.

Ovi APIs – provide developers with a simple way to integrate service features such as maps or navigation to their web applications. Nokia today introduced the first two Ovi APIs:

- Ovi Maps Player API – bringing maps to mobile and web applications effortlessly. The API is powered by Ovi Maps and features over 180 country maps, location-based search and detailed place information. Other features include vector-based maps that give a range of views, including map, terrain and 3D modes for dynamic map mash-ups. Nokia first introduced the Ovi Maps Player API for the web earlier this year.

- Ovi Navigation Player API – allowing developers to bring Nokia's industry-leading walk and drive navigation features to their applications, including pedestrian navigation, turn-by-turn car navigation and route planning. This makes it possible for content creators to create applications that take the consumer to his destination of choice – be it to a friend's location, a landmark, a restaurant, or the bus stop.

Nokia announces the Apps on Maps category winner of the 2009 Calling All Innovators competition

Nokia also announced the Apps on Maps category winner of the 2009 Calling All Innovators competition. Using the Ovi SDK Beta, Primordial, from St. Paul, Minnesota emerged tops in its category by creating Ground Guidance, an application based on technology originally built for the U.S. Army. The application, which wins USD 30,000 amongst other prizes, enables the Ovi Maps user to get from one point to another, even if there are no roads or road data. With the application, all a user would need are his start and end point – and Ground Guidance would present him with a walkable path while avoiding undesirable terrain such as steep hills or water. Calling All Innovators, launched in March 2009, is a global mobile developer competition designed to generate applications and solutions that enhance the use of Nokia mobile devices in real-world scenarios. Apps on Maps participants were required to submit new ideas that harness the power of location-aware services using Ovi Maps.

* More information about the Ovi SDK Beta, Ovi Maps Player API and Ovi Navigation Player API are available from the Forum Nokia website, http://www.forum.nokia.com/Ovi.

Please visit www.nokia.com/press for press materials, including photos and product information.

For more information on Nokia World 2009, please visit: http://events.nokia.com/nokiaworld.

Key Ovi ecosystem partners collaborate with Nokia for location solutions

Mathias Hüske, Divisonal Director Online Sales, Deutsche Bahn Vertrieb GmbH: "We are fascinated by the possibilites of the new OVI platform. It enables us to offer truly innovative services to our customers and makes travel planning easier."

Phil Chambers, CTO, Qype GmbH: "We jumped at the chance to become a part of the development of the Ovi SDK Beta, and to bring Europe's best local application to the Ovi platform. The ease of development and fast time-to-market were key factors in us making this investment, and I look forward to millions of users across Europe using Qype Radar on their Nokia handsets soon."

Chris Boden, Director of Mobile & Innovation, Lonely Planet: "We are thrilled to be one of the first companies developing on Nokia's Ovi Maps platform, creating a new generation of intelligent, contextually-aware travel guides. Lonely Planet's trusted content, made available regardless of time or place, teamed with Nokia's reach will help more travellers get to the heart of a place."

Ben Broshi, VP New Markets, DeutscheTelekom Medien: "We are excited, after working together with Nokia for so many years, to see Nokia reaching for the next level and we're proud of being part of this movement with one of the very first apps created with the Ovi SDK Beta, called DasÖrtliche."

Paul Levine, EVP, Interactive Platforms Group and Business Development, National Geographic: "Ovi is an ideal platform on which we can develop compelling National Geographic mobile applications. It enables us to leverage rich content from across the entire Society, including Travel, Maps, and Photography, in new and innovative ways."

Benjamin Mosse, director of mobile products at The Associated Press: "Working with the Nokia team, the AP Mobile team was able to develop the AP Mapix app in just six weeks. The Ovi API innovation makes it easy for us to develop a highly customizable mobile news app that provides consumers with the ability to choose their news, anytime and anywhere."

Greg Turley, CEO of CarTrawler: "We are delighted to be the first car rental application to enable Nokia customers across Europe and the world to access the full local inventory for car rentals. In the fast changing world of travel and telecom technology CarTrawler is constantly working to innovate with new standards based technologies to make it faster and easier for customers to make a car rental reservation through CarTrawler."

James Brady, founder and president of Earthcomber LLC: "When you look ahead, you see a crucial difference between Google and Ovi. Not only is the environment better, Ovi produces amazing visual perspectives. It's ultimately control and flexibility that count – you don't want to arrive at a dead end with your application. We can see immediately that Ovi supports openness and is built, frankly, for orchestrating technologies into the unique experience you're always aiming for."

Malte Bumenthal, vice president new media at CTS EVENTIM AG: "EVENTIM offers a state of the art webshop to serve millions of European customers with tickets and information from the world of live entertainment. Wih the EVENTIM Tourbus application users can get closer to the events, tour and music of their favourite bands. Thanks to Ovi APIs, a new dimension is opened for EVENTIM's mobile users."

Tobias Ragge, Managing Director of HRS – HOTEL RESERVATION SERVICE: "We are extremely delighted to be one of the launching partners on the Ovi platform. Thereby millions of Nokia customers get access to our hotel database with more than 250.000 hotels worldwide. With the new application, searching and booking a hotel on your Nokia mobile phone is child's play – fast and comfortable – no matter where you are."

Henry Bennett, Managing Director, Island Wall Entertainment: "This is a fantastic opportunity for our company to produce one of the apps utilizing the exciting Ovi platform. We will be looking forward to both porting existing product across to the Ovi Store, whilst developing new applications exclusively for the Nokia customer base."

Rolf Müller, Publishing Director at Langenscheidt KG: "New media have been an important part of our portfolio for decades now. In the world of mobile devices, where things move at the speed of light, it is vital to have strong partnerships in order to keep abreast of the technological developments and changes in user behaviour. The cooperation with Nokia offers us the ideal opportunity to combine our own top-quality standards with leading technology and creative distribution channels."

Stefan Heimerl, CEO MECOMO AG: "The Ovi platform provides a fantastic opportunity for us to bring location content to users exactly at the time they need it – when they are on the go. Thus, it perfectly supports the goal of our services: To make everyday life easier by providing efficient and reliable guidance, no matter if it's the next emergency pharmacy or the next ATM that you are looking for."

Clay Babcock, Vice President, Primordial Inc: "Ovi platform was exactly what we were looking for. We needed a rich LBS/Mapping platform for mobile devices that would target a large user base. We found all of that and more with Ovi. Not only is the mapping development environment for devices very rich, but that same environment exists on Ovi Maps Player API for the web. That allows almost 100% reuse of our development effort, and means that we can deliver our innovative pedestrian routing solution to even more users. It's a huge advantage for us. In addition, the Nokia team has been a true pleasure to work with. They understand the needs of the development community, and really want us to succeed."

Konrad Hübner, CEO of Skycoders (Munich): "For a small company like Skycoders, it is a great opportunity to work with the Ovi APIs right from the beginning. This allows us to prove that even a small team can build a powerful application based on Ovi SDK Beta in a really short time."

Bruno Pellegrini, CEO, TheBlogTV: "We are proud of being Nokia's partner in this new challenge. We will put all our unique competencies in crowdsourcing and user generated content to support the diffusion of Ovi and make it a big success."

Amnon Sarig, President, TuneWiki: "We found out that Ovi Maps offer a unique and much richer and immersing mapping experience. Just as important is the support that we received from the entire team at Forum Nokia, to develop and deploy our solutions. We work with many mobile vendors, and the Nokia team gives a perfect example how developers should be supported and treated in the life cycle of developing an application."