Nokia Booklet 3G hands-on [Updated]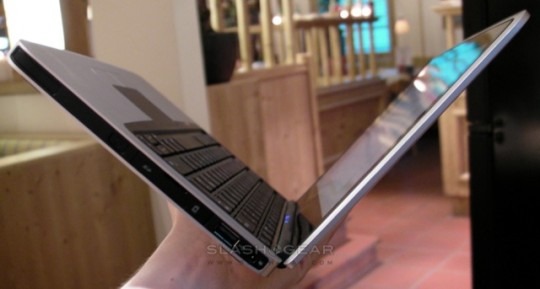 Nokia may have only just officially announced the full details of their Booklet 3G netbook, but SlashGear had the opportunity to go hands-on with the ultraportable at a pre-Nokia-World event.  In the metal, the Booklet 3G certainly deserves its premium positioning: the metal chassis feels as slick as a MacBook Pro, while there are also hints of Apple's notebook range in the glossy glass display.Full hands-on gallery after the cut - Plus full hardware specifications
We were dealing with pre-production units, so we're hoping that the occasional sluggishness observed in Windows 7 was a temporary aberration rather than a true sign of performance from the Intel Atom Z530 1.6GHz processor.  Still, it was made up for with one of the more impressive keyboards we've seen on a netbook-sized device, with excellent key-feel and decent spacing.  The trackpad, too, is large and the buttons well-spaced.
As for the dimensions, they impress more in real life than they do on the page.  The Booklet 3G is impressively slim, and thanks to the low-power CPU it's also fanless and thus practically silent.  Boot and standby-resume times are speedy, and while we obviously didn't have the time to put the 3,840mAh battery through any sort of testing, it certainly occupies a great deal of the netbook's chassis and we've reasonable hopes for runtimes.  Perhaps not the full 12 hours Nokia are suggesting, but if the Booklet 3G could manage 8hrs then that's a full work day in one compact, 3G and GPS enabled package.  It'll be priced at €575 pre-subsidies.
What we weren't allowed to do was shoot video of the Booklet 3G, but we'll have more hands-on time with the netbook now that it's officially-official and you can expect the usual comprehensive SlashGear coverage.