Nokia Lumia 900 review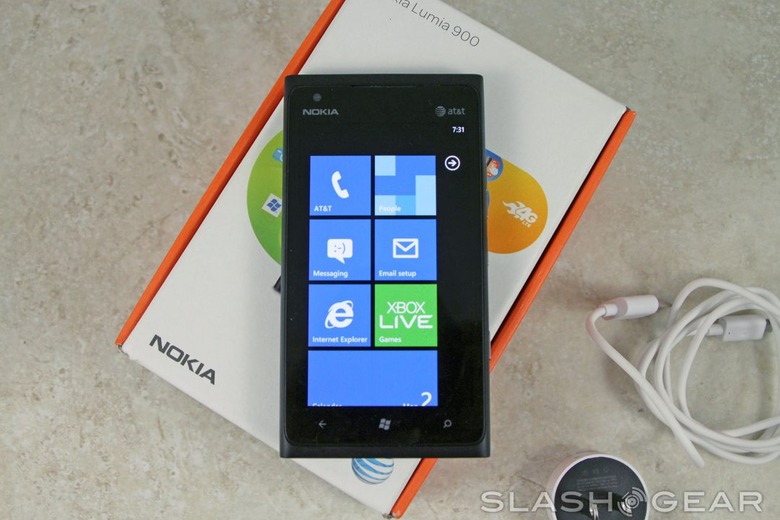 Over the last year Nokia's had something of a tumultuous time in the mobile industry. While still a power to be feared in the featurephone market, their lack of presence in the smartphone market has been keenly felt. With T-Mobile's Lumia 710 as a prelude, the Finnish giant makes a return in earnest with the Lumia 900 on AT&T's LTE network. Its features and design are immediately attractive, but perhaps more so is the price: just $99 on-contract, or free for new AT&T customers. Can a combination of great design, high-end features and price make a bold statement for Nokia? Let's find out.
Hardware
The Lumia 900 makes two impressive feats right out of the gate: the design of its hardware is both aesthetically pleasing and startlingly original. A 4.5-inch AMOLED screen sits on a tiny lip, melding into a matte polyurethane body unibody. The case curves around on the left and right side but has hard edges on the top and bottom. The general shape (if not the material and size) is reminiscent of the second-generation iPod Nano, and the grippy finish lets you keep the phone reassuringly safe. Even for a phone on the larger side of the spectrum it fits comfortably in both hand and pocket, with my only complaint being the placement of the power button, which I find somewhat awkward.
Speaking of buttons, the Lumia has four, all on the right side: volume up and down, the aforementioned Power button and a much-appreciated dedicate power button. On the front there is only the screen, the standard Windows Phone 7 capacitive buttons and the front-facing camera. On the bottom you'll find a strangely placed but appreciably loud speaker, and the top houses the MicroUSB port, headphone jack and a MicroSIM tray accessible by the included key. The left is bare, and the back holds the 8-megapixel F/2.2 camera.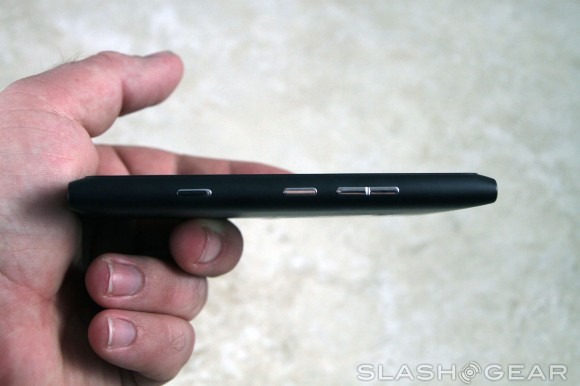 The AMOLED screen is worth noting for both its strengths and weaknesses. As with all panels of this type, it's bright, clear and just a little oversaturated. The resolution is somewhat disappointing at 800x480, especially on a screen this large, but Windows Phone doesn't really need more than that. On the inside you get a speedy but somewhat limited 1.4Ghz single-core processor from Qualcomm, 16GB of internal space (no MicroSD card slot) and of course, an AT&T 4G LTE connection.
Software
With Microsoft's standardization, there's not a lot to say about Windows Phone 7 Mango that hasn't been already. It's an undeniably unique and attractive, not unlike the hardware, but if you're not a fan this interpretation is unlikely to sway you one way or the other. Check out SlashGear's in-depth look at Windows Phone 7 Mango for a more detailed rundown. I'm not a fan of the Zune syncing software and would much prefer a basic USB mass storage alternative.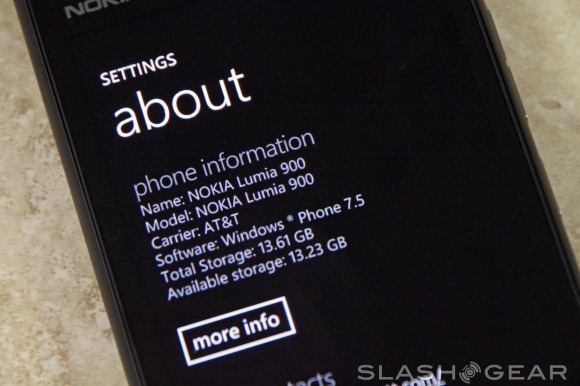 AT&T has added a few of its apps like the account manager, AT&T U-Verse, a code scanner and AT&T Navigator, as well as ESPN and Yellow Pages. All of these are easily uninstalled for those that wish, and the Nokia hardware grants you access to the company's excellent Maps and Drive apps, though they need to be downloaded from the Windows Phone Store. The Store remains one of the platform's only real weaknesses; while users of the Zune, Xbox or Games for Windows services will be quite happy, those looking for the latest in apps may not be. For example, the Kindle and Netflix apps are present, but Pandora and Angry Birds Space are not (at least for the moment).
However, the lack of apps is only a real problem if you have ones that you've come to rely on that aren't there. New smartphone owners (whom I suspect will make up a large part of the Lumia 900's ownership) will find plenty to like. To make a long story short, if you've built up a catalog of dozens or hundreds of apps on iOS or Android, you're unlikely to be satisfied. If you're already a Windows Phone user or you're just getting on the smartphone bandwagon, there's plenty to love.
Media and camera
The Lumia's  large screen and loud speaker make for a potent combination for video and music. Online videos look and sound great, so long as you remember not to cover up the speaker with your hand while in landscape mode. Naturally this does not present a problem whe using headphones, though none are supplied. Local videos tend to show a tiny hint of stutter when using the default player, but it's nothing that most people would notice for converted or downloaded movies. That said, if you want truly HD video on your phone (a luxury that in my opinion is somewhat overrated) you'd best look elsewhere.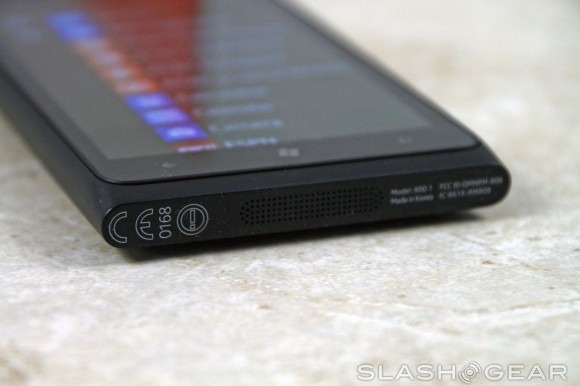 The rear camera takes impressively sharp photos even in lingering light, though the color accuracy leaves a lot to be desired. With the default settings colors will go from flat to over-saturated with a minor shift in movement or lighting. Low light performance both with and without flash is impressive, though not quite as much as that on the iPhone 4, 4S and HTC's new One X and One S phones. For snapshots or video chats the cameras are more than adequate, and frequent shutterbugs will love the dedicated camera button. Here's a quick video sample:
Signal and battery
Call quality was less than stellar, though that's not uncommon for AT&T phones in my remote home. While the Lumia didn't fare as well as some AT&T smartphones (particularly those from Samsung) it's far from the worst of the pack. When I went to even a small local city both the call quality and the data speed were fine. The 1830mAh battery lasts me a full day of 8-9 hours of medium use with heavy music and some surfing and web video thrown in. I'd be happier if the battery was swappable, especially if I knew I was venturing into one of AT&T's still-rare LTE zones. You'll still need to charge the phone every night, but you should be able to get through a full workday without any issues – so long as you avoid excessive video or games.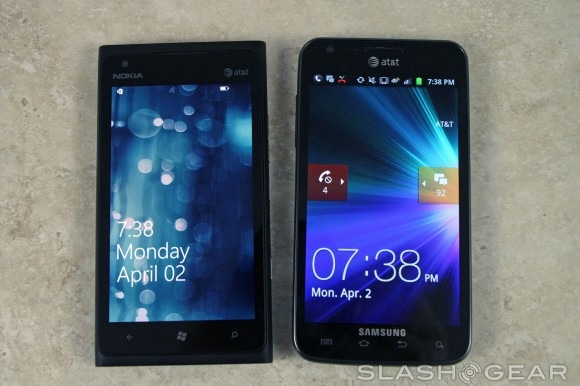 Wrap-up
The Nokia Lumia 900 is without a doubt one of the best Windows phones we've ever tested up to this point. If you can see past the limited app selection of the platform and the lack of some cutting-edge features like a 720p screen or NFC, there's a whole lot to recommend. Those already committed to Android, iOS or Blackberry are unlikely to be swayed, but new smartphone buyers should seriously consider the phone... and not just because of its looks or software.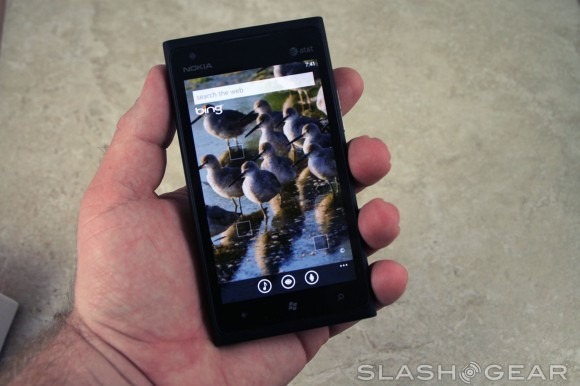 At $99.99 for returning AT&T customers, the Lumia 900 is tempting for any smartphone aficionado. At zero dollars for new customers (or $49 if you brave the Wal-Mart aisles) it's a downright steal. A solid and stylish build, reliable software and excellent value should put this phone on your short list, no matter what you're currently using. You can consider LTE as a bonus, since AT&T will surely add many more markets over a two-year contract period.
The Lumia 900 will be available starting on April 8th. Check out our hands-on video below.
[vms d5fef016acfb927fee0b]