Nokia Lumia 800 Unboxing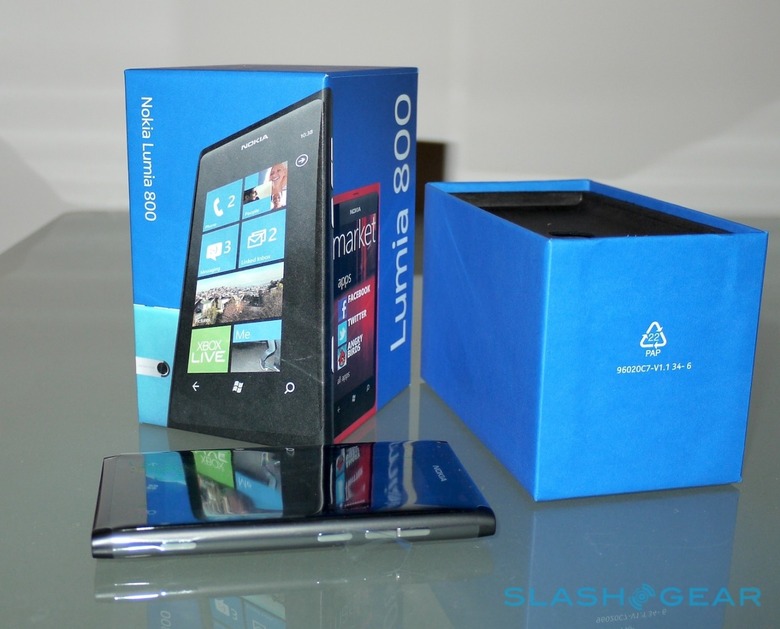 Now that was quick: announced on Wednesday last week, already the Nokia Lumia 800 is here on the SlashGear test bench. Availability in-store will take a week or so more, but we couldn't wait to get to grips with the Finn's first Windows Phone 7.5 Mango handset. The smartphone on which much of Nokia's future rests, there's a whole lot riding on reviewers – and shoppers – falling for the polycarbonate unibody allure.
With our first hands-on with the Lumia 800 just last week, the smartphone is feeling like a pretty familiar subject today. Nokia's packaging is cleanly designed and eye-catching: compact, matte blue box, neatly stacked manuals and accessories each compartmentalized into its own recycled cardboard sleeve. As well as the Lumia, there's a wired stereo headset – of which Nokia has been quite vocal about the promised quality – a USB to microUSB cable for charging and syncing, a small USB charger, and a rubber bumper-style case as was bundled with the N9.
Nokia Lumia 800 unboxing:
Nokia will offer three color variants of the 800, the black of our review unit, and cyan and magenta models. All are crafted from a single block of CNC milled polycarbonate, into which Nokia slots a brilliant 3.7-inch WVGA AMOLED ClearBlack display, triband UMTS/HSPA, an 8-megapixel camera capable of 720p HD video recording, a 1.4GHz single-core processor paired with 512MB of RAM, and 16GB of storage.
We'll be putting the Lumia 800 through its paces for the full SlashGear review, but until then there's no shortage of test material to look through from last week's show. Check out our iPhone 4S vs Lumia 800 comparison, our iPhone vs Lumia vs Galaxy S II camera showdown, and our browser test showdown.