Nokia 800 Tough phone falls 1.8-meters to concrete, still runs WhatsApp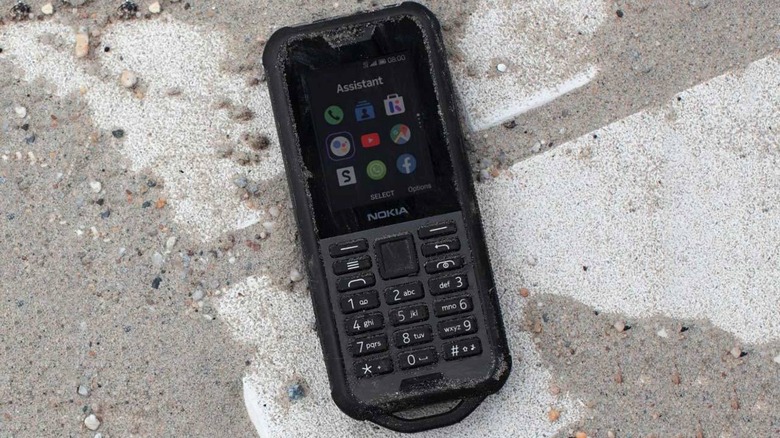 The folks licensing the Nokia brand know they're working with a brand with a legendary nigh-indestructible phone called Nokia 3310, aka "The Brick." Here in 2019, HMD Global (who license the Nokia brand) introduced the Nokia 800 Tough, a phone that's focused on surviving harsh conditions aplenty. This device does not run Android, but it DOES have access to a set of apps courtesy of the system called KaiOS.
Nokia 800 Tough hardware
Nokia 800 Tough works with KaiOS (see notes below*) on a 2.4-inch QVGA display above a set of hardware buttons. This phone is powered with a microUSB cord and has 4GB of internal storage. You can expand this storage with the phone's microSD card slot by 32GB, but still, it's clear this isn't meant to be a media machine.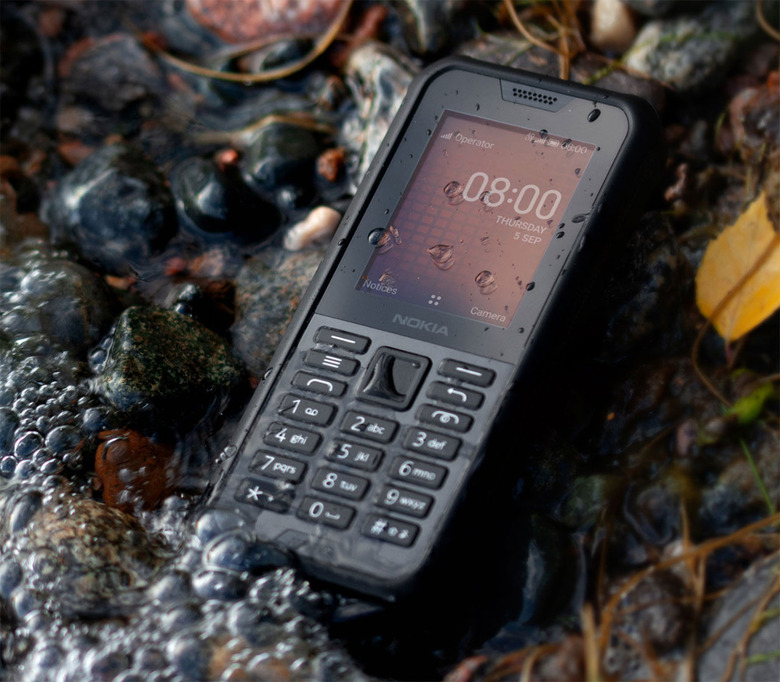 The one camera on this machine is on its back side, and its a 2MP camera with flash. While this phone may seem like it's running mostly feature phone specs, it still has a decent-sized battery at 2100 mAh. If you're using this phone very little, you can go without charging for well over a week. Single SIM max talk time is 12.5 hours, and max standby time on GSM is 43.7 days!
This phone has dual-SIM card capabilities and is capable of connecting via GSM bands to 4G LTE data. Unfortunate for us in North America, there's not a lot of connectivity to be had in the USA. This phone is made mainly for Europe, with network bands that exclude USA and Latin America specifically: GSM: 850, 900, 1800, 1900 | WCDMA: 1, 5, 8 | LTE 1, 3, 5, 7, 8, 20, 28, 38/41 (120MHz), 39, 40.
This monster is Water resistant and dustproof (IP68), drop protection (up to 1.8 meters), and MIL-STD-810G compliant. This includes temperatures from -20 C to +55 C and drops to concrete from as high as 1.8-meters. It's sand and dust-proof and can be submerged for 30 minutes as deep as 1.5-meters under water.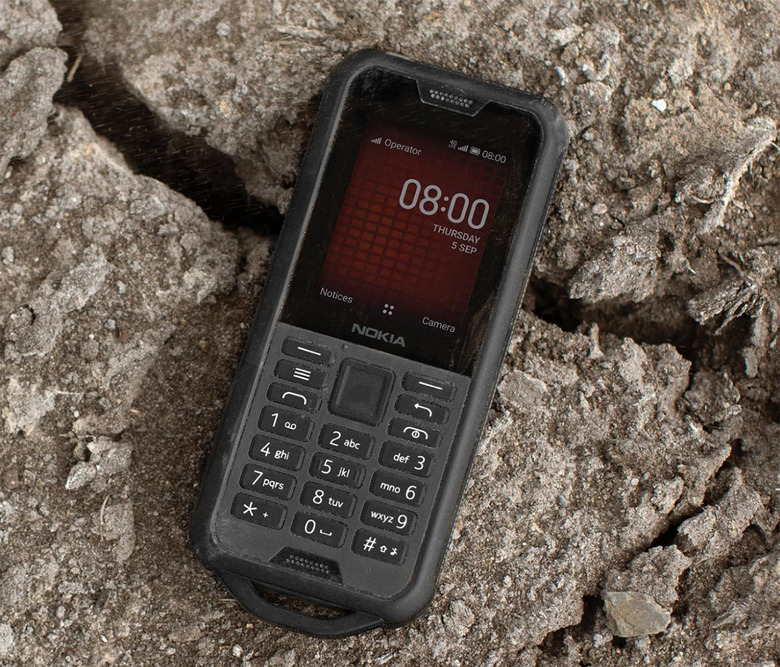 It also has a "purpose-build safety loop" so you can tie in a length of cord and sling it around your neck, or attach it to your other rugged hardware. There's also a 198 lumen light at the head of the phone implemented specifically for flashlight purposes. And it runs Google Assistant, Facebook, and WhatsApp.
HMD Global has previously attempted to capitalize on the "unbreakable Nokia phone" of meme-level repute. Back in February of 2017 they released the 2017 edition of the Nokia 3310, complete with a set of eye-searing bright colored casings. This device was also a sort of basic phone, and did not run Android of any sort – but it wasn't particularly rugged. This Nokia 800 Tough revealed today is a beefy brick to which we look for future legends of ruggedness – but we shall see!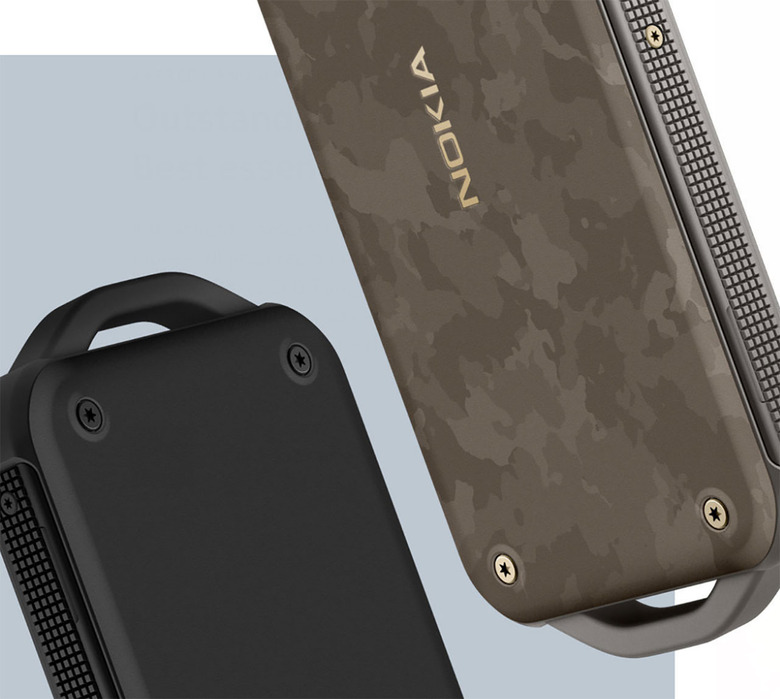 Nokia 800 Tough will be released in "early October" in two colors: Black Steel and Desert Sand (that's the desert camo you see above). This phone will cost users a cool 109 Euro.
*What is KaiOS?
We first caught wind of the importance of KaiOS back in June of 2018. Back then, Google invested in KaiOS for the first time. Google saw potential in KaiOS as an operating system for phones that could bridge the gap between feature phones (read: non-smart phones) and smartphones. This operating system is used on a variety of phones that've been released over the past several years.
KaiOS devices have been released by brands like CAT, Alcatel, Reliance Jio, and WizPhone – mostly brands outside of the USA. Partnering with HMD Global, KaiOS was released with the Nokia 8110 4G (the re-born banana phone), Nokia 2720 Flip (just today!), and now the Nokia 800 Tough.
This latest Nokia phone runs a version of KaiOS called Smart Feature OS. This version of KaiOS focuses on Google services for Nokia phones where previous Nokia feature phones (Series 30+) focused on Microsoft services. The Nokia Series 30+ software platform was run by Nokia (2013-14), then Microsoft Mobile (14-16), then HMD Global (2016-present) for phones like Nokia 108, 130, and 150.