Nokia 8110 4G brings back the classic banana phone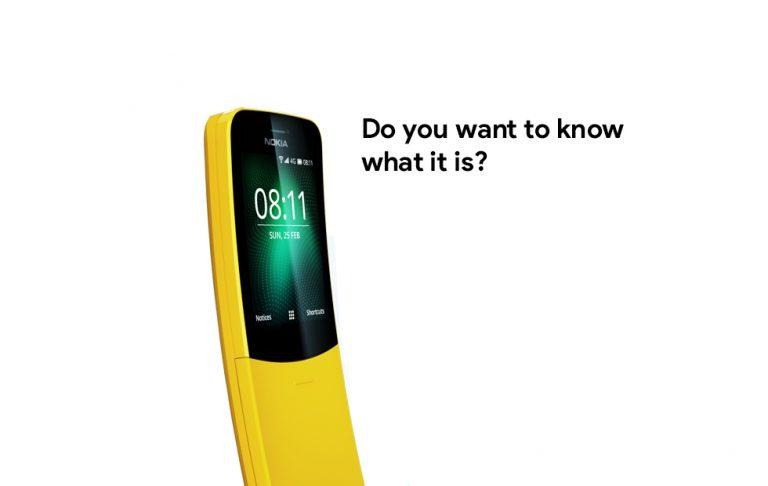 The Nokia 8110 4G is something like the Nokia 3310 – in part because it's retro. It's also part of the Nokia Originals collection of phones for international markets. This is the 1990's banana phone for the next generation. You might remember the original from The Matrix – or in its most awesome Chiquita Banana limited edition. This new version harvests all that sweet, sweet retro gold. They're bringing the Nokia 8110 4G to the market in two editions – one black, one "Banana Yellow."
This device does not run Android, it runs a proprietary software Nokia calls Smart Feature OS. It has access to a few services through proprietary apps, like Gmail, Outlook, and Facebook. Also it has a new version of the Snake game – because it wouldn't be complete without Snake. More games are coming, and more apps are in development – apparently!
The Nokia 8110 4G has "uniquely addictive mechanics" including the ability to slide to answer phone calls, slide close to end, and "spin helicopter style on its axis." If this is something you remember doing with your original banana, you'll be all about this one. Unless you became addicted to smartphones in the past ten years – bummer!
This device has a Qualcomm 205 mobile platform (with MSM8905 dual-core 1.1GHz processor) and 512MB LPDDR3 RAM. There's 4GB eMMC internal storage, and no storage expansion. Users will connect to the web and to phone calls and such with a micro SIM card through a micro SIM card slot.
There's a 1500mAh battery inside this phone with standby time up to 25 days (with LTE). The display on this device is 2.4-inches diagonally, at QVGA resolution. And there's a camera at the back of this monster, a 2MP camera for all your very, very tiny photo needs.
In the box is a Nokia 8110 phone, a charger, a user guide, and a headset. This phone will be released in several regions, including Europe, Middle East and North Africa, and China. Cross your fingers it becomes popular enough to be brought back to the United States. In a throwback The Matrix style, just for Neo.
UPDATE: This piece of work will be available in May for right around 79 euros ($97). Again, good luck finding one in the United States!