Nokia 5 And Nokia 3 Join Nokia 6 In Global Android Launch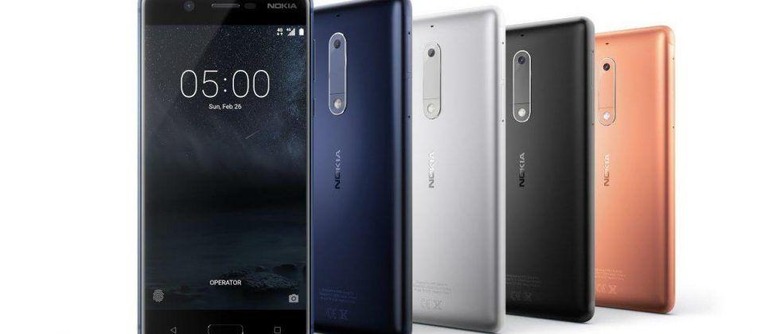 Nokia isn't counting on nostalgia for the 3310 alone to reboot its brand, with the Nokia 6 now sitting atop a trio of Android smartphones. Announced alongside the new Nokia 3310, the new Nokia 5 and Nokia 3 are aluminum-bodied plays for the Android market just like the existing Nokia 6, but with even more affordable prices. Meanwhile, Nokia – and brand-licensing, phone-manufacturing partner HMD – are promising rapid-fire Android OS upgrades to sweeten the deal.
The Nokia 6 is the same phone we've already seen offered in the Chinese market, only now with global support. It has a 5.5-inch 1920 x 1080 Full HD display, and is powered by a Snapdragon 430 processor. It also gets stereo speakers and supports Dolby Atmos sound.
The body is milled from a single block of 6000 series aluminum, and then polished five times, Nokia says. It'll be offered in its global edition in the same four colors we've already seen: matte black, silver, tempered blue, and copper, all priced at €229, or approximately $244. However, Nokia will also have an Arte Black Special Edition in gloss black, with 4GB of RAM and 64GB of storage, and which will be €299, or approximately $319.
As for the Nokia 5, that keeps the unibody 6000 series aluminum form-factor of the Nokia 6, but shrinks it down somewhat. It has a 5.2-inch IPS HD display, covered with a sheet of Gorilla Glass; Nokia describes the form-factor as "pillowed" which brings to mind pleasant memories of the ill-fated Nokia N9. Inside, there's Qualcomm's Snapdragon 430 with Adreno 505 graphics.
Like the Nokia 6 it'll be offered in four colors: matte black, silver, tempered blue, and copper. However, it'll be priced at €189 – approximately $201 – SIM-free and unlocked.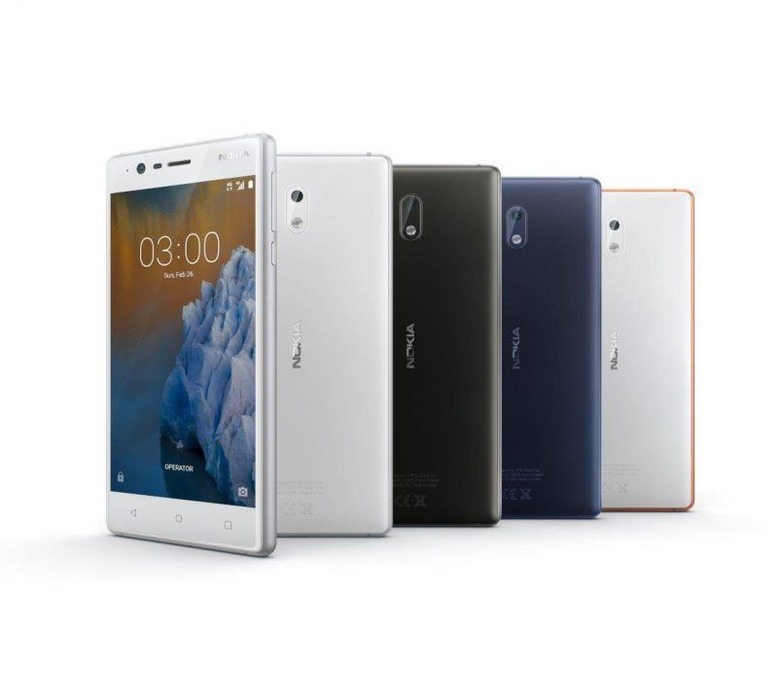 Finally, there's the Nokia 3, the cheapest of the trio and the company's attempt to capture the entry-level user. There's plenty to like, too: no plastic here, with Nokia still using machined aluminum to cut the frame from a single block of metal. Into that, the Nokia 3 slots a 5-inch HD display with a laminated Gorilla Glass top. 8-megapixel cameras front and back round out the core specs.
Nokia will offer the Nokia 3 in four colors: silver white, matte black, tempered blue, and copper white. All four will be priced at €139 – approximately $148 – SIM-free and unlocked. The Nokia 6, Nokia 5, and Nokia 3 will begin shipping from Q2 2017, along with a range of matching accessories including headsets, portable and Bluetooth speakers, in-car chargers, cases and screen protectors.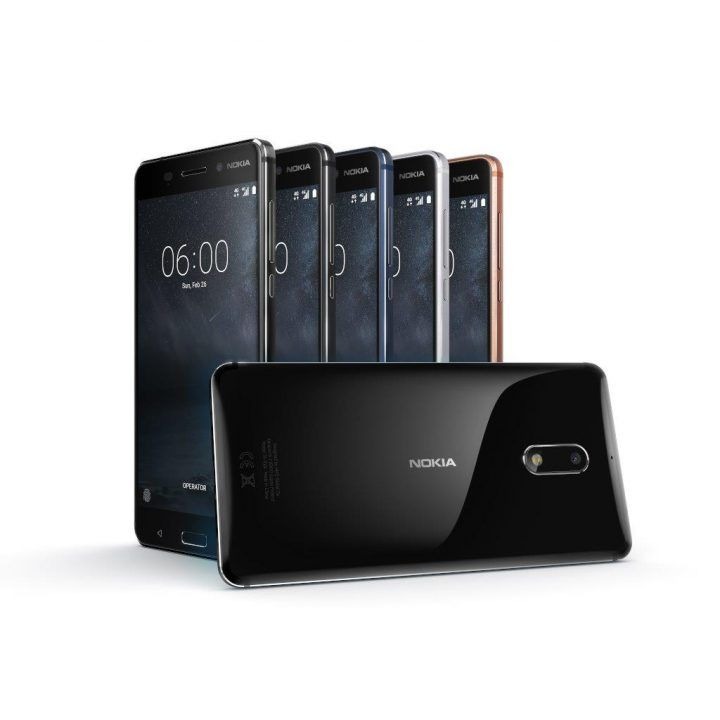 All the same, Nokia and HMD are counting on more than just brand recognition to pull in buyers. The company has committed not only to loading unmodified Android 7.0 Nougat onto the three phones – complete with Google Assistant, support for which is getting much broader on Android devices from today – but to pushing out monthly updates for security patches.