Nikon DSLR with articulated LCD coming April 14th?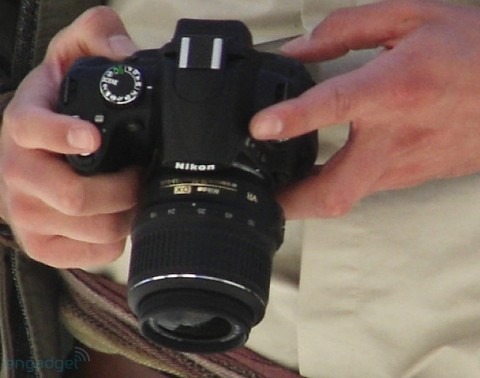 Photos purporting to show an as-yet unannounced Nikon DSLR with an articulated display have emerged, tipped to be officially unveiled at a Nikon press event on April 14th.  No specific details for the camera have been given, but the photographer who snapped the mystery shots claims to have been traveling in Eastern Europe only to "stumble across" a Nikon commercial shoot.
Some believe the event will see a replacement to the much-esteemed Nikon D60 announced, with 720p video recording capabilities.  Prior to PMA 2009 a new "Nikon D5000" was tipped, with manual auto-focus but high-level optics.
Other speculation has tipped the star of the event to be the much-rumored Nikon D400.  A guide-book for the camera listed on Amazon Germany led many to assume the D400 DSLR would come before July; there's also been a mass of D400 rumormongering that has suggested everything from touchscreen control to a huge-megapixel count.