Nikon D400 prediction gone mad : 24mp with touchscreen LCD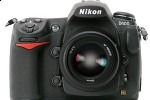 We know the Nikon DSLR D400 is coming, there's no leak more credible than a guide book dropping on Amazon: we've seen it happen with the Canon 5D sequel before, and both the book and camera made it to the shelf. However so far there aren't any technical details of the D400 about. A Chinese site is suggesting the upcoming Nikon would be another bold move, just how Nikon surprised us with the D700: a shrunken D3x with 24mp but a touchscreen display. Is it even possible?
Frankly, it's hard to believe that Nikon would replace the D700 with another 24MP FX-based CMOS sensor, direct competition to its $8,000 flagship D3x that launched barely three months ago. However the manufacturer has made a similar move with the D700, squeezed into a body roughly the size of the D300 and sharing the same processing engine and image sensor from the D3.
Furthermore, the claim is that the Nikon D400 would see a giant 3.5-inch display with touchscreen functionality, hitherto unheard of on a DSLR. There isn't much room to accommodate a larger screen, and in fact even a 3.5-inch display would mean a completely new layout to eliminate unnecessary buttons. It's certainly possible that those homeless buttons could end up embedded them into a touchscreen panel.
The D3x, despite Nikon's claim that it's the first truly professional full frame beast to compete with the Canon 1Ds series, falls short being years too late to the market. Besides, the hard-to-swallow asking price hasn't been helping. Will Nikon re-launch the fully-fledged professional series with a more affordable semi-pro Nikon D400 24.5mp? The answer is likely less than few weeks away; stay tuned for more pre-PMA reports.
[pconline via nikonrumors]