New Galaxy Fold US launch delay leaving some foldable fans furious [UPDATE]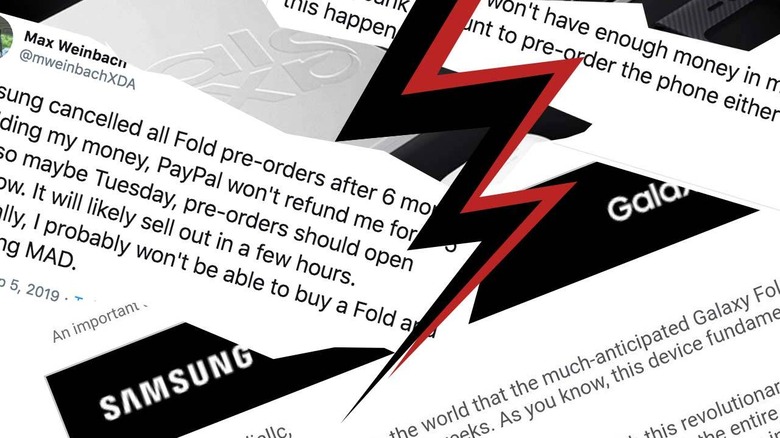 We may receive a commission on purchases made from links.
Today Samsung delayed the release date of the Galaxy Fold, again. They did this by emailing pre-order customers with a special "token of appreciation" and a cancellation of their existing pre-order status. These users were given $250 credit redeemable for anything at Samsung.com, but in return were left, in some cases, quite displeased with Samsung's handling of the situation.
This is not the first time the Samsung Galaxy Fold was delayed. It was first halted when early reviews of the device found some displeasing faults in the hardware. Once that debacle was fully in-play, it became a question of who was still prepared to pay nearly $2k for a device whose original review build wasn't up-to-snuff. Rumors suggested that the launch would push several weeks past the original ship date of May 26.
In late April, Samsung offered customers the option to cancel their pre-order rather than wait an unspecified amount of time. On September 2nd, pre-orders re-opened.
Today it was revealed that the launch would start this week. An announcement from Samsung said that a September 6th release date would be set for the device – in South Korea. This device would then be "followed by select countries." Those countries included "France, Germany, Singapore, U.K., U.S., and more."
Fast forward to this morning and the pre-order emails begin to roll in for US-based potential customers. The email included word that "the much-anticipated Galaxy Fold will be launching in the U.S. in the coming weeks." This email also had bad news. All US-based Samsung Galaxy Fold preorders were cancelled.
Samsung suggested that they are "taking the time to rethink the entire customer experience" including elements "from purchase to unboxing, to post-purchase service." To make this happen, they needed to cancel all pre-orders in the USA for the Galaxy Fold. Those that'd pre-ordered with payment were given (or will likely soon be given) a $250 Samsung credit.
So Samsung canceled my pre-order for the Samsung Galaxy Fold...at least they gave me a $250 credit for anything on their store. That is admittantly quite generous.

I guess I should rejoin the pre-order queue. pic.twitter.com/Nv7OAIMxnN

— M. Brandon Lee | THIS IS TECH TODAY (@thisistechtoday) September 5, 2019
Tweets from tech reporter/reviewer M. Brandon Lee, XDA reporter Max Weinbach, reporter Lexy Savvides of CNET, and others show the Samsung Galaxy Fold pre-order cancellation email in full.
As you can see, people are pissed. https://t.co/ZgmCXiHEsF

— Max Weinbach (@MaxWinebach) September 5, 2019
Said message suggests that Samsung cancelled Galaxy Fold preorders as a part of an effort to "reinvent the customer experience matching the premium and exclusive nature of the device itself." They went on to reveal a new "galaxy Fold Premier Service" that'll apparently allow Galaxy Fold users to gain "direct access to Samsung experts."
Samsung just canceled my original pre-order for the Galaxy Fold 😢

But offering $250 in store credit (presumably when I want to preorder the new version?) pic.twitter.com/yTvaF9YwF7

— Lexy 📸📱🎧 (@lexysavvides) September 5, 2019
As Weinbach suggested, pre-order customers – or rather former pre-order customers – are not happy. This appears to be despite the fact that they'll potentially get the Galaxy Fold for slightly less cash than before, with the idea combination of discounts.
Of course, the $250 is nice. Especially after you can use the 10% referral discount after the fact. You can get it for $1557 if you order in time. It's nice and all, but it's still makes me really mad. They had said specifically keeping the order keeps our place in line.

— Max Weinbach (@MaxWinebach) September 5, 2019
Users were informed that if they pre-ordered the Galaxy Fold with a credit card or debit card, they "have not been charged." PayPal pre-orders will be "refunded immediately" according to the message from Samsung. Samsung suggested that more info on "when and where you can purchase a device" will appear "over the coming weeks" at the official Galaxy Fold homepage.
Have a peek at the timeline below for additional moments in this ever-changing and unraveling saga of the first foldable-display-toting Android phone from Samsung, the Samsung Galaxy Fold. And be sure to let us know if you're one of those potential customers that've lined up only to have been kicked out of line here half a year after sending your cash to Samsung to keep your spot.
UPDATE: Some users are reporting that refunds via PayPal will not be credited immediately. If not credited before Samsung re-opens pre-orders for the US market, these users might not have the opportunity to purchase the device until after launch.
Depending on the amount of devices Samsung's manufactured, there lies the possibility that these potential consumers might not be able to own a Galaxy Fold at all. It all comes down to how "exclusive" Samsung decides they'll be with this device.