Nest Cam Outdoor Review
Streaming security cameras are probably the most popular gadget in the connected home, and Nest the best known today. After a fairly slow start after its Dropcam acquisition in 2014, Nest finally has an outdoor model, the unimaginatively titled Nest Cam Outdoor. Like the Nest Cam – designed for indoor use – it's $199.99, though for the full range of features you'll need to cough up a monthly or annual subscription.
Setup proved straightforward. Nest advises plugging in the camera indoors and connecting it to your WiFi before you mount it outside, and then the app guides you through positioning it and – vitally – making sure you have a strong enough wireless signal in your chosen location. I had an odd glitch where, after plugging it in the second time, the camera's green light came on suggesting it was connected but the setup preview didn't load; however, I could see the stream fine from the app's regular view.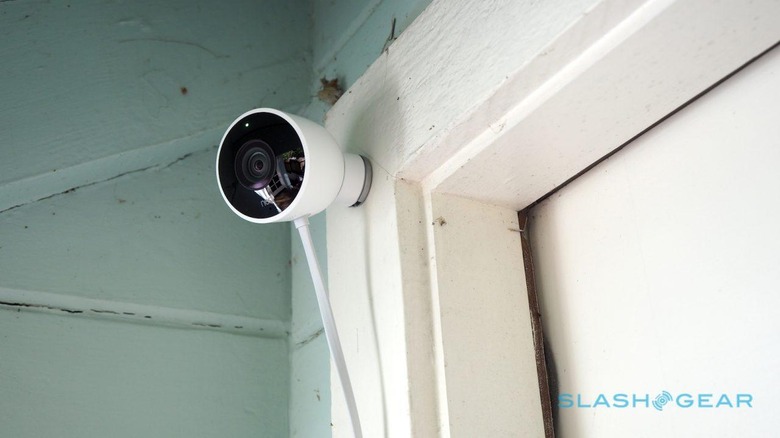 Then comes the tricky part: choosing how and where to mount it. The camera sits magnetically in a circular plastic cradle, which itself clings magnetically to a round metal mounting plate with two screw holes. If you have a metal surface, of course, you can bypass the mounting plate altogether; otherwise, there are screws and wall plugs in the box.
Since it's mains powered, rather than using a battery, you'll need to be within cable's reach of an outlet. The Nest Cam Outdoor's cable actually comes in two portions: there's the permanently attached part from the camera itself, which is 10 feet long and ends in a USB plug, and then the power cord which is 15 feet long and has a USB socket on one end and an angled two-prong plug on the other. Once you plug the USB in, a twist not only locks it in place but leaves it weathertight.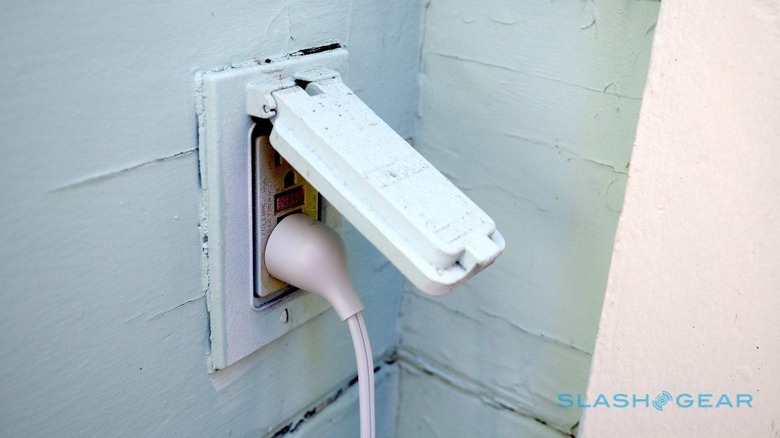 If you have an outdoor outlet, you can plug the power cord in there, trail the cable along – Nest provides cable clips to fix it in place – and then up the wall to wherever you've put the camera. The company suggests locking or tethering down the cover to the outlet with a zip tie or padlock if possible, though the hardware to do that isn't provided. It's worth giving this some thought, however, since if someone nefarious unplugs it, your video stream dies.
I took a lazier (and more rental-friendly) way out, and routed the cable through a door jam and into the house, plugging it into an outlet nearby. If you wanted the security of an indoor socket but a more permanent installation, you could drill a hole through the wall: it'd need to be roughly dime-sized in order to get the USB through, mind.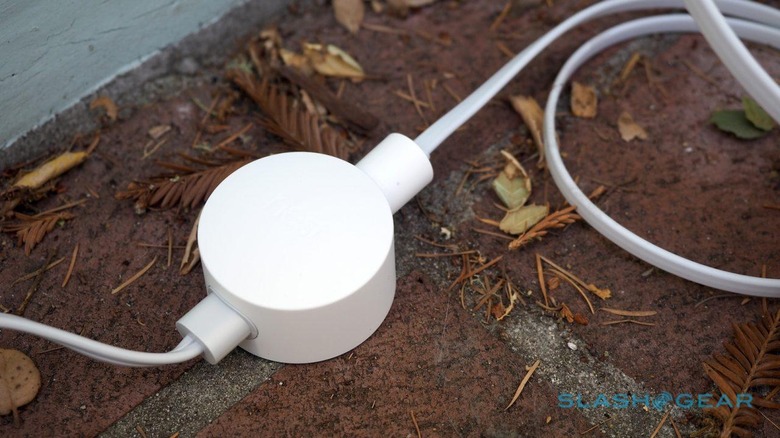 There's an impressive range of articulation on the magnetic mount, aided by the smoothly curved body of the Nest Cam Outdoor. Nest recommends mounting it seven feet or so off the ground – high enough to be out of casual reach, but low enough to keep faces clear – and out of direct sunlight. Camera, cable, and power cord all have an IP65 weatherproof rating and can survive -4 to 104 degree Fahrenheit temperatures.
Once plugged in and connected, you're streaming 24/7. Nest's justification for a permanent power cord is that it's the only way to guarantee round the clock surveillance at a sufficiently high resolution; the company argues that, with battery-powered and motion-triggered rivals, by the time the camera has woken up it can be too late to capture what you'd want to see, and too low resolution to be of particular use anyway.
I agree, to some extent. Nest Cam Outdoor's 1080p Full HD video is clear and crisp, with accurate colors and enough contrast that you can make out car license plates and similar without issue. At night, the usable range without any external lighting is around 15-20 feet; more importantly, paler objects avoid being washed out in the process, which can render some faces indistinguishable with other cameras. Illumination from the eight IR LEDs is pretty consistent across the frame, rather than being focused on the center and leaving the edges dim.
Another benefit to constant connection is the relative absence of lag. On the same WiFi network as the camera I experienced less than a second of delay, though that unsurprisingly increased when I was away from the home and watching over an LTE connection. Audio pickup from the camera's microphone caught the quiet snick of the lock on the door across my front doorstep, and was more than sensitive enough to eavesdrop on conversations.
Still, there's no denying that it's not as convenient either in installation or flexibility of positioning as the Ring Stick Up Cam and its optional solar panel. They can be located anywhere within range of your wireless network, the sun keeping the internal battery topped up.
However, the Stick Up Cam's resolution tops out at 720p, and Nest's accusation of slightly tardy recording does – excuse the pun – ring true. With some consideration of its location and triggering zones I was able to minimize how much useful footage Ring lost as the camera wakes and starts capturing, but details are definitely trickier to make out at half the quality of what the Nest Cam Outdoor will stream. Nest's night-vision illumination is noticeably stronger, too.
One thing I do prefer about Ring's product is its guarantee: the company says that, if your camera is stolen, it'll replace it free of charge.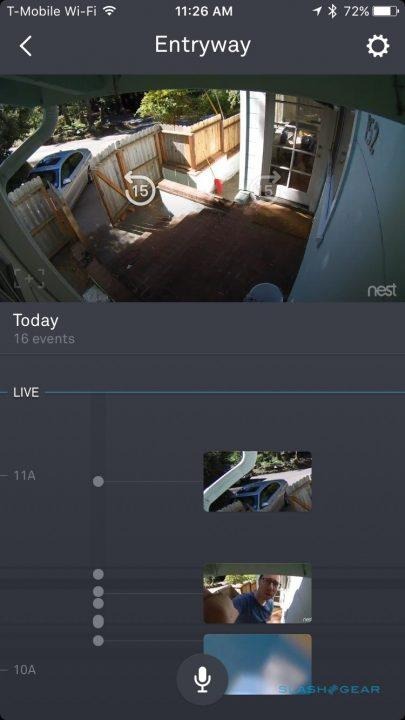 Nest claws back the advantage with its app, however. That was recently overhauled with a new timeline interface that offers super-slick navigation back through your camera's history. There's all manner of clever caching and such going on in the background to make it work, but all you need to know is that a flick up or down with your thumb sends the preview spooling smoothly through the days or weeks.
Meanwhile the digital zoom has been improved, and you can enlarge the frame by up to 8x; there's also an "Enhance" option which, though it sounds like something you'd hear them say on CSI, actually does a decent job of clearing up the scene.
You do need a subscription to make the most of it, mind. Nest Aware costs either $10 a month or $100 a year for 10-day video history, or $30 a month or $300 a year for 30-day video history; it's worth noting that it's a per-camera subscription, too, though Nest offers a 50-percent discount for your second and subsequent cameras.
With the subscription you get access to live and recorded video, activity alerts, control over different activity zones, person alerts, the ability to export clips and timelapses, and stream sharing for friends and neighbors. You can use Nest Cam Outdoor without a subscription, but then you only get live streaming video, still images from the past three hours, streaming sharing, and basic activity alerts.
I feel like it's worth coughing up at least $10 a month. Nest has dipped into the machine learning expertise fellow Alphabet division Google, and come up with much smarter algorithms for both person detection and filtering out false-positives.
The former can now differentiate between when it spots motion, when it believes it saw a person, and when it's certain it did. Future iterations are likely to expand to spotting vehicles and even recognizing when it's your own car or an unknown one: you could eventually tell the difference between the FedEx truck and your spouse arriving home, perhaps. Nest says the AI smarts are constantly improving in the background, too.
As for false-positives, if you log into your Nest account on the desktop you can set up activity zones, but I still found the occasional passing car – though outside of the monitoring area I had selected – could flag a motion alert. Sunlight and moving trees, however, didn't trip the alarm.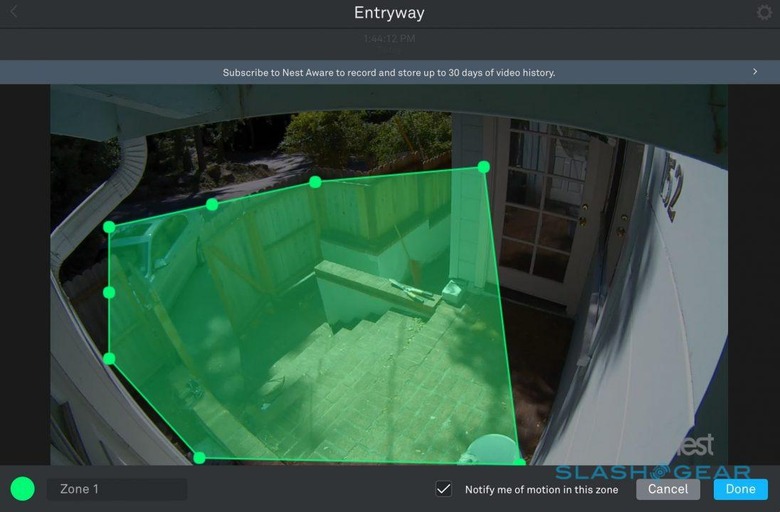 If you want, you can schedule when the camera is active and when it's powered off, or have it automatically toggle between the two based on the presence of your phone, just as with a Nest thermostat.
NOW READ: Ring Stick Up Cam Solar Review
I admit, I was a little skeptical of a permanently wired security camera initially. Rationally, though, no camera – wireless or wired – is unstoppable: if you can't cut the cord you can spray-paint the lens, or simply smash the whole thing off the wall. If the external outlet you're using is within the view of the Nest Cam Outdoor, you'll end up capturing video any person unplugging it: after all, it's streaming right up until the moment it loses power.
Factor in the fact that the video is of high quality, the ease of its setup, comprehensive in-box accessories, and excellent app, and though Nest charges considerably more per month than, say, Ring, I suspect most would not begrudge it for the ensuing peace of mind. Until a battery- or solar-powered rival offers the same resolution and consistency, there's a reason Nest's cameras are the gold standard, and the Nest Cam Outdoor is no exception.