Ring Stick Up Cam Review: Solar-powered security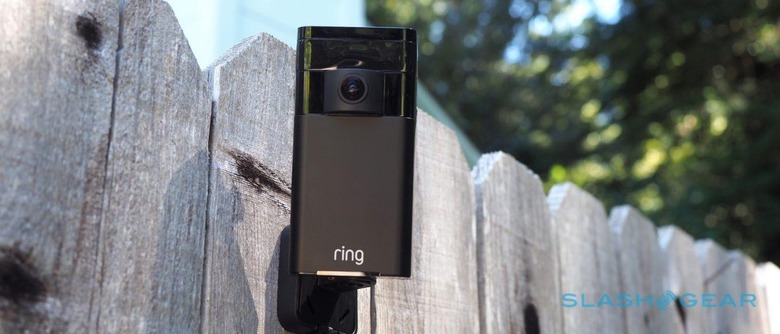 There's a tricky balance to be struck when you're designing an outdoor security camera: do you go with the convenience of battery power, or the performance of wired? Ring's Stick Up Cam attempts to straddle the two, offering the flexibility of a built-in rechargeable battery with the option of an add-on solar panel for truly off-the-grid use – well, just as long as your WiFi is within range. Question is, has quality taken a back-seat in the hunt for easy installation?
Fitting the Stick Up Cam is straightforward, particularly if you're mounting to something wooden like a fence. For the camera, Ring includes a screwdriver with a switchable head, screws with tiny rubber washers, plugs for mounting to concrete or brick walls, and even a suitably-sized drill bit. You'll need to provide your own drill, of course.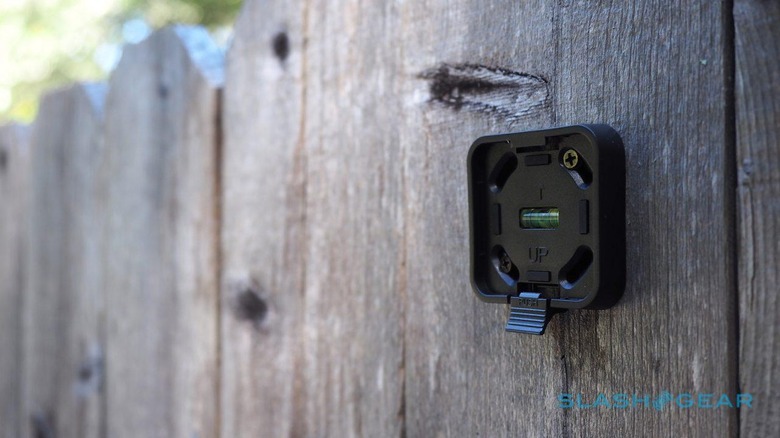 First I screwed the mounting plate to the fence, fitted the quick-release plate to one of the three mounting points on the back of the camera with a cross-head screw, then clipped the whole thing into the mount and tightened the tilt/pan head with the supplied hex key. If you prefer, you can screw the quick-release plate directly to the wall.
Ring advises setting the camera up with your WiFi credentials before you fit it to the wall, which is sensible. After hitting a pairing button on the back – covered, normally, with a small rubber gasket – you connect your phone to the wireless network the Stick Up Cam creates, make an account (or sign into an existing one) and scan for your home network. While you're doing that, it's also advisable to charge the camera's integrated battery, which is via a microUSB port under a second rubber gasket.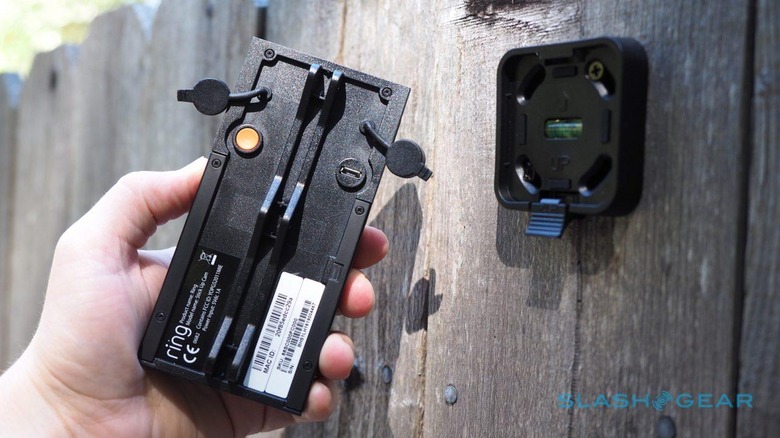 Ring makes a few suggestions for overall camera positioning, like mounting it at just above eye-level – if it gets stolen at any time, the company promises to replace it – but the most obvious aid is missing. Right now, you can't actually watch a live view of what the camera is seeing to help figure out what angle to point it at; Ring tells me that's in the pipeline.
The remaining setup takes place in the app, and controls the Stick Up Cam's sensitivity to motion triggers. Basically, you have a 180-degree fan broken up into six zones: one is the immediate area within 5 feet of the camera, while the remaining five are arrayed around that. You can adjust the motion range – from approximately 5 feet up to 30 feet – and turn off any of the five peripheral zones.
That's a fair amount of flexibility, but again, setup can be a little confusing. I found it tricky to translate what I saw on the screen to the actual physical area in front of the camera: standing at the end of the driveway, was I extending the sensitivity sufficiently so that movement would be picked up, but not so much that passing traffic would be a trigger? It would've been a lot easier had Ring's app shown detected movement in each zone on-screen, saving a fair amount of trial & error.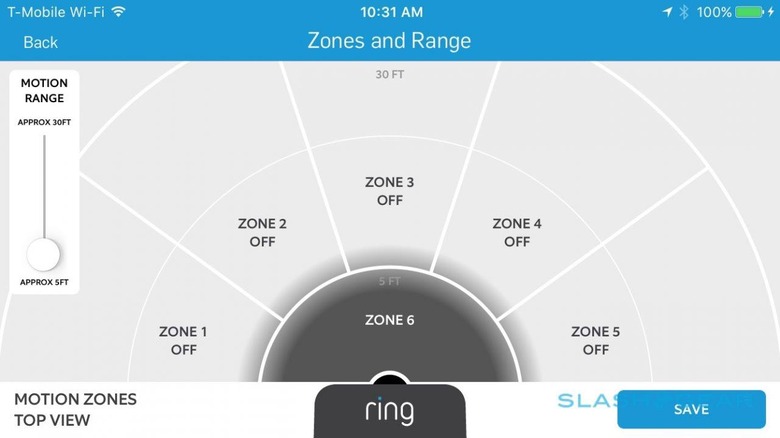 Finally, you can set your tolerance for false-positives. Ring offers three settings for its so-called Smart Alert algorithm, ranging from "light" – which promises fewer alerts – through "standard", the default, and finally "Frequent".
After that point, if the Stick Up Cam detects motion it'll start recording and send you a push notification. You can either watch straight away, or review the recording later on; all motion events are logged in a timeline in the app (with date and time, but unfortunately no thumbnails). Videos can be downloaded or shared in the usual ways depending on your smartphone OS of choice. If you have a Ring Doorbell, it's video clips – and a log of its bell-presses – will be included in the timeline too.
Ring says the 5,200 mAh battery should last 6-12 months of "regular usage" though that'll depend how often you stream live video. A recent addition to the service, you can hit the button at any time in the app and see a live feed from the camera. Periods of live video viewing are stored just like motion-triggered events in the timeline.
Exactly how quickly live view starts up depends on your power settings: Stick Up Cam periodically checks to see if you're wanting a live feed, and it's the frequency of those checks that you can adjust. Running off the camera's battery, you can either have it set to its most frugal – which means the most delay – or tip the scale toward performance. Either way, it can take anywhere between 10 and 20 seconds before you see anything.
That's where Ring's Solar Panel comes in. $49 gets you an off-the-grid way to power the Stick Up Cam without needing to run a wire to the nearest outlet. As with the camera, you get screws for the mounting bracket in the box, as well as wall plugs, a screwdriver, and a drill bit. The panel itself is about 7.5 x 6 inches and is weather-resistant, with a five foot long cable terminating at a microUSB plug with a rubber gusset.
Ring says an hour of direct sunlight should be enough to keep the Stick Up Cam's battery fully charged, which – along with the length of the cable – allows a fair amount of flexibility in positioning. I fitted it to the rear of the fence, which gets several hours of sunlight each day but is hidden from the road, and then snaked the cable through a gap and into the back of the camera.
It took a day or two to top the Stick Up Cam fully, but after that point the app shows it consistently at 100-percent. My only complaint is that, in an otherwise comprehensive mounting kit, there are no wall clips supplied to keep the cable tidy.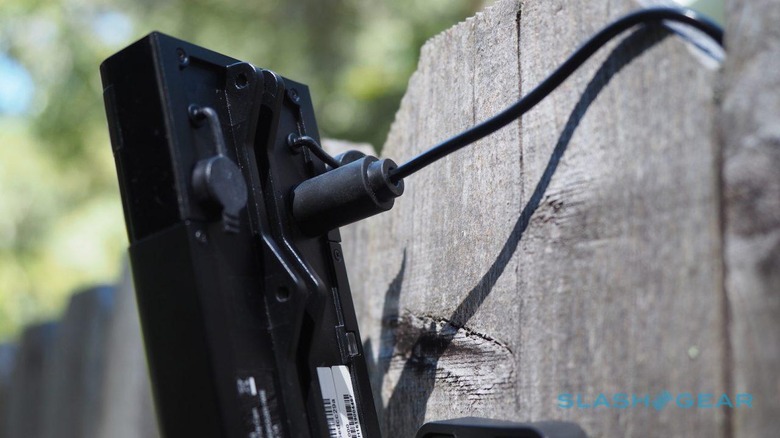 Once on solar power, the live view generally started in under 10 seconds. There's a fourth setting, for if you've provided constant USB power, which trims the delay even further. Once you're viewing, you can hear through the the camera's microphone, and – by pressing a "Talk" button in the app – speak to whoever is nearby through its speaker.
No matter which you use, video quality tops out at 720p. That's the same resolution as in Ring's doorbell, though with that you can pretty much be sure that the person you're filming will be close to the camera; with the Stick Up Cam, there's every possibility that they could be thirty feet away when they trigger the motion sensor.
At that distance, I'm not sure you'd get particularly useful footage. In fact, even at much closer range the quality leaves something to be desired: you really need to have the Stick Up Cam within ten feet of where you're expecting peoples' faces to likely be, if you want to avoid blockiness.
Clips are stored in Ring's cloud, which you get thirty days free access to on activating the camera. Up to six months' worth of footage is saved, and you can delete clips from the cloud or download them for local viewing or sharing.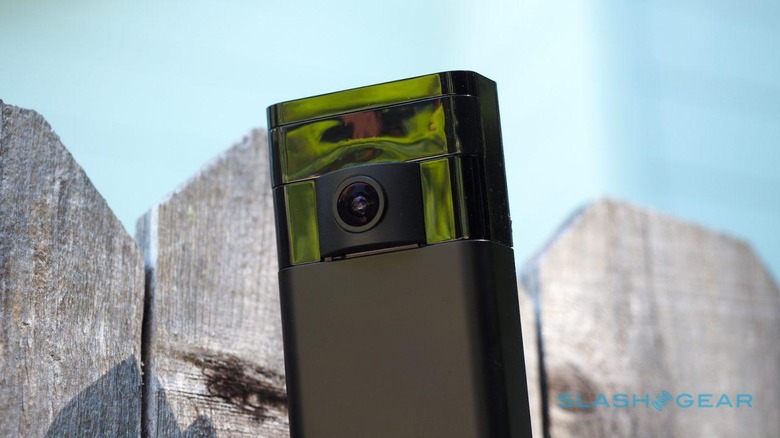 After the trial, it's $3 per month or $30 for a year, with no minimum contract. That's considerably cheaper than Nest – which asks $10 per month for a 10 day store of video – though it's worth remembering that, in both cases, it's one subscription per camera. If you have both a Stick Up Cam and one of Ring's video-recording doorbells, and you want cloud storage for each, it'll be $6/month total.
Though Ring's cloud service is theoretically optional, in practice I'd say it's essential given the performance of the camera. Without it, you still get live viewing and motion notifications, but the delay involved from motion triggering a notification, to getting that notification, to the stream actually starting can be such that you've missed half the action by the time you're actually watching. Obviously there's a lot Ring can't control here, like the speed of your home and cellular network, and how quick you are to swipe the alert, but being on call to check in on every warning as soon as it pops up is a headache that's probably worth three bucks a month to remove.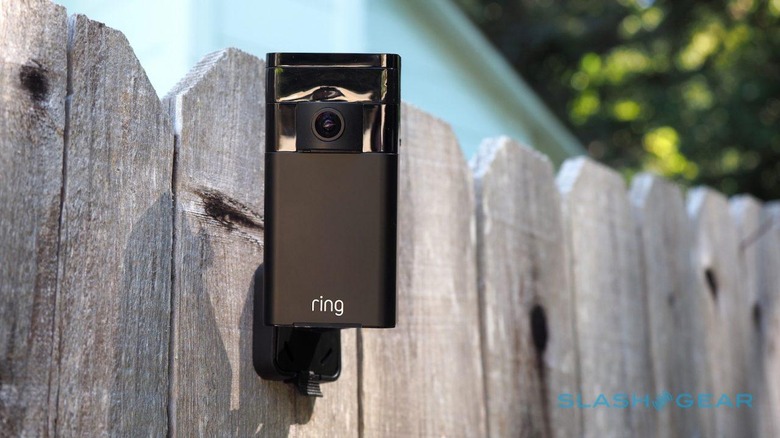 Ring faces competition from the upcoming Nest Cam Outdoor, expected to ship in a couple of months time. That has twice the resolution but no battery, and so requires a permanent power supply; it's cloud service is also more expensive, though for some it could well be easier to install with its clever magnetic mount, if you have something metal it can cling to.
If the ease of Ring's installation and positioning appeals – and it should – then I'd say it's well worth coughing up the extra $49 for the solar panel, just for the flexibility of avoiding either taking it down every few months to recharge, or running a power cable. With careful positioning, Ring's resolution limit needn't be a deal-breaker: just don't expect to necessarily recognize a face at a distance.