N-Trig multitouch confirmed for new notebooks in 2009; fresh gestures planned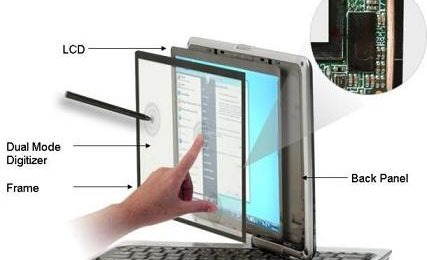 N-Trig might not be as well known in the touchscreen tablet field as Wacom, but recently they've been pushed to the fore after their capacitive panels found their way into Dell's Latitude XT and HP's Touchsmart tx2.  Those Tablet PC's are just the beginning, though; according to Lenny Engelhardt, VP of business development at N-Trig, we can expect to see traditional notebooks with multitouch-capable displays next year, together with new gesture support.  That will include "multitouch buttons", an on-screen palette of app-specific tools intended for fingertip use.
Microsoft have already confirmed that Windows 7 will natively support multitouch, and N-Trig have pre-beta drivers available for those testing the upcoming OS.  Initial feedback hasn't been great, however.  As to how Engelhardt envisions customers actually using multitouch technology, he's (obviously) more enthusiastic than many industry observers have been.  Alongside the obvious photo manipulation, mapping and basic gaming, N-Trig believe both multimedia and Office apps will see benefits from the new touchscreens.
"He mentioned music applications as a prime example of where multitouch can improve the user experience, as well as presentation applications and even navigating your e-mail in-box as examples of multitouch aiding your workday in the office. Lastly, he expects companies such as Adobe and Corel as well as AutoCAD software developers to add multitouch capability to their future applications" CNET
Engelhardt would not confirm which manufacturers N-Trig has been working with, nor which will be offering multitouch notebooks.  One obvious potential company could be ASUS, who have already confirmed that they will be producing touchscreen Eee PCs and models using Windows 7 in 2009.
[via GottaBeMobile]