ASUS confirm touchscreen Eee PCs, Windows 7 in 2009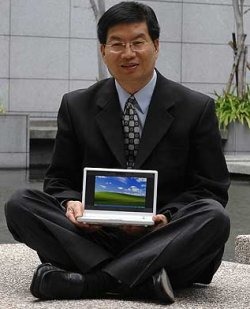 The Eee PC will get at least two touchscreen variants announced in early 2009, with both convertible and standard notebook form-factor designs being explored.  That's the latest news from ASUS CEO Jerry Shen, who has been sharing some more details about what's become the largest netbook range on the market.  As well as the touchscreen models, ASUS have obviously decided to take Steve Ballmer at his word and miss Windows Vista out completely; instead, they're planning to introduce Windows 7 to netbooks in the second half of 2009.
In addition, Shen confirmed the launch of the Eee Top all-in-one touchscreen PC at the end of this month, while the Eee Stick controller – which is reminiscent of the Wiimote – should begin to be bundled with select Eee PC, Eee Box and Eee Top models "soon".  It will also be available, in some markets, as a standalone accessory, priced between $50 and $100.
Faced with questions regarding the sheer size of ASUS' Eee range, Shen rejected criticism that it might be confusing for customers.  Instead, he suggested, it offers flexibility of choice in a companion device.  Shen particularly highlighted the S101 as an example of consumer demand (in this case for a high-end "luxury" netbook) driving ASUS' development.  However don't expect an Eee PC with a display larger than 10-inches; Shen also flagged up the N10 as being a one-of-a-kind device (an Atom-powered "proper" notebook, in ASUS' eyes) as future notebooks will not dip between the 11-inch mark.
In software, Shen suggested that ASUS' experience differs from that of MSI, who reported four times the number of Linux netbook returns compared to those running Windows XP.  In fact, rather than adding Windows-style complexity to Linux, ASUS are rolling out the Easy Mode interface seen on the Eee Top PC to other Windows-based Eee devices.