Mustang hybrid and F-150 Hybrid outed in Ford's CES EV gush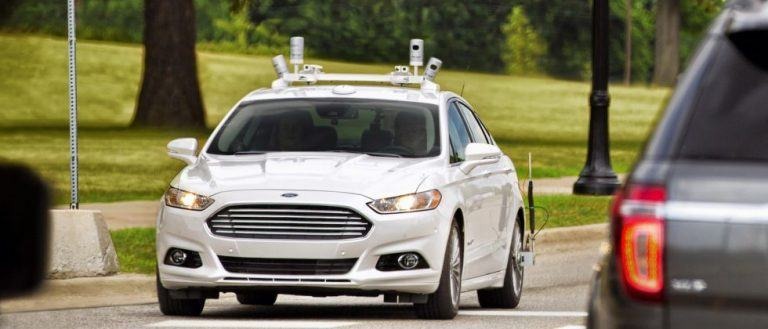 Ford has revealed seven new electrified vehicles today at CES 2017, including an F-150 Hybrid version of its best-selling truck, and a Mustang Hybrid sports car. The news, announced today by Ford CEO Mark Fields, is the tip of a 13-strong electrified fleet that the automaker intends to launch over the next five years. Ford is also beginning pilot trials of wireless charging technologies for electrified vehicles, along with tests of twenty Transit Connect hybrid taxi and van prototypes in several US cities.
First up will be a new Transit Custom plug-in hybrid van, which will launch in Europe come 2019. That's expected to be popular for firms trying to operate and deliver in congested cities. There'll also a be a completely new fully-electric small SUV, expected by 2020, and which Ford is saying will have at least 300 miles of range on a single charge. It'll be built at the company's plant in Flat Rock, and sold in North America, Europe, and Asia.
Also in 2020 will be electrified versions of two of Ford's most iconic vehicles. On the truck side, there'll be a hybrid F-150 pickup, offered in North America and the Middle East. It'll be built at the Ford Dearborn Truck Plant and, so the company says, won't compromise on towing and payload capacity. In fact, it may end up more practical and useful than its gas-only siblings, since it'll also operate as a mobile generator.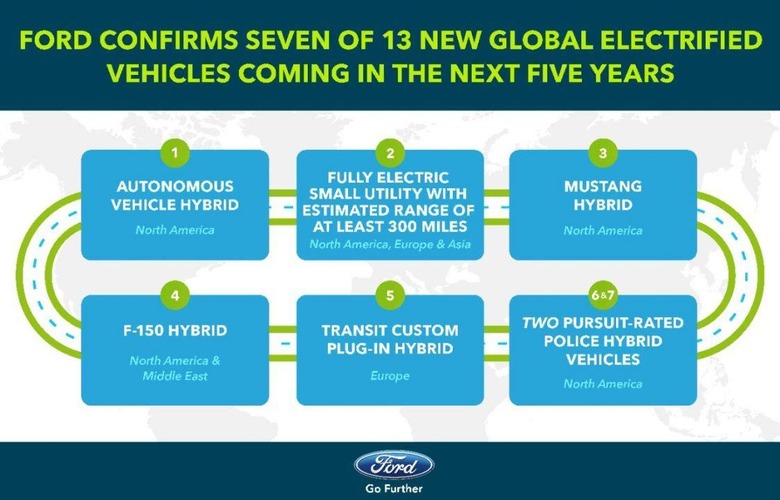 At the same time, Ford will also release a Mustang Hybrid. Built at the Flat Rock plane, it'll pair gas engine with electrification, for similar performance to a traditional V8 a boost in low-end torque. No range or exact power figures yet, but it'll be offered in North America to start. [Update: An earlier version of this article reported Ford would use a V8 engine in the Mustang hybrid; in fact, the exact gas engine has not been decided upon]
For the police, Ford is planning two new, pursuit-rated hybrid vehicles, one of which will be built in Chicago. Ford hasn't confirmed where the second will be built. Both will get their police outfitting done at the automaker's dedicated police vehicle modification center in Chicago.
Finally, there's perhaps the most intriguing vehicle of the seven. Described as "a high-volume autonomous vehicle designed for commercial ride hailing or ride sharing," the unnamed car will initially be offered in North America. It'll be hybrid powered and on roads in 2021; our best guess is some sort of minivan-style approach, much in the same way that Google autonomous spin-off Waymo is using Chrysler minivans for their plentiful passenger space and room for extra electronics.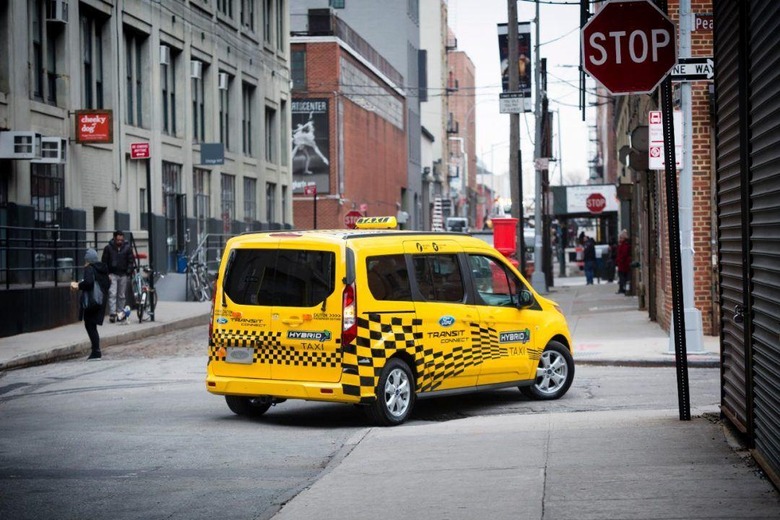 All of the gas-electric hybrids will use Ford's EcoBoost turbocharged engines, rather than naturally-aspirated engines. At the same time, on the fleet side there'll be new EV management, route planning, and telematics/infotainment systems. Ford is testing wireless charging on its company EVs in the US and Europe, with pads able to be reserved using its FordPass app, and then used by simply parking a car above them.
NOW READ: 2017 Ford F-150 Raptor first-drive
In all, Ford plans to spend $4.5 billion in electrified vehicles by 2020, Fields says. It's part of what the automaker describes as a push into becoming "an auto and a mobility company" rather than just a car manufacturer. That'll include not only electrification of its most popular models, but pushing autonomous vehicles and other mobility options like car-sharing and public transportation.