Muse makes Alexa your co-pilot, no matter the car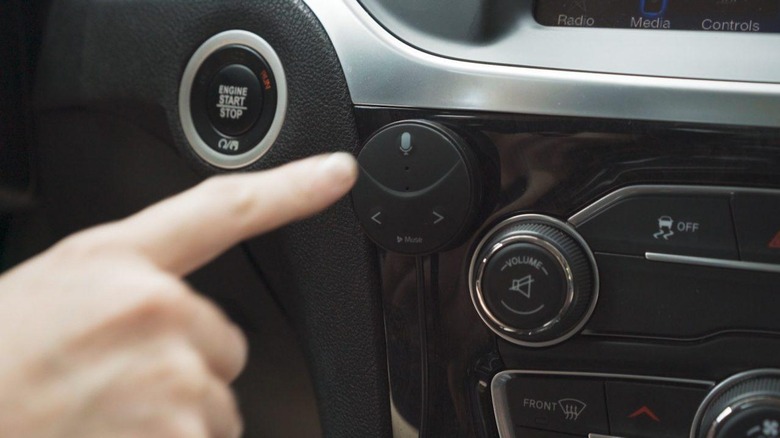 Alexa is gradually showing up on car dashboards, but what if you're not due for an automotive upgrade any time soon? Speak Music believes it has the answer with Muse, a tiny dongle like an Echo for the car, embodying Alexa and piping her – not to mention your music and hands-free calls – through to your existing vehicle's audio system.
It's a little like the Bluetooth hands-free kits that proliferated before more and more cars left the dealership with Bluetooth support fitted as standard. Muse connects either via the 3.5mm aux-in socket, via a USB input, or through Bluetooth. Power is via USB, and Muse comes with a dual-USB charger for the 9V port in the box.
Rather than WiFi, as a regular Echo would rely upon, Muse connects via Bluetooth to a smartphone for its data. There's a companion app, too, which is used for logging into your Amazon account and handling other settings. Muse can be remember Bluetooth pairings with multiple phones, automatically reconnecting to whichever is nearest when you get back into the car.
From that point, everything you can do with an Echo, you should be able to do with Muse. That means playing music, audiobooks, podcasts, and news reports with voice controls, along with Amazon shopping and setting up to-do lists and reminders. There's the full catalog of third-party skills, too.
It also means you can remotely control your connected home from at the steering wheel. If you've got WiFi bulbs, for instance, you could ask Alexa to turn them on before you arrive on the driveway. If your garage door is connected, you could open it by voice.
The usual "Alexa" wake-word is used to trigger voice recognition, just as it would be at home. As you'd hope, there's also support for hands-free calling, too, with HD voice for compatible carriers along with noise cancellation. With certain cars, Muse will work with the native infotainment system to show now-playing track details and weather information on the dashboard, provided by Alexa. They'll also have support for the steering wheel control buttons for multimedia.
It's not the first time we've seen a product like this aim to bring Alexa out of the house and onto the road. Logitech added the Amazon assistant to its ZeroTouch mounts back in February, for instance, while only last month Garmin Speak did the same thing but with a much more unusual form-factor. Next year, BMW will bake Alexa into the dashboards of select cars.
Nonetheless, Muse is one of the more affordable ways to do it – certainly when compared to buying a whole new BMW. It's available to order now, priced at $49.99; delivery should be in time for the holidays, the company says.