Motorola Offers Both Ice Cream Sandwich Updates And Bootloader Unlockability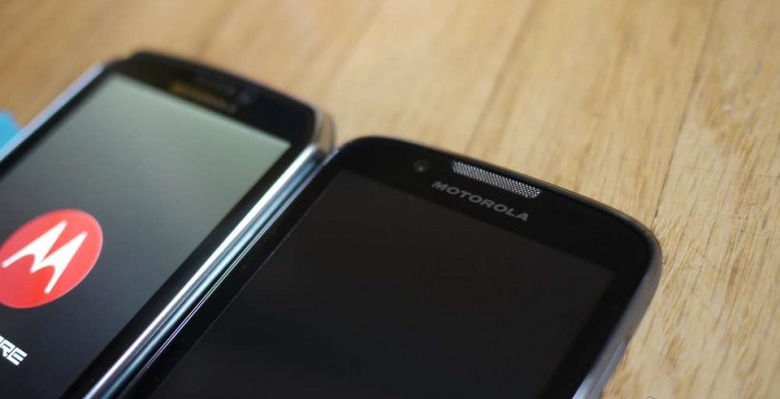 Believe it or not, all you lovers of both hacking of Androids and updating of Androids, Motorola has today offered clarification of its future with unlockable bootloaders and updates for its products to no less than Android 4.0 Ice Cream Sandwich. It is Motorola itself that today speaks to the world saying that "without a doubt" the two "hottest topics in [their] world right now" are Ice Cream Sandwich and bootloaders. Imagine that! Having just spoken with Sanjay Jha this past week, I can tell you firsthand that it wasn't the first (and it certainly wasn't the last) time he'd spoken with someone about Motorola's bootloaders and their unlockability as a hot topic.
The day I spoke with Jha was the day the RAZR was announced, that night Ice Cream Sandwich was formally released by Google on the Samsung Galaxy Nexus – there's no way in HECK that Ice Cream Sandwich and bootloaders aren't on the front of Motorola's minds this week as well. Motorola has been releasing and announcing some blockbuster devices and accessories of late, and the whole Android community is waiting for the word that these units will be free to be unlocked for hacking and/or upgrades to the newest Android mobile OS.
One example of an awesome device released this month by Motorola: the ATRIX 2:
[vms bc19ab77642849e02b89]
Motorola ATRIX 2 hands-on
Here's a few accessories coming from Motorola as of late and given the hands-on treatment by your humble narrator earlier today:
[vms 62e3c9934f45c3e144d4]
Motorola ATRIX 2 Accessories and Webtop hands-on
We've heard a couple things about Motorola and their Ice Cream Sandwich update schedule this week – one that said that the company would be updating everyone with a schedule for Ice Cream Sandwich updates on their devices 6 weeks after the OS was released by Google, and another that pointed out the first devices that'd get the update. This note as well as the one that stated the Motorola RAZR, DROID BIONIC, and XOOM tablet would be the first to be on the docket for the update to Android 4.0 come from Motorola's Twitter account. Now we've got word from Motorola that we aught to point you directly to their device update schedule for checks on any and all Motorola devices.
Have a peek at the Motorola device known here in the USA as the DROID RAZR here:
[vms f061977fb2f7ba36d74d]
Motorola DROID RAZR hands-on by Motorola
[vms 5e962e90cb14648c9462]
Motorola DROID RAZR hands-on by Chris Burns
For Bootloaders, Motorola today notes that in addition to the one device they've got out so far that has an unlockable/relockable bootloader, the Motorola XOOM, they've got a plan for the rest of their devices in the near future. In "future software releases starting later this year," says Motorola, "where operator and channel partners will allow it," it is Motorola's plan to offer an unlockable/relockable bootloader. Sound like a winning combination to you?
Perhaps you'd like to peek at Android 4.0 Ice Cream Sandwich as well?
[vms 4b1be110b7bf70c8362d]
Android 4.0 Ice Cream Sandwich Hands-on
And the Galaxy Nexus, we also got a look at that in Hong Kong:
[vms 55018e2a459517fdb40e]
Samsung Galaxy Nexus Hands-on
Get booted up!
[vms 3025ea1d513d0b2c4b67]