Motorola DROID RAZR hands-on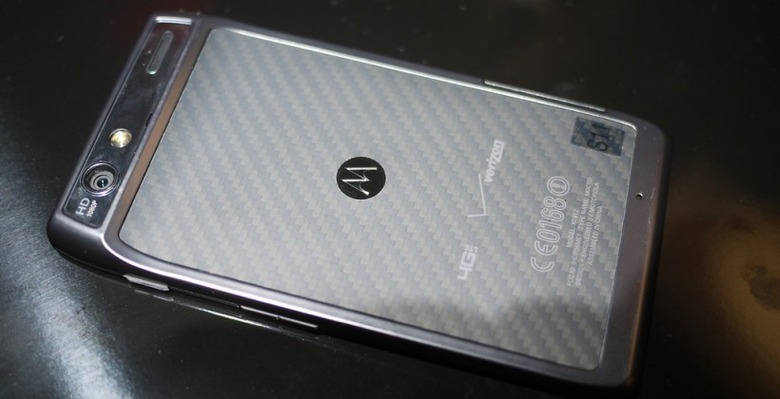 Motorola has picked an exciting time to resurrect the RAZR name, and some pretty darn impressive hardware to pair with it too. Freshly announced this morning, the Motorola DROID RAZR - or the Motorola RAZR as it will be known, off Verizon, in the rest of the world – promises to be a dual-core, LTE powerhouse. Read on for our hands-on first impressions!
Hands-on, it's a surprisingly light device considering what's packed inside. Slightly heavier than the Samsung Galaxy S II, but considerably sturdier thanks to the less creaky, plasticky casing. Next to the Motorola ELECTRIFY it looks ridiculously slim, but still manages to fit in micro HDMI and microUSB ports. We're not sure if it's Samsung or someone else providing Motorola with its Super AMOLED display, but whatever the source it's a bright, clear and beautifully color-saturated panel.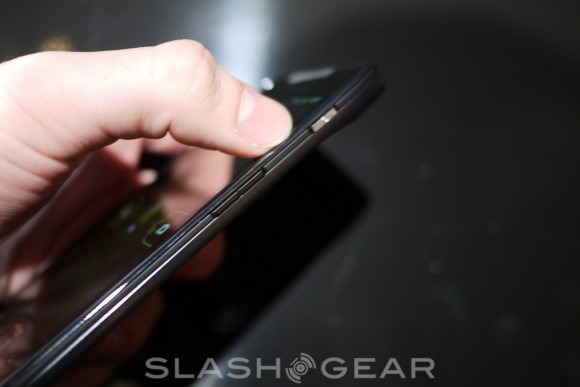 Obviously there are some trade-offs involved. The battery is non-user-accessible, just like in the iPhone 4S, for a start. Motorola won't say whether the bootloader is unlocked, either. Update: Bad news – the DROID RAZR bootloader is locked, we're told.
[vms f061977fb2f7ba36d74d]
Have a look at the hands-on videos here in this post and have a good glance at the photo gallery below for a bunch of close-ups. Also see how the Samsung Galaxy S II (the AT&T version) stacks up against the RAZR here with full brightness on both devices: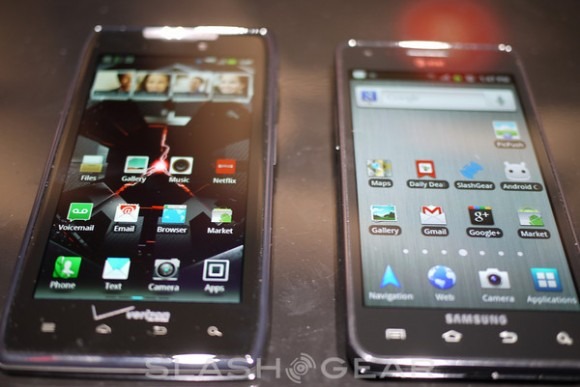 There's a couple more comparison pics between the two below as well. At its thinnest point, the RAZR is thinner than the Galaxy S II – but the thickest part is pretty darn close. The great thing about this situation is that while this device is thin, it's also made of tough metal and Gorilla Glass, so no worries on busting it any time soon.
[vms 5e962e90cb14648c9462]
Still, it's hard to be too unimpressed when a smartphone is quite this thin and yet sacrifices so little in the way of functionality. Motorola has certainly laid down a strong challenge for Samsung to live up to later on today, with the launch of the Galaxy Nexus.
BONUS: check out the startup animation as well:
[vms 3025ea1d513d0b2c4b67]