Motorola MILESTONE gets O2 Germany listing for €550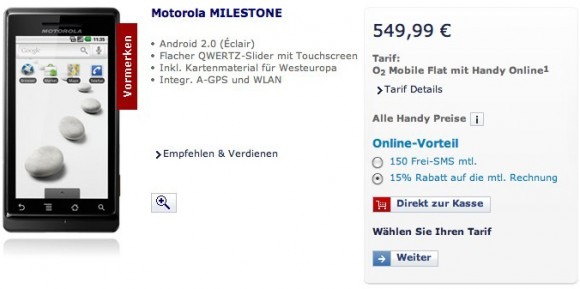 While the US goes DROID crazy after Friday's launch of the Android 2.0 smartphone, O2 Germany are not far behind when it comes to the GSM version.  The Motorola MILESTONE – as the DROID will be known outside the US – was spotted on the carrier's site last week and officially announced on Monday; it's now being listed on the O2 Germany site, priced at €549.99 ($816).
Interestingly, the MILESTONE comes with an 8GB microSD card, whereas the DROID on Verizon comes with a 16GB card; however we found that the class 2 microSD supplied with the CDMA handset proved too slow for judder-free high-resolution video playback.  In the MILESTONE's case, that 8GB card is preloaded with Western Europe mapping data for use with Motorola's own MOTONAV turn-by-turn directions app, since Google Maps Navigation is currently US-only.
From what we can tell from the German-language site, the MILESTONE is available to order now; we're not sure when it will ship, but earlier rumors suggested it would be on sale imminently.  As for whether the DROID is any good, check out our full review here.
[via Twitter]