Motorola MILESTONE (aka GSM Verizon DROID) confirmed for O2 Germany

We're still playing avidly with our Verizon DROID by Motorola in preparation for the full review this coming week – check out some first-impressions and highlights in the meantime – but according to a leaked O2 Germany document the GSM European version may only be days away.  The document lists the Motorola MILESTONE – with a shot of what's definitely the Motorola DROID – as coming to the German carrier in the week beginning November 9th 2009; in fact there's already a page for the MILESTONE on the O2 Germany site.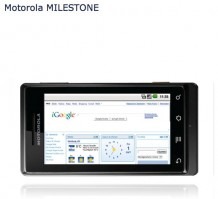 The document itself is aimed at business customers, but there's little reason to presume that the MILESTONE won't be available to regular buyers too.  Pricing – again, for businesses – is €404.20 before taxes ($595) which we're assuming is a contract-free cost; as for the product page, so far there's nothing but a shot of the phone and its name (click on the image on the right for full-size).
It's unknown whether the Motorola MILESTONE is an exclusive to O2, or will be available on other carriers.  There's currently no sign of it on O2 UK's site either.  The phone will launch in the US – as the Verizon DROID by Motorola – on November 6th.
[via Twitter]