Verizon DROID by Motorola hands-on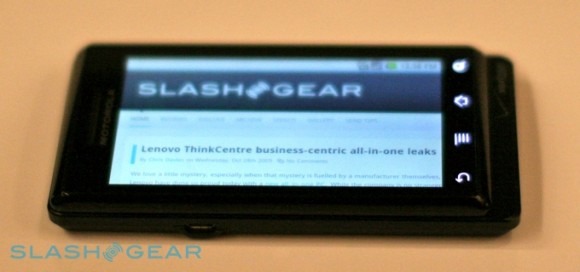 We've just finished a sit-down session with Verizon, Motorola and Google to discuss the first Android 2.0 smartphone of the year, the Verizon DROID by Motorola, and this is certainly one very impressive smartphone.  It's far too early for our full review, but check out some live photos and first impressions after the cut.
Where the Motorola CLIQ is all chunk and curves, the DROID goes for slender lines and hard angles. It's a far more distinctive design, and the mostly metal construction brings back just enough memories of the original Motorola RAZR to be pleasant. Unlike the RAZR, however, there's plenty of functionality to go with the looks and the build-quality; first-impressions are dominated by the sizeable 3.7-inch 854 x 480 capacitive touchscreen and the broad – though reasonably shallow – QWERTY keyboard.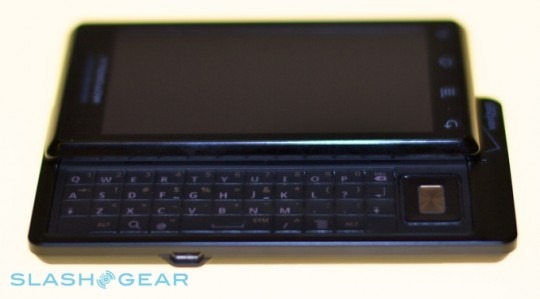 That 'board slides out with a firm click, and it seems pretty usable. The keys are closely spaced and lack the travel of those on the CLIQ, and we're also not convinced by the positioning of the D-pad to its right; that, as well as the protruding bottom edge, means your right thumb has to reach considerably further across than your left does. As on the CLIQ the send/end buttons have been replaced by on-screen keys, but the back/menu/home/search functions also get touch-sensitive controls on the DROID, along with the slight buzz of haptic feedback.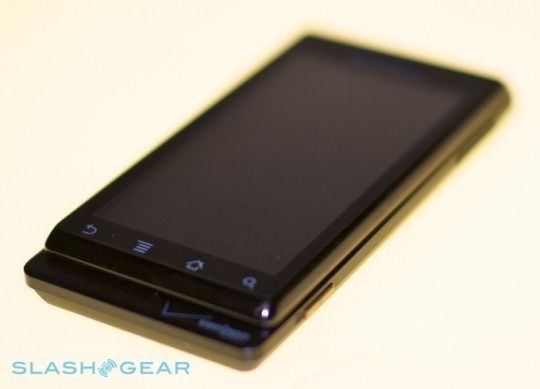 As for display quality, we'd expected the Samsung Moment to take the Android crown for clarity what with its AMOLED panel, but the DROID mounts quite a challenge. Its display is incredibly bright and vivid, full of detail and eye-popping colors; we'll have to line it up next to the Moment to see how AMOLED compares to LCD TFT, but already the Droid is shaping up to be an excellent video playback device.
Android 2.0 makes its debut on the Verizon DROID, and while we've only spent a short amount of time with the new version of the OS we're already noticing some neat differences. Facebook is integrated with the Contacts app, and the double-tap to zoom in the browser feels far more intuitive than using the on-screen buttons.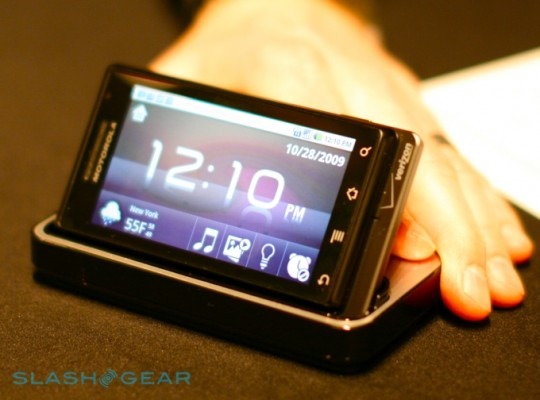 Obviously the Motorola DROID has plenty to recommend it, and we'll be putting the 5-megapixel autofocus camera, WiFi/EVDO Rev.A connectivity and – perhaps most importantly – battery life to the test for our full SlashGear review. For now, enjoy our hands-on video and live gallery with the Verizon DROID by Motorola.