Missed HTC's One Launch? You Can Watch It Here...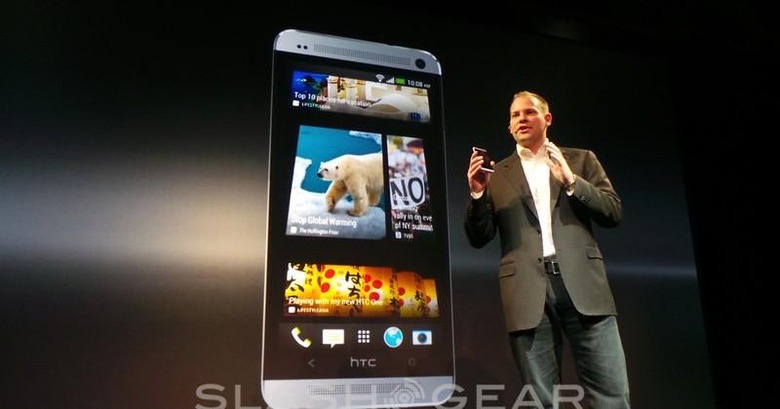 HTC's One launch yesterday saw the company's new Android flagship make its simultaneous debut in NYC and London, but if you weren't able to score tickets then HTC has uploaded the video of the event for your review. The 37 minute long clip is actually the UK launch, where HTC CEO Peter Chou was in attendance to reveal the all-metal One along with the new BlinkFeed social and news integration, and Zoe photography system.
That took some explaining, too, as HTC has made some tough decisions with the One's hardware. Rather than follow the megapixel race up to 13MP, HTC opted to go with a lower resolution camera that uses its space to fit in bigger pixels. The company calls that "UltraPixel" and argues that it's the best way to get sufficient light into the camera to make indoor and low-light shots come out right.
As for BlinkFeed, that takes over as the default HTC Sense 5 homescreen, and pulls in online news, Facebook, Twitter, Flickr, and other information into a constantly updating stream. Designed to put "snackable" information at your fingertips, it's part of a redesigned Sense experience that also includes Zoe, a mashup of burst photos and short video clips which the One can instantly cook up into sharable highlight reels.
If all that sounds confusing, don't fret. We spent some serious hands-on time with the HTC One recently, and have run down the whole Zoe and UltraPixel system to explain what's what. Meanwhile, we've also covered the One's hardware and design, together with all the changes in Sense 5 and BlinkFeed.
Is the HTC One good enough to secure the company a spot at the top table in 2013. If HTC can get the marketing message right, then the hardware certainly lives up to expectations, but with Samsung and Apple weighing in with their huge advertising budgets, HTC will have to be clever in how it spends its cash in order to raise the One's profile.
[Thanks Stefan!]