HTC One hands-on: Hardware and Design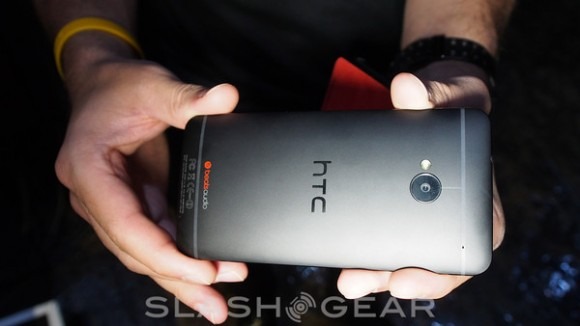 It's the most exciting Android phone since the Hero, HTC's comeback strike for 2013, and a wakeup call for the mainstream smartphone camera market: but does the HTC One deliver? SlashGear caught up with HTC for an extended play with the One – and to talk about the sometimes unusual decisions HTC made in spec'ing out the phone, such as the 4-megapixel camera – ahead of today's official unveil. Read on for part one of our first-impressions.
To say HTC had a frustrating 2012 would be an understatement. The company's Android range, particularly the One X (and its One X+ follow-up), offered a very capable alternative to Samsung's Galaxy S III, with strong specifications, a decent camera, better build quality than the Korean phone, and a brilliant screen. Despite all that, however, sales underwhelmed, in no small part thanks to Samsung's expensive blanket advertising that led many consumers to simply associate "Galaxy" with "Android."
HTC is bringing its A-game with the One, leaving nothing – on the device side, at least – to chance this time around. That begins with a legitimate step up in construction quality from HTC – and other Android phones – before. The One takes some inspiration from the DROID DNA that came before it, such as the narrow, slightly angled side panels and bowed rear panel that allows the edges to taper from 9.3mm at the phone's thickest to 5mm at its narrowest, but steps up from sturdy but uninspiring polycarbonate to cool, crisp aluminum.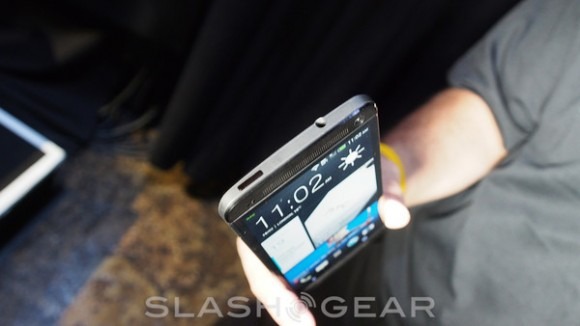 Solid billets of a special aluminum blend – created just for HTC, one of a number of custom components that make up the One's hardware – go into CNC machines, with each shell taking several hours to form. In contrast, most phone shells take minutes to produce. Midway through that process, narrow grooves are carved for the two narrow plastic elements that cross the rear panel, and matte finish plastic is injected; then it's back under the cutting tool, so that the profile of metal and plastic are matched identically.
The back and sides are matched up to a slab of toughened glass, itself with slightly beveled edges so that the phone's fascia blends smoothly in the body. It's a minor detail, but it makes the One more comfortable to hold, as well as avoiding a sharp edge cutting into your thumb when you reach across the screen to use it one-handed. Micro-drilled panels – that hide the stereo speakers – go top and bottom; while the One might look reminiscent of the iPhone 5 or Z10, face-on in press shots, the similarities are less noticeable in the metal, and BlackBerry's phone only wishes it could feel this sturdy.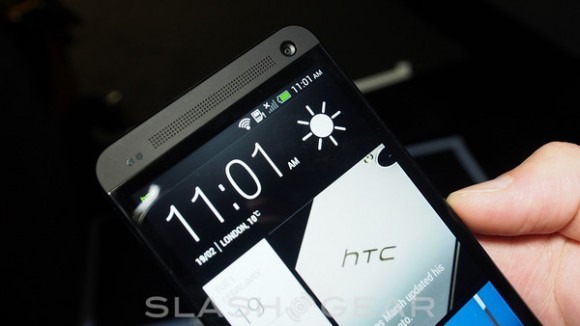 HTC's emphasis on metal – something, the company told us, it decided on because metal still has a premium cachet; the coolness when you touch it marks it out as simply more special than, say, plastic – does have one downside. While the One packs LTE (complete with support for the fledgling 4G network plans in Europe, which aren't expected to light up over the next year or so but which, HTC points out, will be turned on while One owners are still within the typical two-year agreement), NFC, WiFi a/b/g/n, Bluetooth 4.0 (complete with support for the higher-quality aptX streaming audio profile), all flavors of GPS, and the usual bevy of sensors, there's no wireless charging.
It's the glaring omission, but we're not sure it will be too serious in the long-term. Certainly, the improvement in hand-feel metal allows is preferable, to us, than the convenience of wireless charging. In fact, we can't fault most of HTC's decisions about where to focus development and investment to get the most day-to-day benefit, a great example being the One's video and audio performance.
The One has a slightly smaller display than the DROID DNA and Butterfly – 4.7-inches rather than 5-inches – but that only makes it more pixel dense thanks to the identical 1920 x 1080 resolution. In fact, HTC tells us, the One's screen is brighter and sharper than that of either of its 5-inch predecessors (neither of which we'd ever felt the need to criticize, frankly) and the result is a panel that's a legitimate joy to use.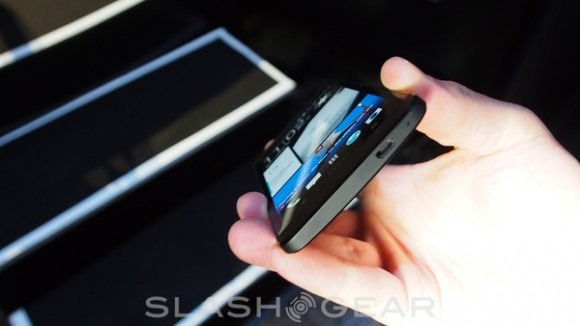 Bright colors, though without AMOLED's tendency to unnatural saturation, the LCD3 screen makes text incredibly crisp (the condensed Roboto of the new Sense 5 interface looks especially good) while photos and videos are smear-free. While Google might prefer otherwise, HTC persists with dedicated keys beneath the display, though they've pared that down to just two for 2013. Touch-sensitive "Back" and "Home" buttons flank a chrome HTC logo; long-pressing the latter calls up Google Now, while a double-tap opens the pared-back app-switcher with nine panes of recent apps (which can be flicked up to close them, webOS style).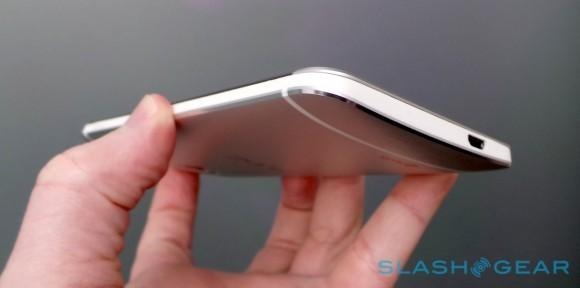 Beats Audio branding has been showing up on HTC phones for some years now, though it's only really with the One that the promise of audio improvement is fully delivered. The two "BoomSound" amplifiers – one for the stereo speakers, one for the headphones output – from the 8X are carried over (using proprietary hybrid amp technology, no less), complete with the adaptive volume that monitors playback for clipping and distortion and adjusts it in real-time to minimize that. Now, though, the onboard speakers themselves are worthy of use: HTC has ditched the tiny piezo-electric drivers most phones rely upon, instead using floating membrane drivers sitting in chambers roughly twice the size rivals allow.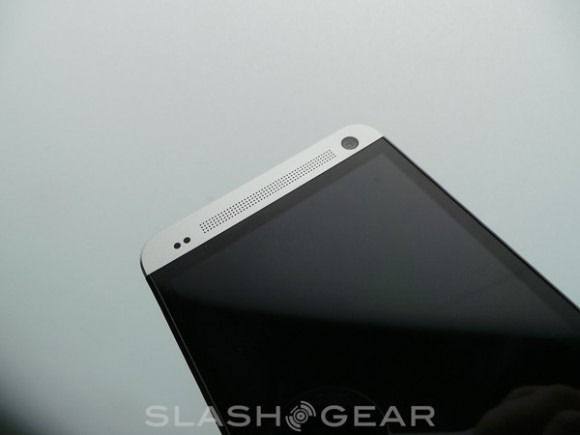 In all, it makes for a phone that's clearer and louder – around four-times as loud, HTC tells us -than most phones we've heard in the past few years. Watch a video, and the speakers – one each side of the display – create a surprisingly powerful, broad field of sound, with impressive amounts of bass considering it's a phone doing the hard work. HTC opted not to fit a rear speaker, too, meaning the One can be left face-up during impromptu conference calls (and so you can still use the screen, rather than choosing between access to your data and audibility).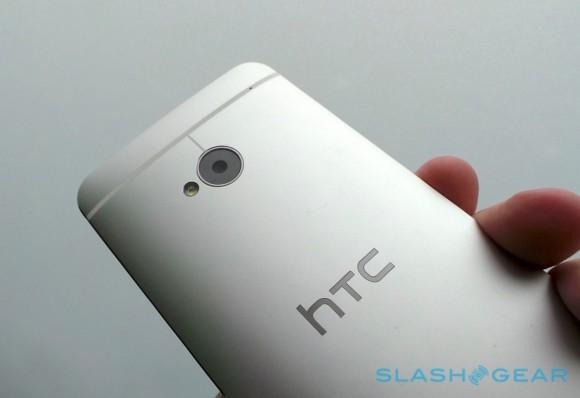 The same effort that has gone into audio output is echoed in input, too, with HTC using a clever dual-mode stereo microphone pair that can dynamically switch depending on the loudness of the ambient sound. In normal use – such as when you're on a call – there's a standard high signal-to-noise microphone that supports 10dB to roughly 70dB; however, if you're at a concert or there's loud road noise, the One can automatically flip to a high sound pressure microphone that can handle 70db to 120 dB, cutting out distortion. It also means the One supports HD audio.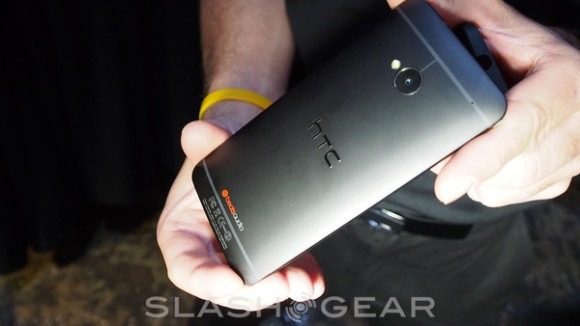 It's not the pure-Android-experience many have asked for, but it does deliver Sense without some of the drawbacks that have historically gone in hand with HTC's custom skin. The frustration, when manufacturers modify the core Android OS, is that Google's releases generally come faster than those of device vendors, meaning owners are often left behind. By dividing the underlying platform from the value-added apps HTC includes on the One (and indeed on future HTC Android devices; Sense 5 will be on all future Android phones from the company, and may be retroactively added to some existing handsets, though not all of the features will necessarily be identical to those on the One), it gives HTC's engineers the chance to push out more iterative updates for a smoother user-experience.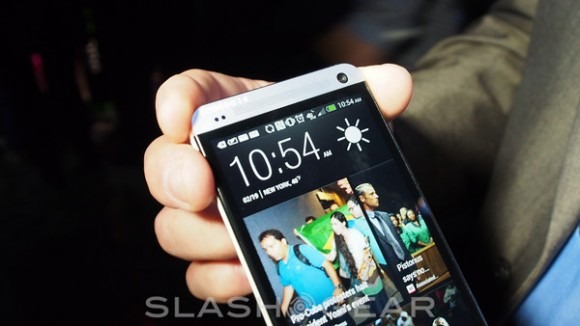 When those changes happen, they should make it to One owners faster than any HTC update before. That's because, with Sense 5, HTC has separated out the individual apps and services from the core firmware: rather than waiting for a full OTA upgrade through their carrier, users will be able to download individual updates directly from HTC. They'll be flagged up just as apps from Google Play use notifications when they have updates available, and HTC sees the system as liberating it from the grip of full-scale carrier testing.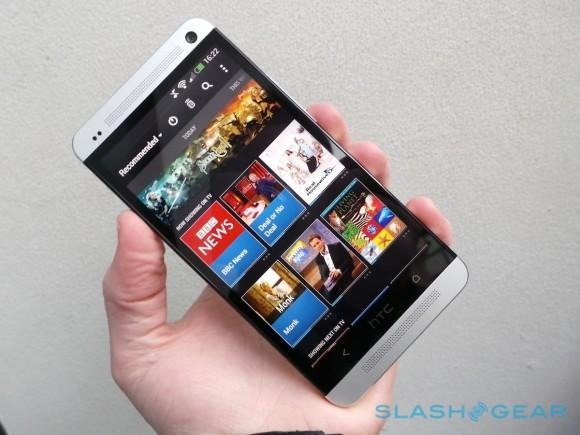 From a design and hardware position, then, the One is the best HTC we've seen in a long time. One of our ongoing concerns about the company has been that, unlike say Samsung and Apple, HTC doesn't manufacture its own components: instead, it's left reliant on what it can source from suppliers. With the One, though, there's an admirable move to including custom components – the camera sensor, the new ImageChip, the speakers, the slick and beautiful chassis – to better differentiate against rival phones. That's just the attention to detail consumers will respond to, and that HTC has so seriously needed.