Microsoft's folding "Andromeda" Surface leaks again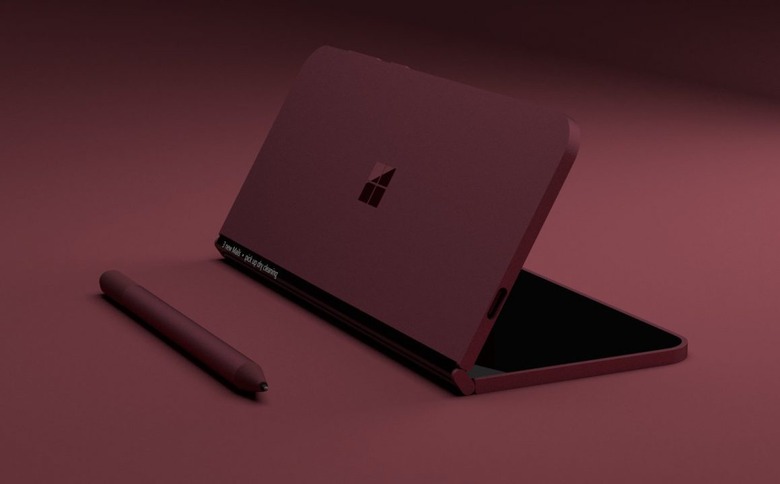 The much-rumored Microsoft Andromeda dual-screen folding tablet will launch as a "pocketable Surface," according to the latest leak. Andromeda first broke cover amid the rumor mill last year, as a new Windows 10 device that would build on cutting-edge hardware and software development within the company.
On the hardware side, Microsoft was said to be looking at new, foldable and rollable OLED technology. Although dual-screen devices have been tried – and have, for the most part, failed – before, they've always used two separate panels. Andromeda, it was suggested, would go a significant step beyond that, and use a single display that could be folded in half for a more pocket-friendly form factor.
At the same time, it would take advantage of developments in Windows 10. On the one hand, there's the relatively new support for ARM processors, which typically are more power-efficient than x86 counterparts. We've seen Windows on ARM machines running on Qualcomm's Snapdragon as evidence of that over the past six months, including native LTE connectivity and battery life in excess of 20 hours.
Andromeda would make heavy use of Windows Core OS, meanwhile, a more flexible platform for Windows 10 devices that would allow hardware-makers to be more selective with the functionality of those gadgets. Changes in the way Windows handles interfaces would not only allow Andromeda to rescale its UI to suit a smaller form-factor, but also whether the whole screen or just half of it was in use.
Since then, several rumors – and patent applications for foldable tablets – have surfaced, lending weight to the idea of all-new devices. A new leak today indicates that not only is Andromeda real, but it's being positioned as an addition to – and a key waypoint for – the Surface range.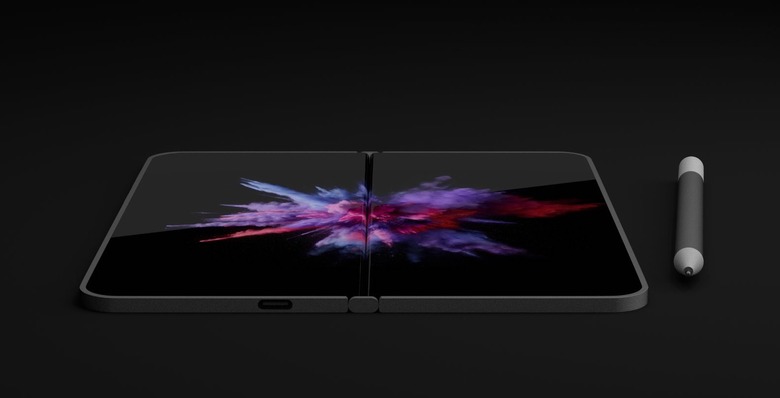 "It's a new pocketable Surface device form factor that brings together innovative new hardware and software experiences to create a truly personal and versatile computing experience," an internal document, leaked to The Verge, explains of the new gadget. Currently, the Surface line-up includes tablets, laptops with removable tablet displays and all-in-one desktop PCs. Andromeda, though, would be a "disruptive" device category, the document suggests, that sits somewhere between the traditional divide of "PC" and "mobile" hardware. Aesthetically it's believed to resemble these concept designs by David Breyer from late last year.
@zacbowden @h0x0d @windowscentral #Surface Andromeda Render according to the latest patents pic.twitter.com/CmbvlfETtU

— David Breyer (@D_Breyer) December 18, 2017
It's all reminiscent of Microsoft's Courier, a project from 2009 that paired two touchscreens in a folio-style device. Intended as a digital vision of an "infinite journal," Courier would support both finger and stylus input, relying on OneNote – Microsoft's digital note-taking app – to store all manner of content. Unlike Andromeda, though, Courier's design was envisaged as using two separate screens.
Of course, Microsoft could also decide to yank the plug altogether. That's what happened with production plans for the original Courier device, and it happened again when the Surface Mini – a smaller version of the Surface focused on tablet use – was canceled reportedly weeks before it had been intended to launch.
According to today's leak, there's still plenty to be decided before an Andromeda Surface launch is anywhere close to being ready. Some of the prototypes apparently use ARM-based chipsets, though a final decision hasn't been expressed on if production hardware would follow suit or look to Intel instead. Various different prototype form-factors are also being internally tested: it's uncertain what screen sizes they might use, among other hardware details.
Still, Microsoft is said to be tentatively aiming for a 2018 launch. As with the Surface Book, which serves double-duty both as a product in its own right and as Microsoft's hope to inspire Windows notebook-makers to up their game in terms of hardware design and functionality, Andromeda would be a nudge to OEMs to take more form-factor risks. Along those lines, Intel has been showing off dual-display reference designs of late, and Lenovo is known to be readying a new Yoga Book 2 which would have a regular touchscreen on the upper half, an e-paper keyboard on the lower half, and a 360-degree hinge linking the two.