Lenovo Yoga Book 2 Previews E Ink Keyboard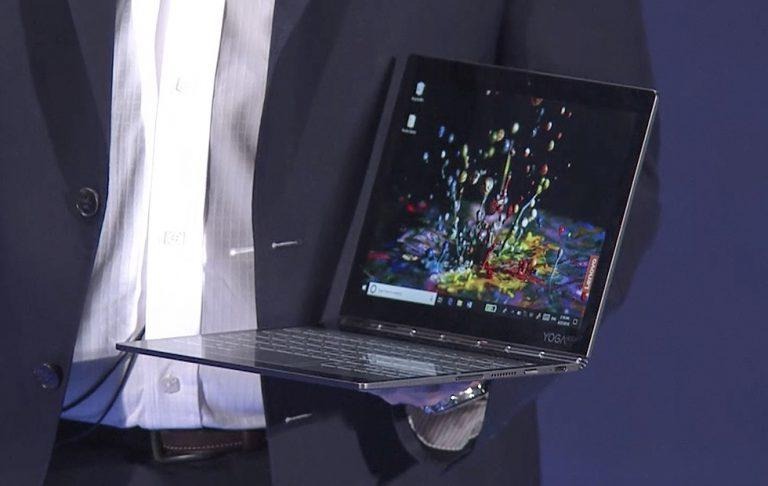 Lenovo has a second-generation Yoga Book 2 coming later in the year, the company has teased, and chip partner Intel may have given us a big preview with its Tiger Rapids reference design. Revealed at Computex 2018 this week, the dual-screen ultraportable is Intel's vision of what its new 8th Generation Core processor can do when paired with both traditional displays and E Ink panels.
The original Yoga Book launched in 2016, a super-compact notebook that did away with a physical keyboard. Instead it used a touch-sensitive keyboard, atop which you could attach a paper notepad and, with a digital stylus, write notes and sketch with both analog and digital results.
According to Lenovo, the reception to the Yoga Book was generally positive: at least, positive enough to make the company give the green light to a second-generation version. Despite the 2-in-1 convertible form-factor, for example, it turned out that people used the original Yoga Book as a laptop almost three-quarters of the time. The thinness and lightness were prized, but users wanted more interaction between the upper and lower panels, not to mention more performance.
The Yoga Book 2 – or whatever it's eventually called – will address those demands. While full details haven't been shared, the upper LCD touchscreen is being joined by an E Ink touchscreen on the lower half. That can show a keyboard layout, presumably customizable depending on the language Windows 10 is set to.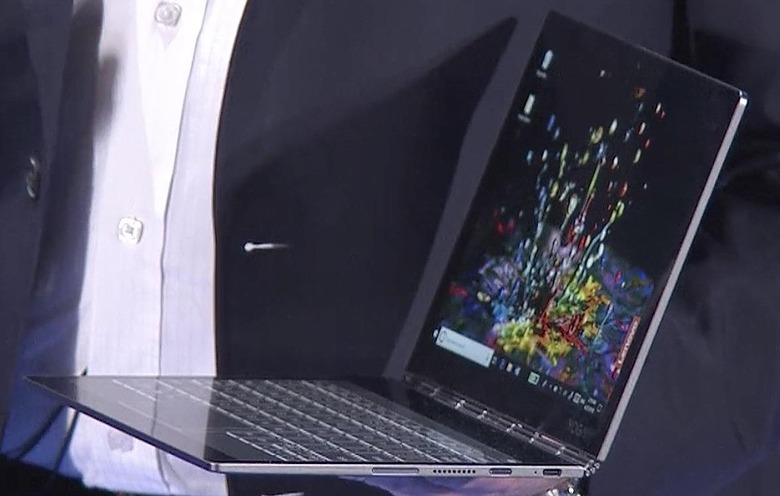 There's a much better inking experience promised, presumably using the stylus directly on one or both of the displays. Lenovo says it's using AI to make input more "predictable and fluid" which we're assuming means things like handwriting recognition and more. Inside, meanwhile, there'll be a higher performance CPU.
That's presumably the upcoming Kaby Lake Y, which Intel is using in its own Tiger Rapids prototype. That has twin 7.9-inch displays – Full HD LCD touchscreen on the top, an E Ink touchscreen with stylus at the bottom – joined with a hinge that actually bears some resemblance to the "watch band" hinge Lenovo's Yoga Book uses.
In Intel's design, you can use its stylus to sketch and write on the E Ink panel, or turn it into a virtual keyboard. You won't get the same key-feel as a physical keyboard, of course, but then you can't use a physical keyboard as a Wacom-style graphics tablet. Intel says it should run for around 7-8 hours on a full charge. It's unclear if you can turn off the LCD panel and solely use the much more frugal E Ink touchscreen for longer runtimes.
Tiger Rapids isn't the Yoga Book 2, of course. Intel's screens are smaller – the original Yoga Book used a 10.1-inch LCD, which we wouldn't be surprised to see the company stick with the second time around – and there's no telling how Lenovo will use its twin displays in practice. We're also unclear whether, like the original Yoga Book, the second-gen model will come in both Windows 10 and Android options. The prototype shown on-stage was running Windows, and Lenovo's comment that PC use hugely outweighed tablet use may suggest Android won't be so important next time around.
Lenovo hasn't said when the Yoga Book 2 will be revealed, beyond "later in 2018" with availability in time for the holidays. Given the original Yoga Book made its debut at IFA 2016, its successor doing the same at IFA 2018 seems likely, though. Even if it doesn't deliver everything Intel's Tiger Rapids promises, mind, there's still hope. Intel is clearly looking to push this twin-screen category, and other companies are likely to arrive with their own twist on the ultra-portable segment.