Lenovo Yoga Book a month later: Android at work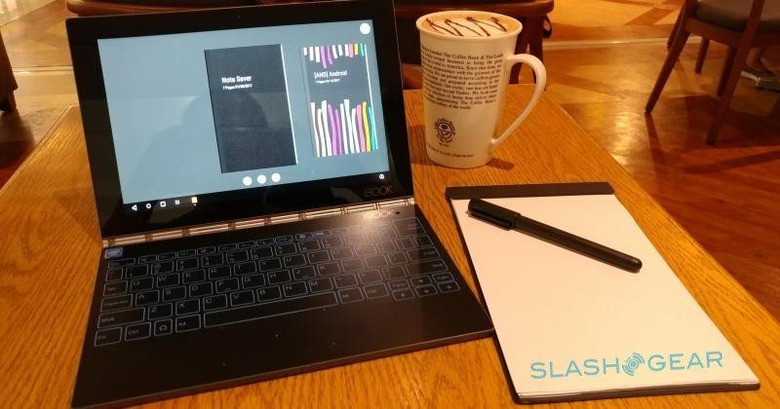 At IFA 2016 back in September, Lenovo revealed what is, to date, the most curious Android tablet in existence. Officially marketed as the ultimate productivity device, the Lenovo Yoga Book is often billed as a glimpse of the future. Of course, a tablet of the future would be of little value if it didn't prove to be of use today. And so we took the Lenovo Yoga Book, the Android version specifically, on an extended tour of duty, to see if this brief glimpse of the future is something we do want to live in or if it's something we would prefer to live without. Here are some things we've learned.
It looks and feels great
Chuck all the productivity marketing materials, because the most immediate selling point of this device is its appearance. Very few Android tablets can claim to be as sleek as this, especially among the relatively few slates that come with a keyboard. Whether folded or sprawled open, the Yoga Book is an eye catcher, but most especially if it's opened with the Create Pad visible for everyone to see.
It is also one of the lightest and most portable convertibles around. The 10-inch screen hits that sweet spot between portability and usability. And while it's no iPad Air, your arm won't tire so easily holding it with one hand. Yes, it could have been lighter if the two halves could be separated, but the Halo Keyboard/Create Pad is so critical to the experience that it's an acceptable compromise.
One design nitpick: it is damn hard to open this thing, even with two hands. The front edges of the tablet taper inwards to give your fingers something to grip, but the surface is too slippery smooth for that to actually matter.
The Halo Keyboard isn't as bad as it sounds
As fancy and futuristic-looking the Yoga Book may be, the illusion is immediately shattered on the realization that there is no keyboard. At least not one you can touch, caress, and hammer. That is immediately a deal breaker for people whose lives depend on the written, or typed rather, word. It, however, deserves to be given a chance.
It takes about a week to acclimate to the loss of feeling when you tap on the keys, a little more to become a speedster. Make no mistake, you will not be as fast or as accurate as on a real keyboard, but, then again, there's a reason for that compromise. And for some, that compromise is well worth taking. You will, eventually, learn your way and become accustomed to it. And you will, eventually, realize that comparisons with touch screen keyboards are a bit unwarranted. It is really something that has to be experienced first-hand and not just judged based on similarities in the lack of tactile feedback.
The touchpad, on the other hand, needs a lot of work
While the keyboard is alright, or at least bearable, the same cannot be said of the touchpad. Never mind the size, it is the sensitivity that will kill you. Since it's technically the same surface as the keyboard, you can't set a sensitivity level for the touchpad separate from the keyboard. It will respond at times when you don't want it to but, in some cases, it won't when you actually do. You will mistakenly hit the spacebar more than you can count, and in some cases that could ruin your work and your day. To add insult to injury, in an age where even the cheapest laptops support touchpad gestures, even two finger scrolling is absent. That is probably because the technology underneath the pad doesn't support multi-touch gestures, which is just a total shame.
It's all about the apps
When we took the iPad Pro for another round as a workhorse, we noted that, despite the developments in recent iOS releases, a near-desktop experience is hampered by limitation in the operating system. iOS apps, however, are able to get around those barricades, sometimes through rather ingenious means.
On Android, the opposite is true. The OS itself seems geared towards productivity, or at least leaves the door wide open to be used as such. One need only look at Remix OS, the poster boy for "Android on a desktop" to see what it's capable of. The apps, however, leave much to be desired. While there are also iOS apps that have made set even one foot down on tablets, there are a lot more on Android. To be more specific, apps that force themselves to be viewed in a portrait orientation, even if the screen is set otherwise. The one sliver of hope in the case of the Yoga Book is that some apps can go into "windowed mode", which is basically the smartphone mode in a floating window. Not all apps, however, support this custom Lenovo feature.
Android still needs a bit of work
While Android is still ahead of iOS in terms of offering a work-productive environment, it is, by no means, perfect. Forget split windows for a while, we're talking about some basics here. The biggest culprit, perhaps, is mouse support. Unlike iOS, Android definitely supports it, but its support is inconsistent at best and even broken in some cases. That plus an inadequate touchpad will make you want to ignore mouse support all together. Or you might be better served with a Bluetooth mouse, in fact.
Memory management is also one thing Android needs to work on. While less brutal than iOS in terms of killing background apps and processes, it can hit you hard when you least expect it. Especially when you forget that you're on a mobile device with specs comparable to a low-end laptop. While many smartphones do well with 4 or even 3 GB of RAM, the combination with an Intel Atom processor doesn't seem to do well for the Android tablet.
It is dying to have Android Nougat
Some of the OS-level quirks of the Yoga Book can be solved with a swift upgrade to the latest Android version. Sure, Lenovo has its own multi-window solution but not only is it limited to three floating apps, it is also limited in its support of apps. It also isn't exactly that productive when one window occludes the view of another, especially when that other can't resize to its own floating window.
Sadly, there is no official word yet from Lenovo if an update is coming at all. Given the changes it has done to Android to support the tablet's special features, it will probably take a while. Hopefully not never, as Lenovo isn't exactly famous for updating its devices in a timely fashion.
The Create Pad is awesome but alien
Part of the appeal of the Yoga Book, probably even its biggest appeal, is its Create Pad. That creative slate's functionality can be seen as two halves of the same coin, and each half has a different story to tell. Used as an artistic device, the Wacom-powered Create Pad is truly a marvel. Although it will perhaps be odd for a generation of artists who grew up with Wacom Cintiqs or Microsoft Surfaces or Apple iPad Pros, those who have mastered the almost arcane art of the traditional graphics tablet will most likely appreciate the ability to take their art on the go.
But even the non-artists will find something useful in the Create Pad's digital ink. If you feel the urge to scribble down a reminder, even in the middle of your typing or computing, simply hit the Pen button, scribble away, and then get back to your work. No more need to keep a notepad beside you.
The Note Saver app won't save anyone's productivity
The other half of the Create Pad story is its seemingly magical analog note-taking capabilities. The Lenovo Yoga Book basically blends the best of digital and analog. Or to be more precise, ties Wacom's Bamboo Slate and Spark with its own tablet. While the idea of having your handwritten notes digitally recorded is a dream come true for many, that dream is immediately shattered by Lenovo's half-baked note-taking app.
Note Saver almost feels like the most ironically named app thanks to one particularly dangerous bug. By default, Note Saver will record scribbled on the Create Pad, especially with the screen turned off, in a single default notebook. You can move those pages to other notebooks but it will randomly delete existing pages, completely replacing them with the new ones you moved. Hopefully it's something that Lenovo is already in the process of fixing. Until then, better save your notes elsewhere afterwards.
AnyPen is barely usable
While the Yoga Book is aimed at creatives, it lacks one feature that can effectively kill creativity. Inspiration doesn't choose when and where it hits you and it is usually a fleeting moment that requires to be recorded immediately. If you were banking on the Yoga Book for an immediate scribble or sketch, tough luck. Unless you're comfortable sketching on the screen with your fingers, a skill that some highly evolved artists have obtained, you might be better off quickly grabbing pen and paper than trying to draw or write on the Yoga Book screen.
Yes, Lenovo has this AnyPen technology that lets you use any conductive pointed object as a makeshift stylus. And, yes, that includes the Real Pen that comes with the device. It is, however, not something you can rely on when the Muses descend. Forget accuracy, forget speed. Your biggest enemy, however, will be palm rejection, which you can't disable in apps without completely disabling the ability to write on the screen as well.
Refills are hard to get
One of the problems with Wacom's fascinating paper-oriented products is the seeming need to rely on their refills, be it some special paper or some special ink. On the one hand, it's understandable that Wacom, and, in this case, Lenovo, will want to capitalize on anything they can sell. On the other hand, official refills can be overpriced.
The good news: you can use any type of paper with the Yoga Book. You can even use sketchbooks or notebooks to your heart's desire. Just be mindful of the thickness and the boundaries where the Create Pad stops reading the pen. The bad news: the ink refills are harder to come by. While there are some brands, like Zebra, that have similar looking refills, they do not work. So you're either stuck buying Lenovo's guaranteed ink refills or hoping that cheaper ones from an exact brand and model will also work.
Wrap-up
So is the Lenovo Yoga Book the future of Android (or even Windows) tablets that we want? It's definitely a bold first step, one that needs and deserves another iteration or two. After all, it wasn't until the Surface Pro 3 that people finally realized that Microsoft was onto something big. Lenovo is definitely onto something here, with a device that attempts to appeal to every type of consumer but more importantly creatives. There are definitely some growing pains, ones that Lenovo needs to address quickly both on the Android side as well as the Windows side. Hopefully it has enjoyed enough sales of this innovative but also very affordable device to encourage Lenovo to make the future happen now.