Lenovo Yoga Book Review: The road warrior's future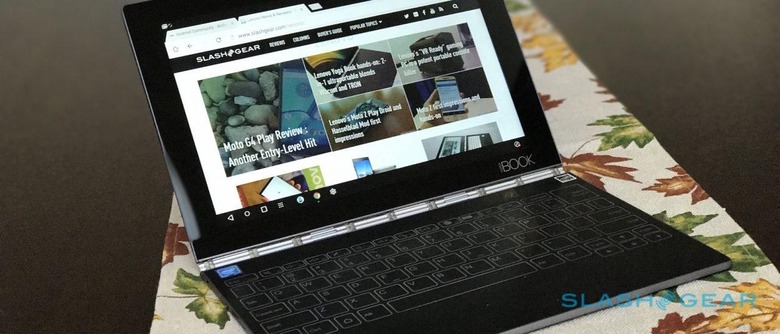 I've been using Lenovo's new Yoga Book the last couple of days, and it's hard not to love this ultra-compact, sleek, and versatile tablet with a twist. This isn't what you'd call a one trick pony, but instead a multi-talented 2-in-1 to help you stay more productive on the go. Trust me, clocking in over 250,000 air miles this year alone, I know a thing or two about staying productive on the move.
I pride myself on packing light. For a two or three day trip across the pond, I have a Peak Design 30L Everyday Backpack and a handheld for clothes. With space at a premium, I can definitely say that the Yoga Book has earned a spot in my bag.
Design
Next to iconic designs by Jony Ive for a certain fruit company, the Yoga Book holds its own with an uber-premium look and feel. Closed, total thickness is just 9.6mm. The display side – which happens to be the thinnest side – is merely 4.05mm thin. Toting the thing around is joy thanks to its even weight distribution; it tips the scales at 1.52lbs.
I think the hinge design is hands-down best in class. Modelled after watchband straps, Lenovo's patented hinge on the Yoga Book is similar to those found on the company's high end Yoga laptops. Because the Yoga Book is so much thinner, though, Lenovo had to rethink how they were going to implement such a design.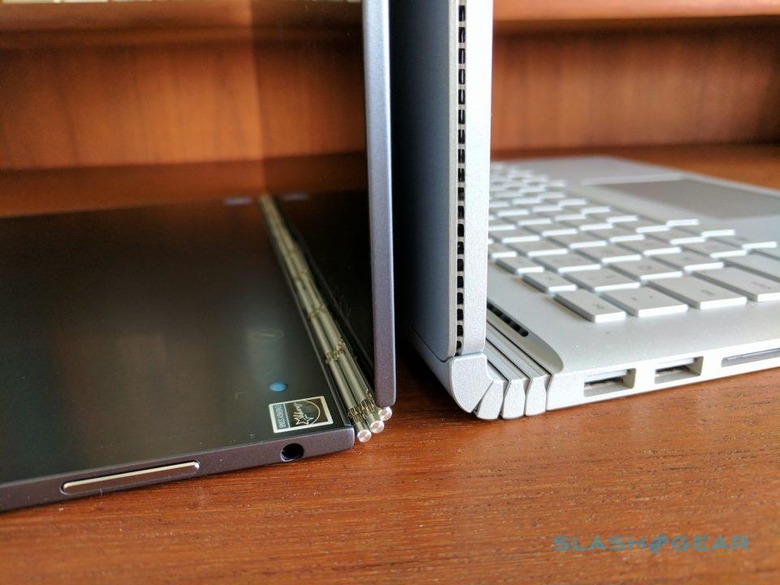 Going back to the drawing board, they came up with a new, 3-axis version for the Yoga Book. It's beautiful; indeed, it's Rolex-bracelet-band gorgeous, even closer to the original watch inspiration. Unlike the Surface Book's bizarre hinge, Lenovo's design doesn't leave a gap when shut. Opening and closing is satisfying with the perfect amount of resistance, though a fingernail hole to get you started would be useful.
Lenovo tells me that the hinge has been tested and verified to withstand more than 25,000 open and close operations. I believe them. The hinges bend forward, backward and anywhere in between, always holding in place with no sag or slip. It just works.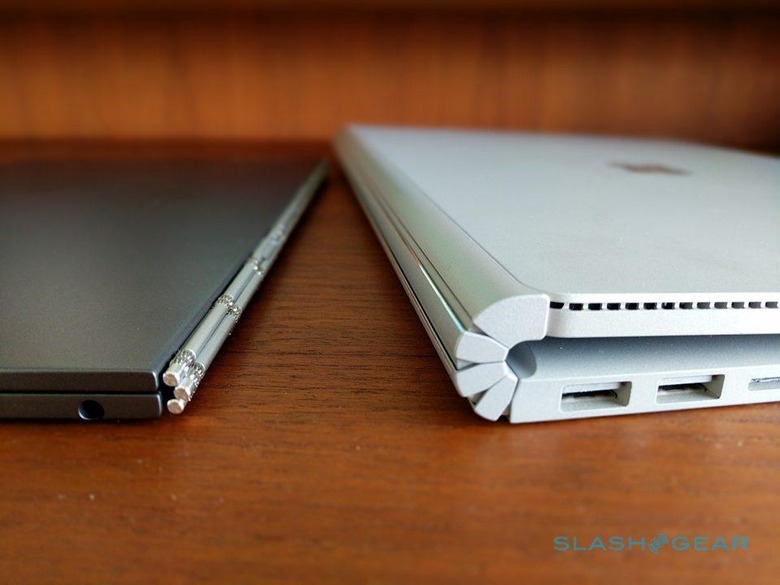 The Display
At 400 nits, the 10.1-inch full-HD (1920 x 1200) IPS display is bright for most reading conditions. Super bright or direct sunlight does make it a little harder to see, but that's to be expected. On Windows, the touch display supports input by default and on Android, it uses Lenovo's AnyPen technology.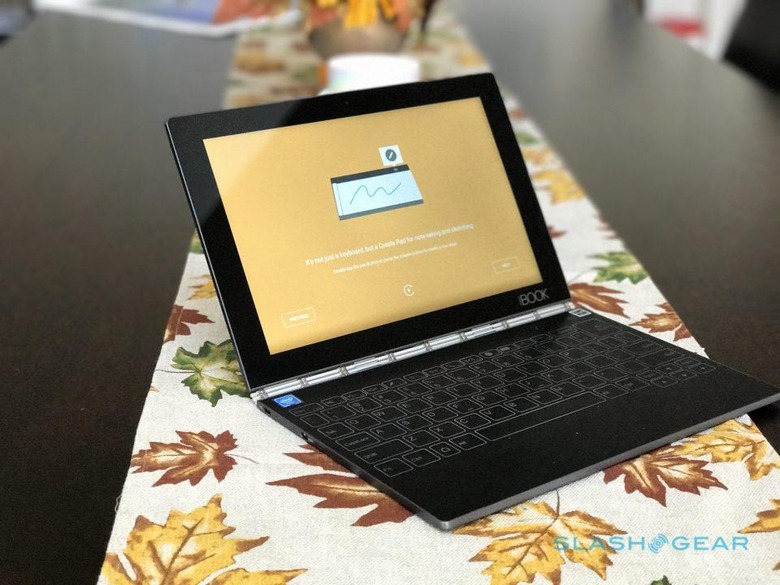 Using the built-in Lenovo Note Saver app, direct input on the display is smooth but writing in third-party app such as AudioNote can get jittery. I prefer AudioNote because it allows for taking notes and simultaneously synchronizing audio recording. I've made the feature request and was told this isn't too difficult to implement. That being said, Lenovo's Note Saver app does the basics well, but it lacks this more advanced audio feature.
Halo Keyboard
All Lenovo's efforts to shed weight and thickness come with a cost, though it's one that's fine by me. Goodbye physical keyboard. By eliminating all the keys, Lenovo not only could achieved an incredibly thin and light device, they've made one that's far more versatile in how you're able to use it.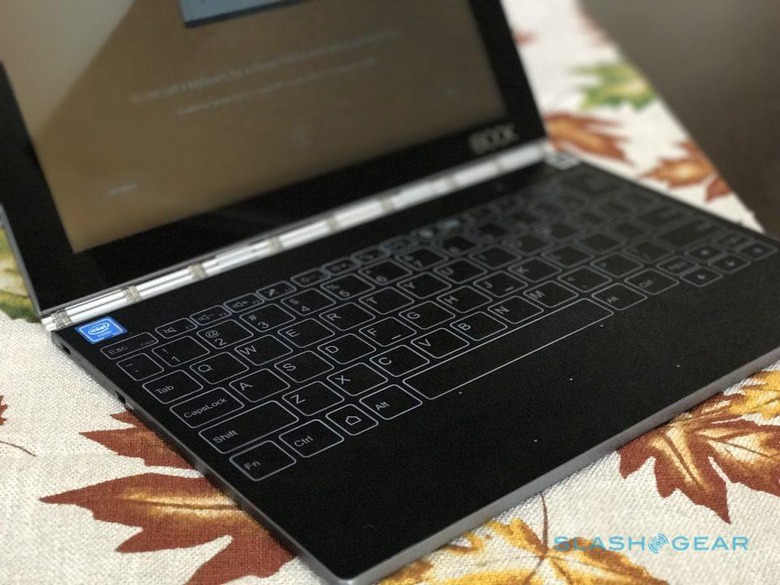 Above the massive 8,500 mAh battery and Intel Atom x5-Z8550 processor – Intel's Cherry Trail SoC with four cores running at 2.4 GHz, 4GB of RAM, and 64GB of internal storage – is Lenovo's unique, zero-travel capacitive touch keyboard. It's protected by Gorilla Glass and treated with an anti-glare coating as well as a slightly grainy finish for a grippier sensation. It's also meant to help with recognizing key strokes.
I'm still not 100-percent about the haptic feedback when you hit a key. It's not actually localized haptics so you get a sense of vibration in general but not specifically under whichever virtual key you've tapped. I'm okay with it for quick use, but anything longer got a little distracting so I turned it off.
Still, having localized haptic feedback would get expensive – especially for a device that's only $499.99 for the Android model I've been testing, or $549.99 for the version Windows 10 Home Anniversary Edition.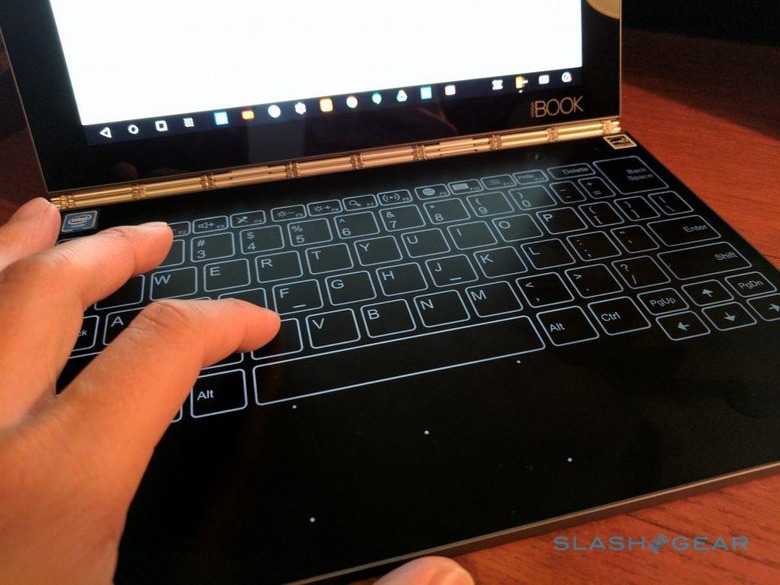 Halo appears when you need it and disappears when you don't with a press of a button or a touch of an icon in the upper right hand corner. Convenience keys on the keyboard range from volume control, a large backspace, screen brightness adjustment, WiFi toggle, screen capture, home button, and everything else you might ever need – except for a power button. Indeed, my biggest complaint is that reaching for the power button is a chore because the keyboard portion is just so thin. It's located towards the center on the right hand side, with the volume buttons right above it and the 3.5mm headphone alongside.
On the left side, meanwhile, you get a microUSB charging port, microphone, microSD card slot, and a micro HDMI output. No USB-C, sadly, and the integrated WWAN cellular modem some markets will get isn't coming to the US, which seems a missed opportunity. Finally, both sides get a speaker.
Create Pad and Real Pen
Without physical keys, the Yoga Book picked up a new feature allowing you to write on what the company refers to as the Create Pad. In short, the Halo Keyboard morphs into a graphics tablet, featuring capacitive touch with Wacom's Feel technology. With the included pen – Lenovo calls it the "Real Pen" – the digitizing pad is capable of recognizing up to 2,048 levels of pressure sensitivity and 100-degree angle detection.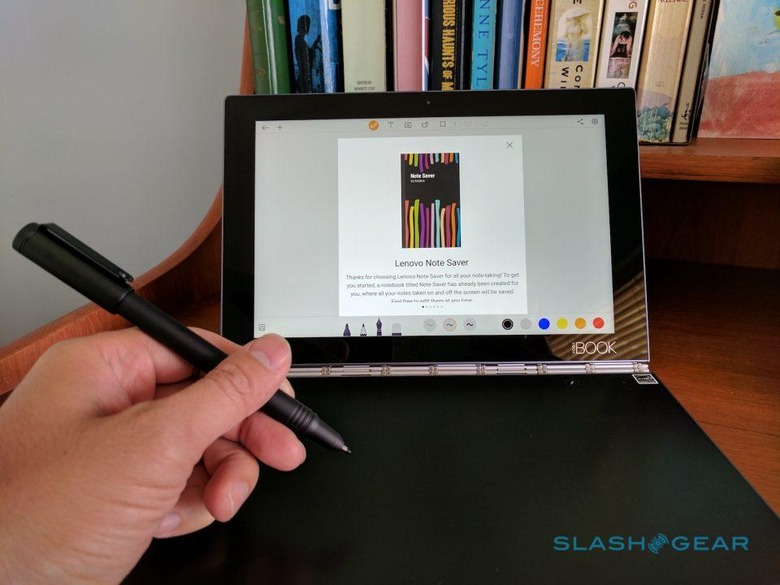 The Real Pen's cap allows for easy swapping between a mini ballpoint ink tip and the digital stylus, and best of all it doesn't require a battery or recharging. Instead, it gets its power from the digitizer itself, wirelessly. It's a comfortable thickness to hold and write or sketch with for extended periods, but unfortunately there's no space in the Yoga Book itself to dock it.
I can see the Create Pad being extremely useful for photo editing, painting, or just simple doodling. The combination of the special Real Pen nib and the surface treatment means digital ink that flows as smooth as butter. Lenovo includes a full copy of ArtRage on the Android version of the Yoga Book, while of course the Windows model can – in theory at least; you might run into power shortcomings given the frugal processor – run any mainstream graphics app.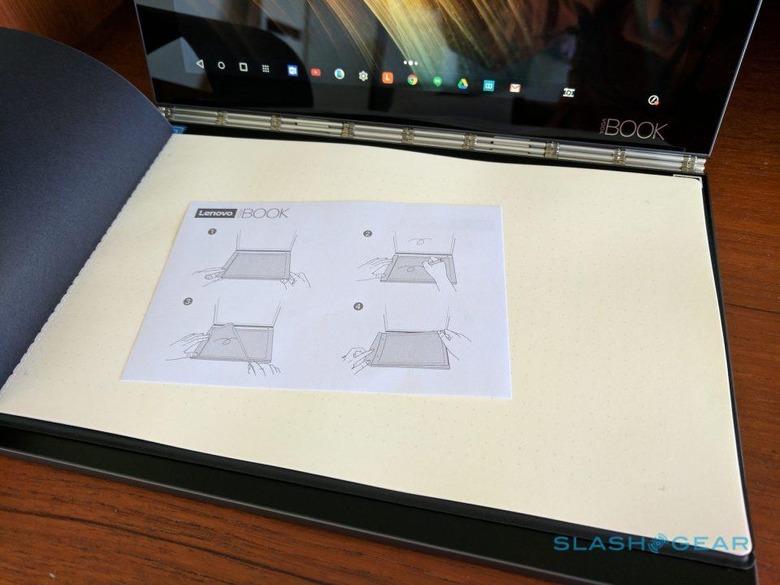 Anyone who prefers the feel of actual pen and paper can get it by overlaying the Book Pad on top of the Create Pad. The magnetized backing holds the stack of paper in place – voila, you're all set to go. The Book Pad holds a standard A5 sized paper which is available at any office supply store, and as you write with the regular ballpoint pen tip your jottings are automatically captured digitally in the background. Of course, it does involve carrying that stack of paper with you too.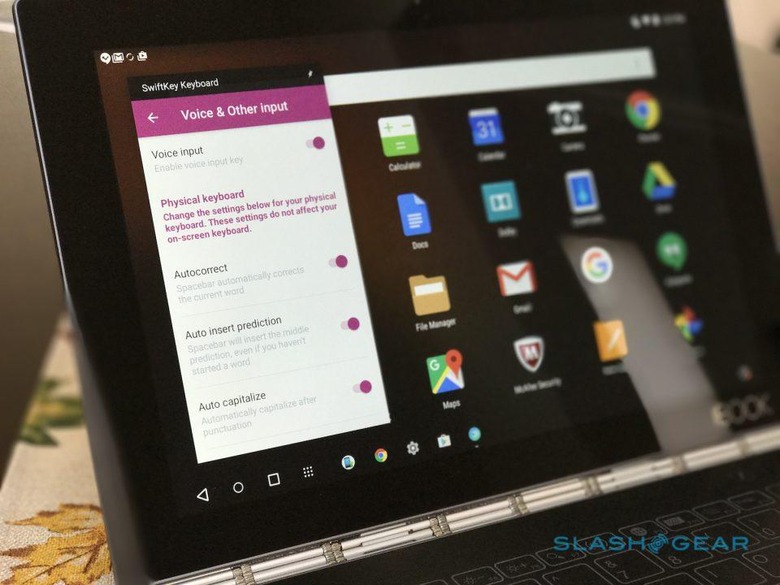 In the box, along with the Yoga Book you get the Real Pen – which has a stylus tip attached – along with 3 mini-ball point tips, the Book Pad, and twenty Book Pad refills. Since the paper is standard, and doesn't require any special dots or markings for your writing to be recognized digitally, you can slot the Yoga Book underneath the pages of your favorite Moleskine or similar notebook, and there's a fair chance it'll still support handwriting capture.
Expect to pay $39.99 to replace the Real Pen, while a Book Pad refill with 75 pages will set you back $14.9. The Book Pad itself runs to $19.99, while the Real Pen Ink refills cost $14.99 for three.
Android or Windows 10?
If you're looking to buy the Yoga Book to replace your laptop running Windows or macOS, it's a tough call, and depends a lot on what you plan on doing with it. For me personally, Lenovo's 2-in-1 is perfect for quick tasks such as researching on the web, note-taking, crushing through emails, and even processing images and short videos.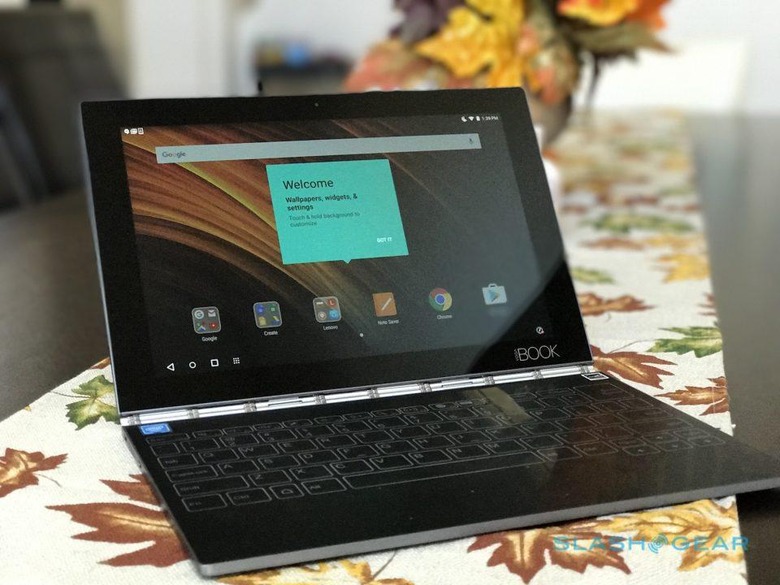 Nonetheless, approach the Yoga Book as you might a regular notebook, and you'll run into some frustrations. For instance, when trying to write this review on the Android-powered Yoga Book itself, I ran into the 2-in-1's multitasking shortcomings. Out of the box it's running Android 6.0.1 Marshmallow, which lacks native multitasking support, and so Lenovo implemented a pseudo-multitasking system of its own.
Sadly, that only works with a handful of apps; many I wanted to use simply wouldn't play ball, and I was forced to jump between full-screen apps. Those that do support it, meanwhile, are limited because Lenovo doesn't allow for resizing the windows. Instead, they're fixed – can you fit three apps across the display, in slim columns similar in proportion to a smartphone screen – which doesn't leave much room for doing anything other than simply previewing what's on there.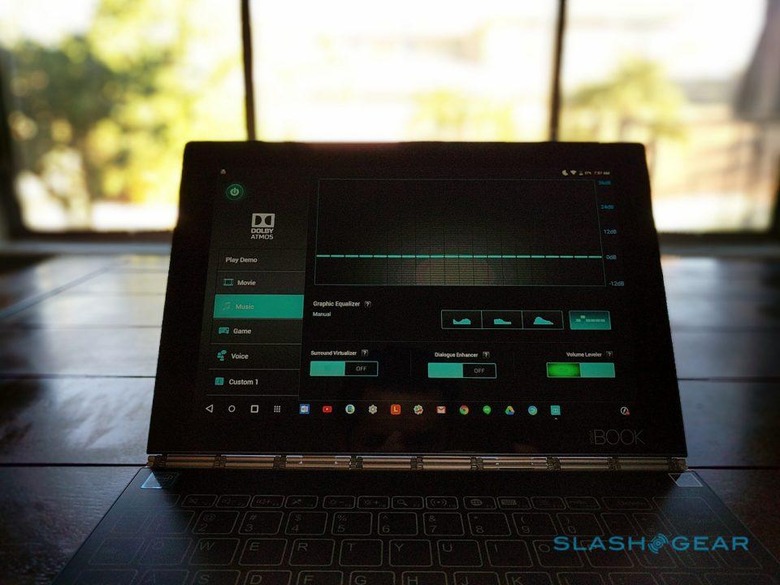 Since Android 7 Nougat has native multitasking, I'm hoping that arrives sooner rather than later on the Yoga Book. Lenovo previously told us that it expects that to happen sometime this fall, though hasn't committed to a date yet. For the moment, the iPad Pro has the edge in handling two apps on-screen.
Beyond the multitasking issue, everything works great. Microsoft Office users will love that it's available on Android, and there are a few very good video editing apps for short clips requiring post-edits, which support uploading directly to YouTube, Facebook, or Instagram. Indeed, every single app I rely upon on my Android phone worked with the Yoga Book.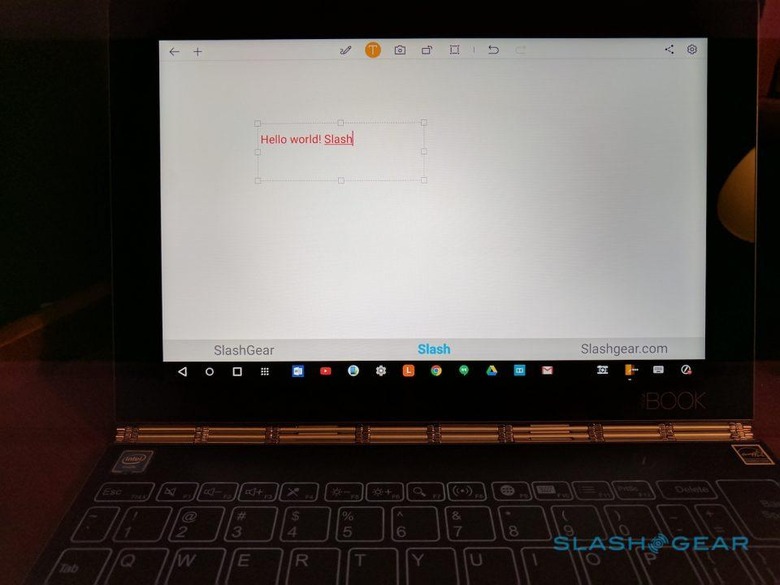 Windows fans reading this might well say hey, Windows 10 offers multitasking, which is true. If it's a big deal for you, I'd highly recommend coughing up the additional fifty bucks. Still, there are other compromises that you should bear in mind.
Going with the Windows version does require using Microsoft OneNote for notes, for instance, and though it has a Windows-specific keyboard layout it doesn't allow for using the digitizer when the display is off for taking notes. The benefit to that, of course, is saving on battery life, with a paper-and-pen experience – albeit an increasingly lost art – that can be less distracting than when you have a screen shining out at you.
Taking notes with the display off is easy to setup on-the-fly. After you open the Note Saver mini-window and turn off the display, rotating the device to tablet mode automatically disables the keyboard past 180-degrees; then you simply drop on the Book Pad – or indeed any paper – and start writing or drawing. Double-tapping the pen button starts a new digital page without turning the display back on. The system automatically saves the previous page.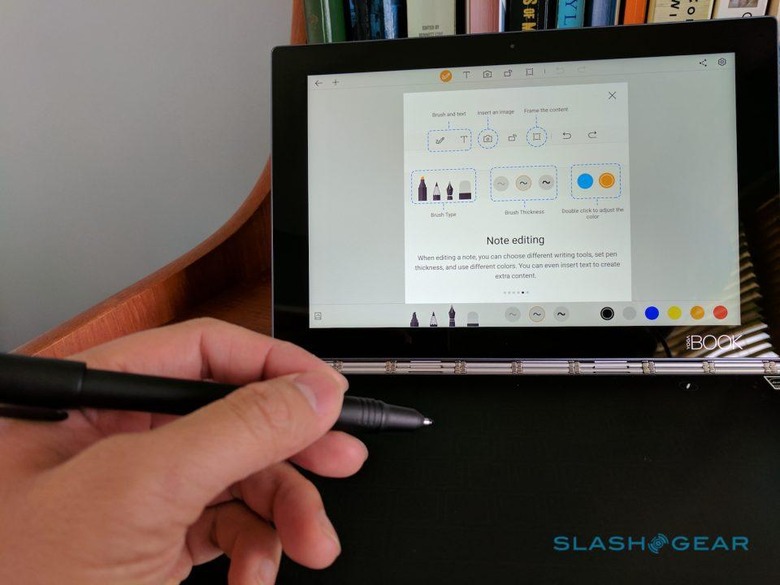 As for battery life, I never felt the urge to plug the Yoga Book in. Lenovo says the 8,500mAh battery good for fifteen hours, and it's certainly more than adequate to get you through a couple of days of typical usage.
Though the absence of cellular connectivity is still annoying, I'm glad Lenovo has made sure to include a microSD slot. Android does insist on wiping it out before it can use it as internal storage, mind. There's an option for transferring data from card to Yoga Book, but I couldn't get it to work; every time I tried to use a microSD card, it forced me to format it.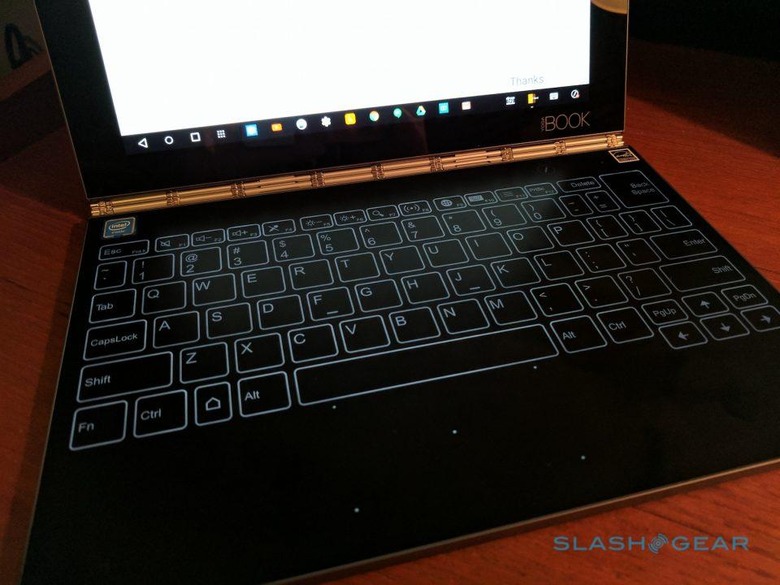 Finally, there's the camera. Or, in fact, the two cameras: the front-facing is 2MP with fixed-focus, while the rear is 8MP with auto-focus. Weirdly, the main camera doesn't face out the back of the display as on the Surface Book and other tablets: instead, it's on the keyboard side, and is designed to be used when the 2-in-1 is closed or semi closed facing forward, while you use the display to frame your shot. Unfortunately, it means that I can't replicate how I use the Surface Book to livestream events on Facebook while writing or taking notes.
Wrap-Up
At the end of the day, I'm not ready to give up on my Surface Book and MacBook just yet. There's plenty the Yoga Book can do, but the limitations of its Atom processor, compact display, and Halo Keyboard mean that – even in Windows 10 form – this probably isn't going to be the primary laptop for most people.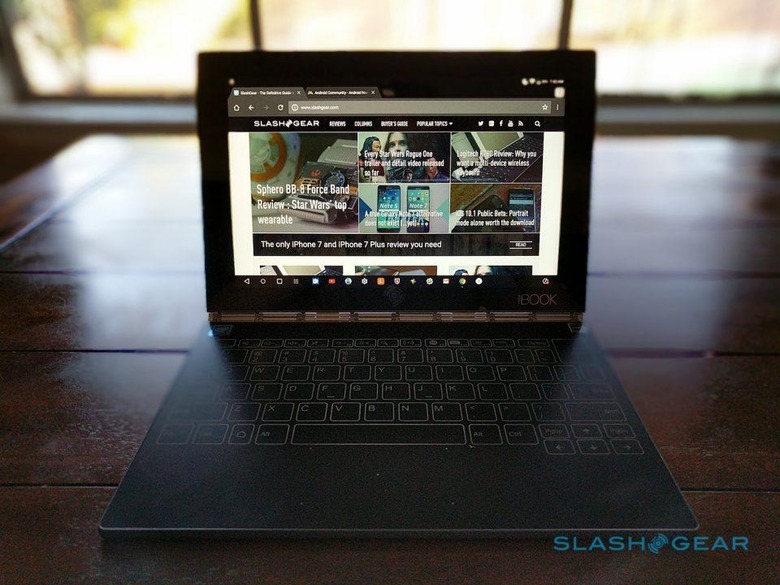 That being said, running around covering automotive events requires a portable machine with a long battery life, a keyboard for taking notes, audio recorder functionality, and a decent camera for pictures – that machine is the Yoga Book. While it may not do all the heavy lifting such as big post-video processing projects or write a 2,000 word review, the number of times I've used it during the day cumulatively adds up to a big chunk of time spent with Lenovo's notebook rather than my previous go-to laptops or, indeed, my iPad.
So, right now it's a companion machine, albeit a charming and flexible one, though Lenovo isn't going to leave it at that. The company has already told us that it sees this Yoga Book as just the first in a family of similar notebooks, offering something unique to those users whose requirements don't begin and end with merely typing. The first Yoga Book may not be all things to everyone, but as a well-made and innovative flag bearer it has me mightily intrigued for the roadmap ahead.