Microsoft Band vs the Wearable Competition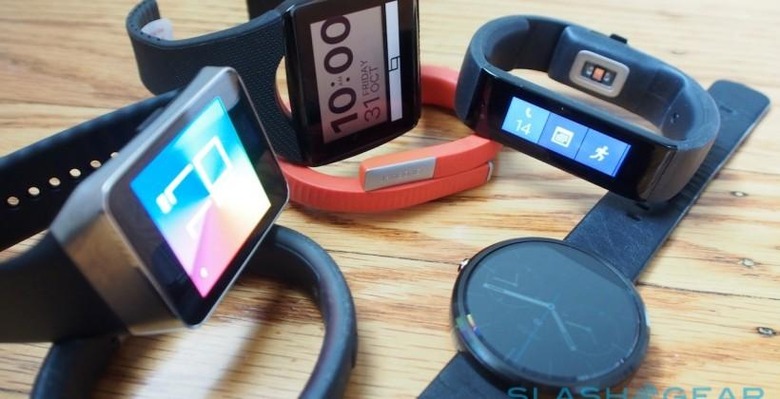 You'd need a very big wrist to wear this year's crop of fitness bands and smartwatches, but Microsoft believes the new Microsoft Band can elbow out the competition. Straddling the line between smartwatch and health tracker – not to mention spanning not only Windows Phone but iPhone and Android, in a play for cross-compatibility that rivals could learn a lesson from – the sensor-packed wearable claims to deliver the best of both worlds. In the process, though, Microsoft has arguably given itself double the challenge, so I pulled up my sleeves to see how the Microsoft Band holds up.
On the smartwatch side, you get a smaller display but an arguably smaller form-factor. Microsoft's play for compactness isn't entirely successful, though, given the chunkiness of its strap; as we noted yesterday, all those sensors have to go somewhere.
Nor is it necessarily less discrete, particularly when Motorola's Moto 360 has its traditionally-styled round display.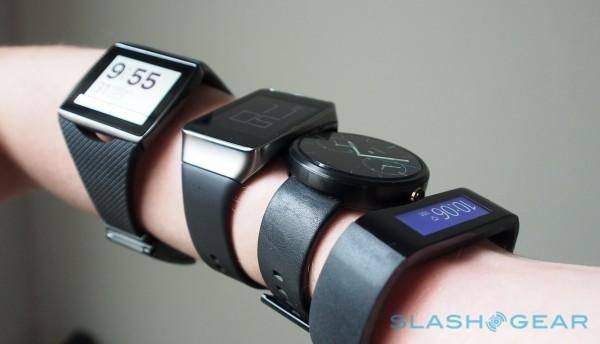 Battery life promises to be more akin to a smartwatch than a fitness band, too: Microsoft is saying two days of use, versus the roughly day-long runtimes of the Android Wear crowd (and what Apple is warning us to expect from the Apple Watch). You'll get more runtime out of a Pebble or something based on Qualcomm's Toq platform, such as the new Timex GPS One+; then again, you don't get a color touchscreen with Pebble, and the mirasol panel on the Timex has muted colors and a dearth of third-party app support.
That app range is going to become increasingly important as third-party developers weigh in. There's a fairly broad selection for Pebble, but the aging hardware represents the most significant limitation. Developers simply don't get the system grunt that they do with, say, Android Wear.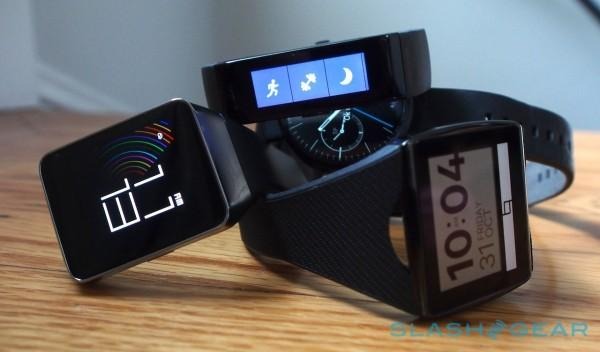 That's not to say Android Wear users have a vast choice either, of course. The Play Store is gaining a gradual trickle of titles, certainly, but it's far from a gush, and some of the momentum has been lost as developers get to grips with both square and circular screens. Google's latest Android Wear update arguably hasn't helped, either, enabling GPS support which is something the first generation of hardware doesn't actually come equipped with.
It's too soon to say how Apple Watch will fare for apps, though given Apple's strategy of teasing iOS coders with its early preview this year, and past evidence for other platform debuts like iPad, I'd expect a fair few more titles out the gate than Android Wear managed. That's academic for the moment, though, since you can't actually go out and buy an Apple Watch yet.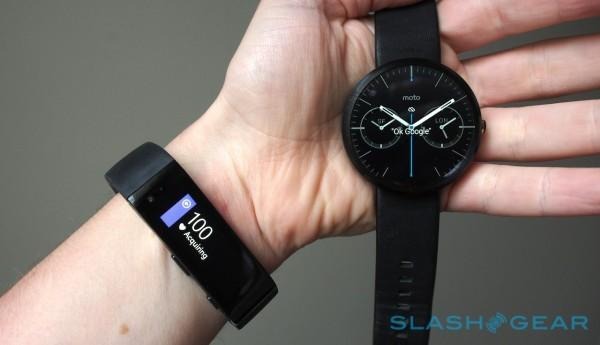 Things get murkier on the fitness wearable side. Compared to mainstream models like Jawbone's UP24 the Microsoft Band is a lot chunkier, though you do get that integrated display rather than having to check the app all the time.
Battery life is shorter as a result – Jawbone's latest firmware pushed the UP24 to as much as fourteen days use on a charge – and, unlike designs from Nike and others, you'll still need a proprietary charging cable rather than regular USB.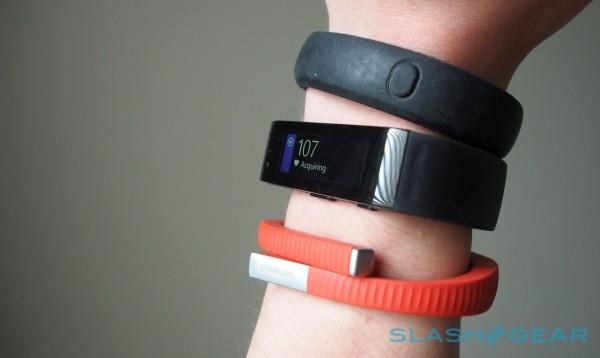 Microsoft Band's advantage is in the data it collects. Most fitness trackers make do with a handful of accelerometers; some throw in GPS and maybe heart rate monitoring, such as Fitbit's latest range, but most rely on the GPS in your phone if they do location tracking at all.
Comfort-wise, Microsoft's adjustment system on its clasp is a whole lot slicker than the fixed position on something like a Fuelband, and doesn't catch on your sleeves like the springy Jawbone. After a night of wear, however, to try out the sleep tracking, though, the Microsoft Band's undeniable bulk made itself very much known on my wrist, bordering on uncomfortable at times.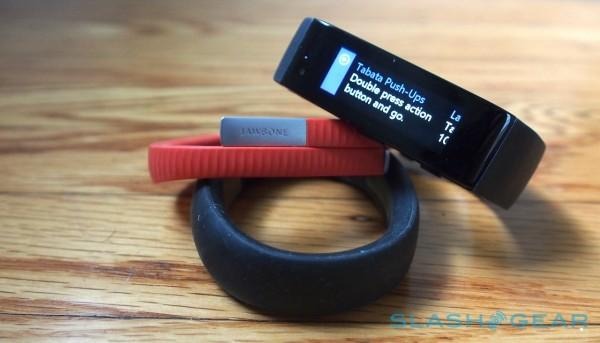 Microsoft also has an edge in the actual range of fitness activities its wearable supports. Whereas most of the trackers do just that – keep an eye on your performance – they're reliant on the wearer themselves figuring out what kind of exercise to attempt.
If you're like me, and an unhealthy novice, the fact that Microsoft Band's companion Health app not only has a database of fitness plans but can squirt them over to you wrist and then walk you through each step of the torture process is a real advantage.
I'm still putting Microsoft Band through its paces to see if the reality lives up to the promise, but already Microsoft looks to have hit a number of key areas as it strikes a balance between smartwatch and fitness tracker. Is cross-platform support and a bevy of sensors sufficient to win your custom, or are you holding out for Apple Watch or something else? Let me know in the comments.