Meta 1 Shipping Today: New AR Apps Demoed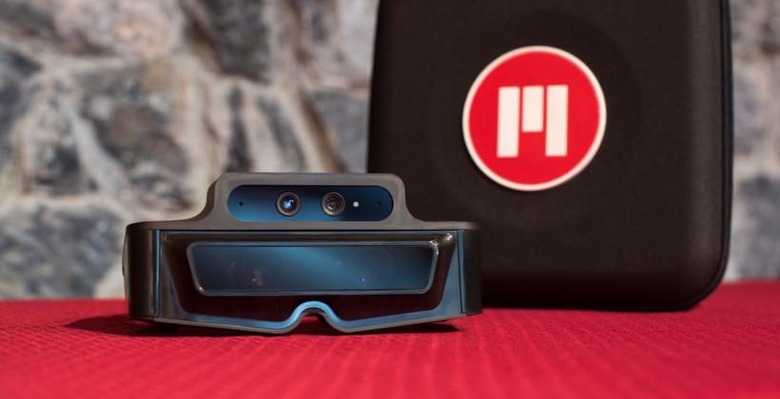 Immersive wearable headset manufacturer Meta has begun shipping Meta 1, its first batch of true augmented reality glasses. 1,500 pre-order customers, mainly looking to develop apps for Meta's unusual computing platform, will be getting units, each capable of creating a virtual office, theater, or gaming arena overlaid on top of their view of the real world.
The headsets themselves have come a long way from the cobbled-together, Epson-based prototypes we saw back at the beginning of January 2013. "We've polished every part about them," marketing director Matt Kitchales told me ahead of today's release.
The core hardware is in line with the demos we saw earlier this year. Each eye gets a 950 x 540 resolution display, courtesy of a micro-projection engine on each side.
"Hologram"
On its own, Meta 1 has a 23-degree field-of-view (the breadth of the virtual display portion), which Kitchales says is the equivalent of looking at an 80-inch TV from about 16 feet away. Add the FOV expander, meanwhile, and it jumps to 35-degrees, effectively increasing that virtual TV to 105-inches.
Because you can see through those displays, too – they're up to 70-percent transparent, depending on what's being shown at any one time – Meta 1 can overlay graphics right on top of real objects. In one of the company's core three apps, Hologram, that's used to view and manipulate 3D objects, from basics like spinning and magnifying something you might want to produce on a 3D printer.
"SimX"
However, it's also the core engine behind some far more complex implementations. Salesforce is looking to use the same technology to put virtual showrooms in peoples' living rooms, such as allowing you to take a walk-through in a car dealership without actually having to drive there first.
One medical company, meanwhile, is looking at the potential of replacing multi-million dollar 3D scan displays with Meta's headsets, offering more interactivity at a fraction of the cost.
Meta's two other key apps have also been improved for this release. The Remote Assistance client allows wearers to effectively see through the eyes of someone else, whether that be a specialist engineer giving advice to someone in the field, or a surgeon getting feedback from experts across the country.
"Ubimax"
Finally, there's the Panels app, not as instantly eye-catching as Hologram perhaps, but arguably more interesting long-term. Panels allows you to throw up infinite virtual displays around yourself, anything from a video viewer through to a browser, documents, or floating widgets. It's the core of Meta Pro, the company's 3D virtual computer I tried a few months back, and which Meta believes could replace high-end laptops in allowing you to set up a virtual office or playroom wherever you are.
With Panels, you could surround yourself with displays that are manipulated by waving your hands around in front of you, Minority Report-style (Meta Pro will also support more mundane peripherals, like a keyboard). Alternatively, graphics could float on top of objects and devices that may have some degree of smartness, but which wouldn't commonly have a display of their own: a boiler, perhaps, over which floats diagnostic data and usage information when you look at it through Meta.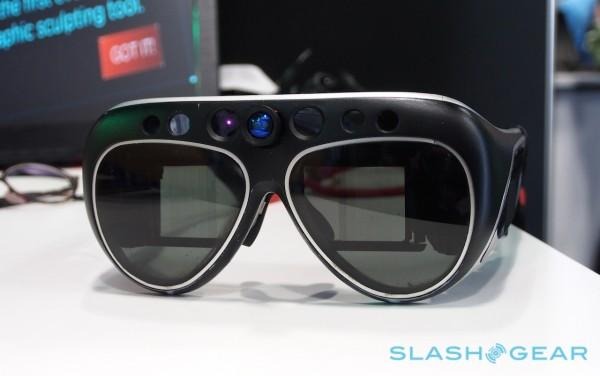 Otherwise there's an HDMI input, twin mono outputs – one for each ear – and a dual microphone array, along with a QVGA depth-camera that Meta uses for hand-tracking, and a 720/30p camera for snapshots and video. Head-tracking is included, and the whole thing weighs 405g (with 107g more for the FOV expander, and 52g for the shade).
According to Kitchales, over 50 developers have already been in and taken part in intensive coding sessions – Meta calls them "Pioneer Workshops" at Meta's California HQ: 1-2 day workshops in which the goal is to cook up something interesting in software that takes advantage of the unique potential of augmented reality. That includes partnerships the company isn't quite ready to announce yet.
For the moment, developers who didn't get in on the first pre-order round can still put their money down for a Meta unit, though Kitchales tells me the company has sold out of this current batch. Meanwhile, anyone is welcome to sign up for a Pioneer Workshop, and there's a "surprise coming soon," the marketing chief teased, "we're currently creating something very interesting."
MORE Meta