Mercedes-Benz F 015 self-driving car in-depth: AI & lasers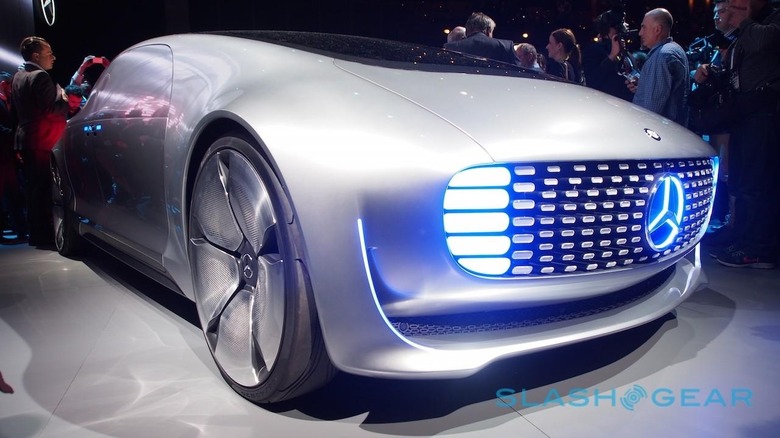 Mercedes-Benz teased something big – figuratively and literally – for CES 2015, and the F 015 Luxury in Motion autonomous car ticks both boxes. Latest in the German marque's F line of prototypes and proofs-of-concept, the F 015 is a luxury lounge on wheels, as Mercedes flirts not only with how cars of tomorrow might pilot themselves, but what those inside will do with the extra time they've suddenly had handed to them. Strikingly long, with color-changing LED lights on the outside to show if the AI is in charge and four electrically pivoting seats inside, it's Mercedes' take on what transport could look like in 2030 and beyond.
UPDATE: SlashGear's first drive of the Mercedes-Benze F015
The external design – Mercedes-Benz describes it as monolithic – is very much shaped by the goals for the interior. Over 17 feet long, 6.6 feet wide, and 5 feet tall, it's a swooping, tapered pebble of a car – bigger, even, than the Mercedes-Maybach – with the wheelbase purposefully made as capacious as possible (almost 12 feet, in fact), by pushing the huge 26-inch wheels out to the corners.
LEDs aren't new for car lighting, but the F 015 doesn't stint on them, swathing the front and back with huge clusters. They serve more of a purpose than just lighting up the road ahead, too: if the car is under manual control, they turn white, while in autonomous mode they switch to blue, indicating status to other drivers. An LED light strip across the top at the rear of the car can be used to scroll messages like "SLOW" to those in cars behind.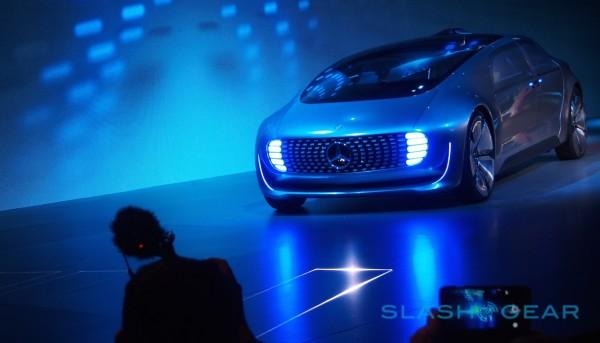 It's chatty with pedestrians, too: undulating waves across the grill communicating that the AI has indeed spotted them, and then a laser-projected virtual crosswalk overlaid onto the road ahead with a recorded voice saying "please go ahead." The same projection system can be used to show exactly where the slowing car will finally stop.
The way Mercedes-Benz sees it, gaining traction for autonomous cars is all about adding value to everybody on the road and in urban environments. A mixture of the "intelligent sensor fusion" – bringing together data from the radar, stereo cameras, and laser scanning around the F 015 – together with its Car-to-X interconnectivity allow it to feed information back into the system, a little like Waze but with far more to report.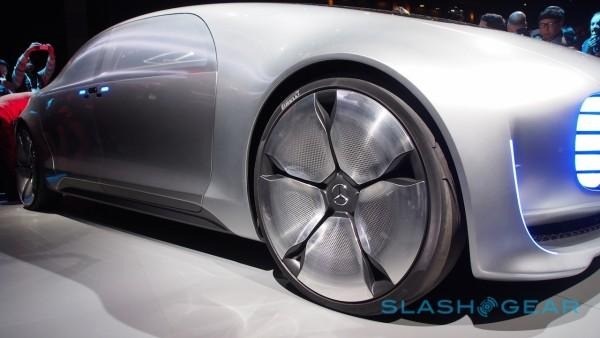 Mercedes envisages the current trend of low-emission zones in cities to extend to "safety zones" where only self-driving cars can roam. By dismissing them to park outside of the city center, and even by cutting road lanes, signage, and other street furniture intended to accommodate traditional cars, there'd be even more room for the people themselves.
Inside, things get even more unusual than the exterior. Mercedes previewed its vision for the interior of an autonomous car last year, and the F 105 bears the luxury results of that experimentation. For a start there's the sort of trim that you'd expect from a high-end model: open-pore walnut wood, white nappa leather, real metal, and glass.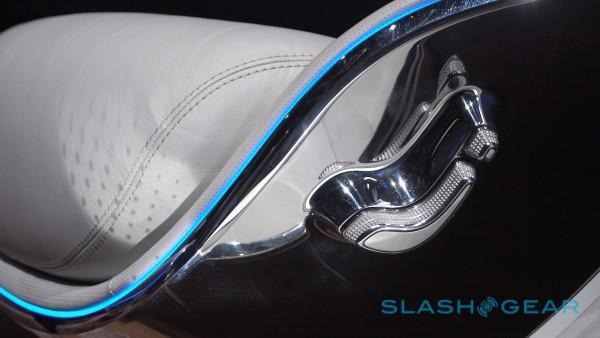 However the space is dominated by the seats, with four rotating "lounge chairs" made of polished aluminum, leather, and blue LED lights. Open the suicide doors – which lack a central B-pillar, and have 90-degree hinges – and the seats swing outwards by 30-degrees for easier ingress. When the F 015 is driving itself, the front chairs can rotate a full 180-degrees and face those in the rear.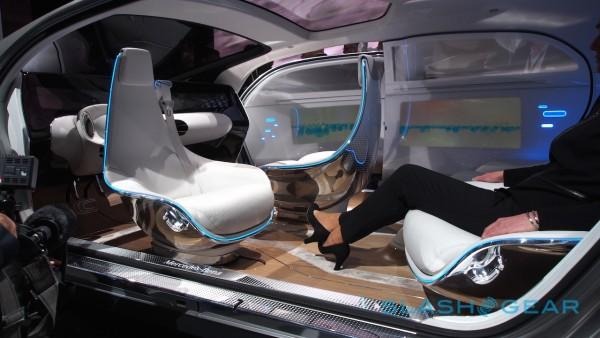 Obviously there'll be times when the F 015 driver wants to take charge themselves, of course, and so then a steering wheel – trimmed, of course, in white leather – extends from its dock in the dashboard. However, even when the computer is at the helm, there are updates on its progress available across six different Ultra HD displays built into the instrument panel, the door panels, and the rear panels, controlled with touch, gestures, and even eye-tracking so that virtual buttons are always brought within reach.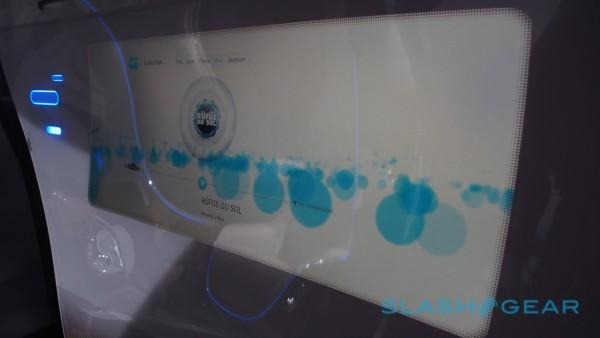 A companion app, meanwhile, allows the car to be remotely controlled: parked, for instance, or summoned to the front door from the garage. The phone – or a wearable – acts as the key, the F 015 automatically waking up and opening its doors when they approach.
The screens needn't show the usual, mundane data like speed and power status. Instead, Mercedes envisages them as better linking passengers to the outside world: a head-up display that flags interesting restaurants or venues as they drive past, for instance. A screen between the rear seats acts as a virtual rear window, and a pop-up touchscreen in a central table can be used for entertainment, gaming, or video conferencing.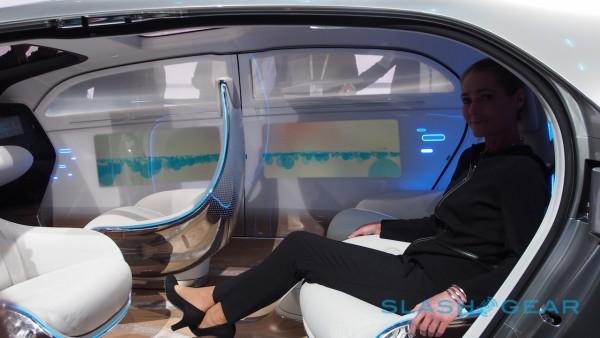 What you see outside needn't even be what's actually there. Overlaying virtual or foreign worlds onto the digital windows – synchronized in speed and direction with the physical movement of the car, including whether it's driving uphill or down – could leave it looking as though you're cruising through the South of France when in fact you're just headed to work. Meanwhile, ambient colors give a warning of when the car plans to change direction.
Under the hood, there's the latest iteration of Mercedes' fuel-cell technology, combining batteries and a hydrogen tank to create a plug-in hybrid. Fully charged up, it can run for around 684 miles, the company says, around 124 of which are all-electric.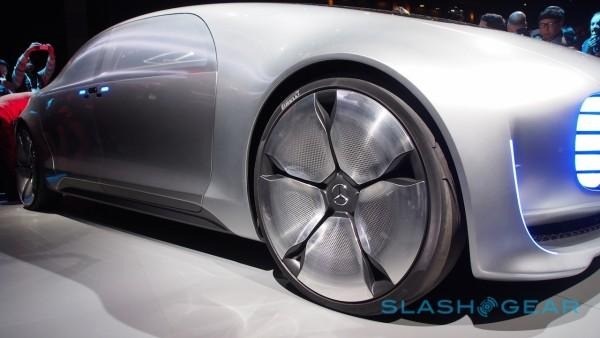 Two electric motors, each putting out 136 HP, drive the rear wheels, and though it's not a small car, the instant torque from standstill – 295 lb-ft in total – means it'll do the 0-62 mph run in 6.7 seconds, eventually hitting its 124 mph limiter.
It's not Mercedes' first experiment with autonomous vehicles, even if it's the most dramatically designed. Back in 2013, the company partnered up with Nokia HERE to send a driverless car across Germany as a proof of concept, the so-called S 500 INTELLIGENT DRIVE following in the tread marks of the first long-distance drive in a car ever undertaken.
The F 015 isn't just a preview of self-driving technology, however. It's also an opportunity for Mercedes-Benz to experiment with different safety designs. By doing away with the B-pillar, for instance, a new interlock system between the doors needed to be developed: the end result is mechanical locks that slot into place not only between the front and rear doors, but into the roof frame and side skirts.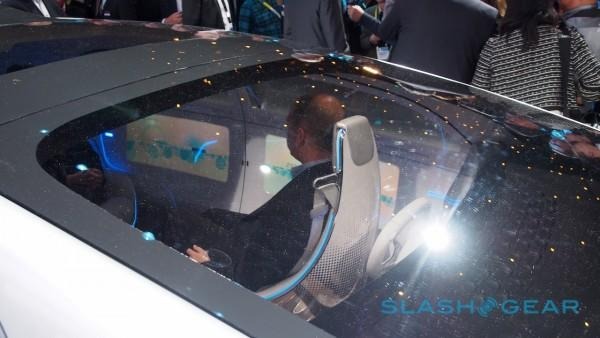 In the event of a side-on collision, Mercedes says there'll actually be less intrusion into the passenger compartment than with a regular car. The side-sills under the windows can "inflate" in the case of a crash, too, adding extra energy absorption potential.
Meanwhile, special double-hinges for the rear doors allow them to electrically part from the front doors and swing open independently. That could have some significant potential in more imminent vehicles, like future Mercedes-Benz SUVs and minivans.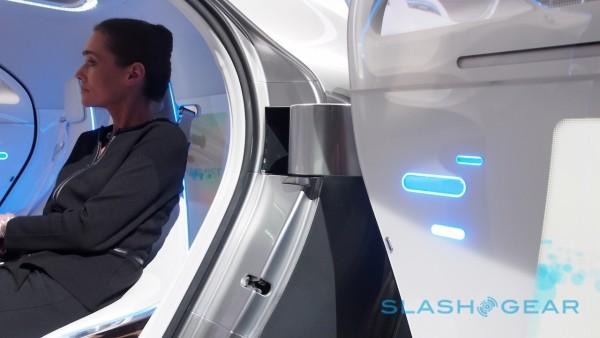 As the pop-out steering wheel suggests, Mercedes isn't expecting cars like the F 015 to be on auto-pilot all the time. "You can drive yourself when you want to instead of when you have to," Prof. Dr. Thomas Weber, responsible for the company's Group Research and Mercedes-Benz Cars Development, points out. "Anyone who wishes will be able to keep their hands on the steering wheel and still press the accelerator. Driving pleasure cannot be automated. But another driving culture can evolve alongside it that offers a whole new degree of freedom."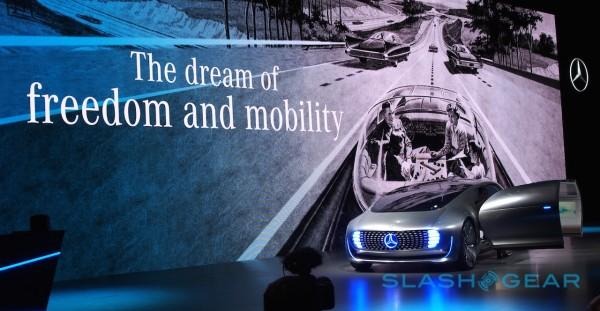 The F 015 Luxury in Motion clearly isn't going to end up on Mercedes-Benz forecourts any time soon. However, that's not to say the company doesn't have real-world testing in mind. Late last year, for instance, it was given permission to do trials in California, taking autonomous prototypes out onto the road to see how they cope when surrounded by regular drivers.
"Autonomous driving will not suddenly happen overnight; rather it will be a gradual development that takes place step by step," Weber concludes. "I am absolutely sure that we will be able to offer our customers features such as fully automatic parking and automatic driving on the highway before the end of this decade."