Up close with F 015, Mercedes' incredible self-driving car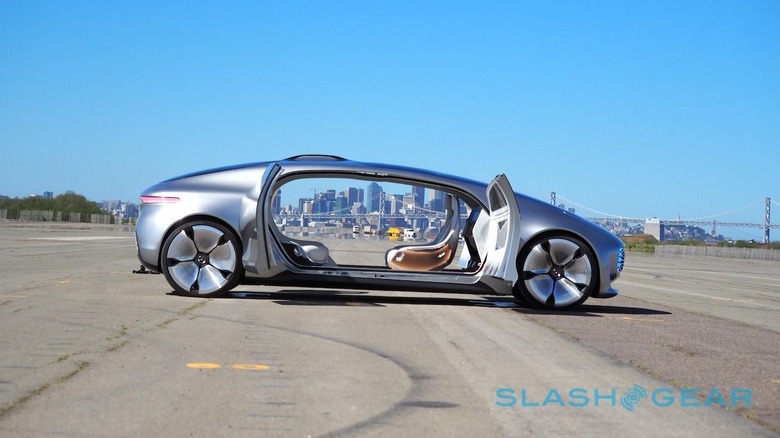 Mercedes-Benz dropped jaws back at CES 2015 in January when its autonomous F 015 Luxury in Motion concept drove onto the opening keynote stage. Then, the UFO-like prototype turned heads when the German firm drove it through the streets of San Francisco last week. The size of an S Class but markedly different from every angle, not only can the F 015 drive itself and four people, but do so surrounded with ridiculous levels of both technology and luxury. So, when Mercedes-Benz asked us if we'd like to check out the F 015 in person, an opportunity to get closer to the autonomous car than ever before, we didn't turn them down.
Pictures, even getting close to the car while it's stationary at auto shows, can't quite prepare you for the experience of watching the F 015 glide smoothly across a runway in your direction. It's unlike anything else on the road.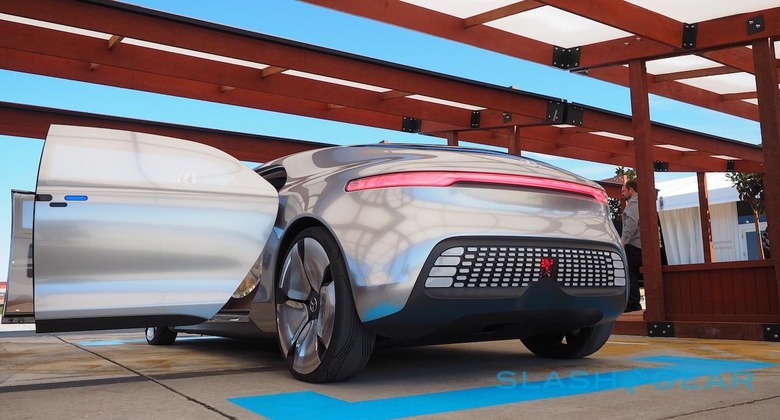 At 5.22 meters long, more than 2 meters wide, and more than 1.5 meters high, sheer size has a lot to do with that. More so, however, it's the way the F 015 carries its bulk. Mercedes pushed the wheels out to the very corners so as to give the maximum wheelbase possible – at 3.6 meters, it's actually bigger in that regard than a Mercedes-Maybach – and the roofline arches high, since the occupants sit more upright and thus need greater headroom.
Under the bright California sun, the custom silver paintwork looked almost like liquid mercury, particularly in how it seamlessly blends into the glass. A common theme of different sized dots is carried through the design, inside and out, blending the transition between different materials like metal, glass, wood, and leather.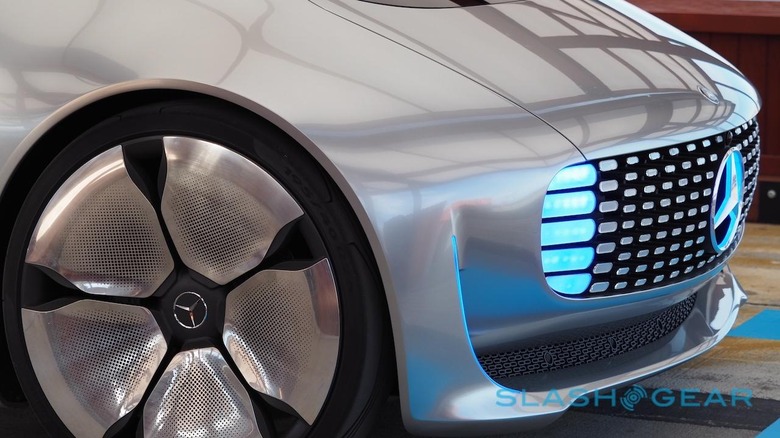 Inside, there are screens pretty much in every direction. The entire swathe of the dashboard is one big display – in fact, five individual rear-projection panels – while each of the four doors has a 4K touchscreen embedded. A fifth 4K panel is in the rear bulkhead, and there's another touchscreen built into the motorized center tray that slides out from between the rear seats.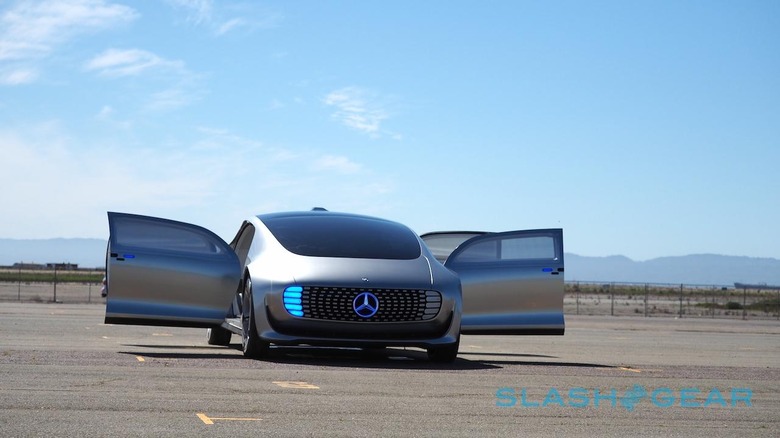 Each of the screens is actually powered by a separate MacBook, which Mercedes' engineers told me were selected for their capabilities at driving high-resolution displays. The custom interface itself is written in Qt, meanwhile, with a custom multi-display implementation that links all the individual panels together and allows graphics to slide between them seamlessly.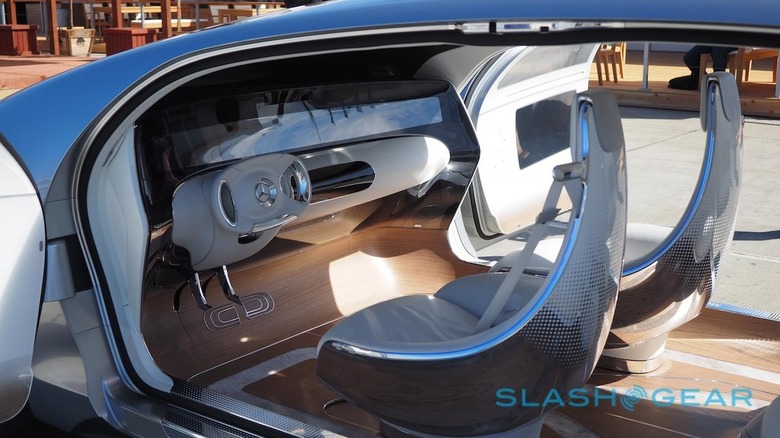 What's striking is quite how refined and "complete" the car feels, particularly compared to other concepts and prototypes I've been up-close with.
The metal and leather seats, for instance, are sturdy and creak-free, while the distinctive saloon doors close – electrically – with a satisfying clunk. Nothing feels flimsy or designed to be seen but not touched.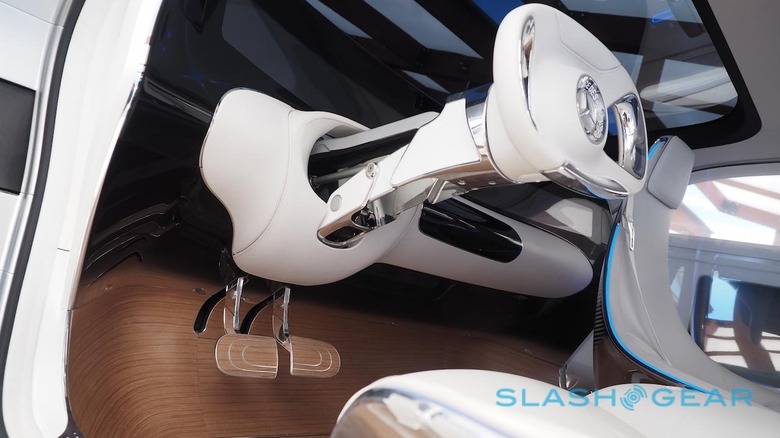 Mercedes' detailing is spot-on, too, from the milled metal seat controls, through the chunky little steering wheel on its robotic-arm-like extending column, to the careful parquetry of the floor and the pedals.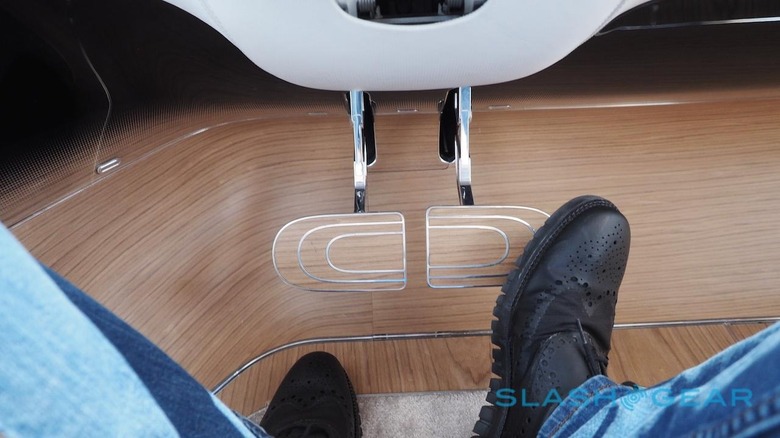 Only the electrics occasionally seem to stumble. Doors proving reluctant to open at first button-stab, or the eye-tracking and gesture-navigated dashboard stubbornly refusing to respond.
Mercedes-Benz's goal is to preview a car for a time where "driving is more of a burden than an enjoyment," advanced design chief Holger Hutzenlaub says. "City life will be busier and more hectic, and we will all be traveling more frequently than we do today," he argues. "Private space and time will become the luxury commodity of the future."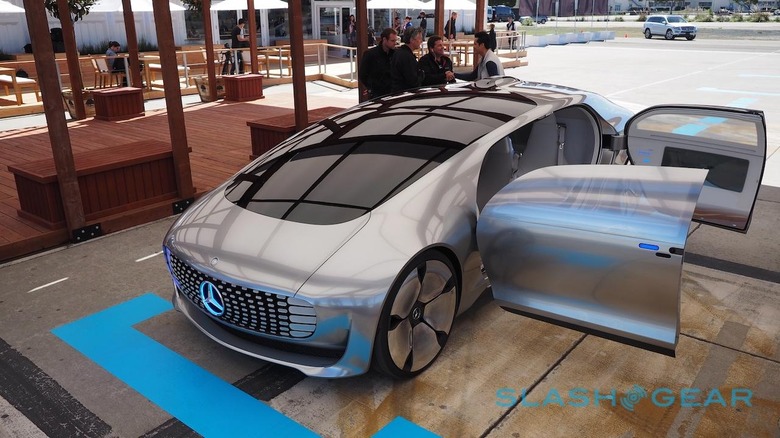 Curious as to just how it feels to be driven in a self-driving luxury "lounge on wheels"? Stay tuned, we'll have full driving – or should that be driven? – impressions very soon, along with plenty more on the design, strategy, and technology inside the Mercedes-Benz F 015!