Luxury smartphone maker Vertu debuts three models starting at $4,200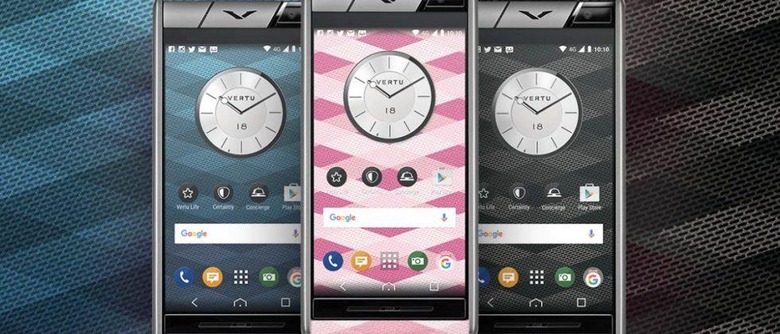 If you've never heard of Vertu, it's a luxury smartphone maker that puts extra focus on the use of premium and expensive materials. For example, some of their previous devices include phones wrapped in handcrafted leather or woodcraft, and not one but two phones designed in partnership with Bentley. Even if you have heard of the company, it's unlikely you could afford any of their products.
But that may be about to change, as Vertu has just unveiled three new phone models, and they're some of the company most affordable with a starting price of only $4,200. Dubbed the Aster Chevron collection, the phones come in blue, black, and pink, and are said to be wrapped in "highly resilient Italian fabric" featuring a chevron pattern, paired with grade 5 titanium.
Unfortunately, despite the luxurious material and premium price, buyers aren't getting anything close to the latest high-end specs. The Aster Chevron uses the exact same components from the original Aster, which debuted almost two years ago.
That means the phone is powered by the aging quad-core Snapdragon 801 processor, a whopping 2GB of RAM, and comes running Android 5.1 Lollipop. It also features a 4.7-inch 1080p display, 64GB of internal storage, stereo speakers, a 13MP Hasselblad rear camera, and a 2,275mAh battery.
Oh, and the best part is that while the Aster Chevron can be used on AT&T and T-Mobile in the US, it's not compatible with the country's LTE networks. If you're still dead-set on having one, but your pockets aren't deep enough for Vertu's $30,000 models, you can order the Aster Chevron from the company's official website.
SOURCE Vertu