Vertu For Bentley: A Luxury Phone That Feels Like A Luxury Car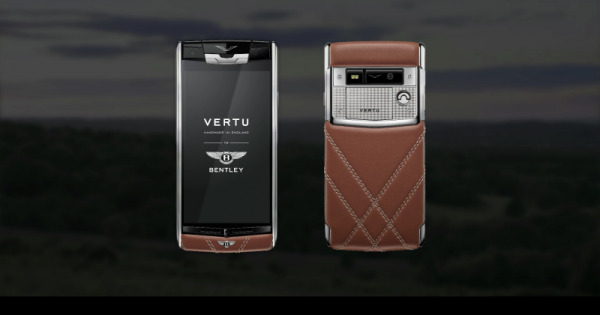 Barely two weeks after outing the Aster, Vertu is here again with another luxury smartphone for the affluent.. This time, however, it isn't doing it alone. Partnering with fellow British company Bentley, the Vertu for Bentley gives luxury car lovers a fitting mobile device to go with their Bentley car, which they presumably have. But aside from sporting trademark Bentley designs in addition to Vertu's own signature, the smartphone at least does have decent hardware that won't leave owners shortchanged for the price.
Inside, the Vertu for Bentley resembles a somewhat decent high-end smartphone. It runs on a 2.3 GHz quad-core Qualcomm Snapdragon 801, an unspecified amount of RAM which we'll presume to be 2 GB, 64 GB of internal storage, and a 4.7-inch 1080p display. The device surprisingly runs the latest Android 4.4 version. The 2,275 mAh battery is advertised to last up to 380 hours on standby or 15 hours and 30 minutes of continuous talk time, if you can talk that long, that is.
From the Vertu side of the equation, you get the usual pampering of luxury pieces and services. A sapphire crystal glass protects the screen and the smartphone itself is dressed in calf leather. Titanium is used to support the structure and the titanium back plate opens up to reveal the signature of the craftsman who makes the smartphone from start to finish. There is the traditional ceramic pillow at the top, this time accented with Bentley's style. Vertu's partnership with Bang & Olufsen as well as Dolby might not be apparent but will definitely be palpable once this Vertu smartphone starts blaring out tunes.
Of course, this wouldn't be a Vertu for Bentley without Bentley's identity thrown in. For the leather, Vertu has chosen to go with Bentley's signature Newmarket Tan shade. The ceramic pillow has been reworked to also give off an aura of a Bentley car. Bentley's logo is also immediately visible in the small metal wings that deck the front of the smartphone near the mouthpiece. Bentley's influence, however, also extends inside in the software, with pre-installed services and apps that cater to a Bentley fan's every need. This also includes themes such as a custom boot animation, wallpapers, and a 3D clock.
The Vertu for Bentley will go on sale this month and carry with it a price tag of 12,500€, roughly $16,000. There will only be 2,000 Vertu for Bentley to be made, but Bentley fans need not worry. The two's partnership is expected to bear four more luxury models in the future, so there will be plenty of devices to go around should you miss this batch.
SOURCE: Vertu