Lumia 735 lands on Verizon, bringing selfies and HD voice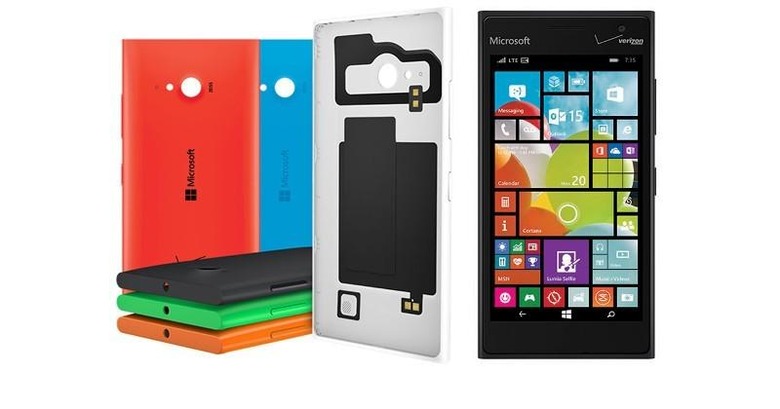 This weeks is a Windows Phone and selfie week. Just a while ago, we saw Samsung unveil the selfie-friendly mid-range Galaxy J5 and Galaxy J7, both with front LED flash. Also this week, we saw the Microsoft Lumia 640 and the 640 XL appear in Cricket and AT&T, respectively. Bringing those two worlds together for a weekend climax is the Microsoft Lumia 735, which has finally appeared on Verizon's shelves. XLTE-ready, this budget Windows Phone is more than just smiles, with HD Voice Calling tagging along for the ride.
Considering it was first announced way back in September, we could be forgiven for having forgotten about this self-proclaimed selfie advocate. Truth be told, it has very little stake to that claim apart from the 5 megapixel wide angle front camera. It does have one interesting selfie-friendly feature though. You can use 6.7 megapixel rear shooter for selfies too when used together with the Lumia Selfie app. Just point the rear camera to yourself and the app will notify you if the camera is at a perfect selfie angle and proceeds to take the photo.
Aside from that, the Lumia 735 is pretty much a no-nonsense entry level WIndows Phone device. The 4.7-inch screen is happily an HD AMOLED one. It runs on a 1.2 GHz quad-core Qualcomm Snapdragon 400 with 1 GB of RAM and 8 GB of storage, expandable up to 128 GB via a microSD card slot. Battery is a removable 2,200 mAh and the phone has all the connectivity trappings, including Wi-Fi, Bluetooth 4.0, and NFC. This being the LTE variant, the Lumia 735 is well equipped for Verizon's HD Voice service. This particular model also support wireless charging.
Selfie-friendly and budget-friendly, the Microsoft Lumia 735 has a full retail price of just $192. Of course, Verizon would prefer if you get it from its Edge program, where you can pay $8 for 24 months instead. Availability has already started, and those buying until July 31 can avail of a one year free Office 365 Personal subscription, at least until supplies last.
SOURCE: Verizon